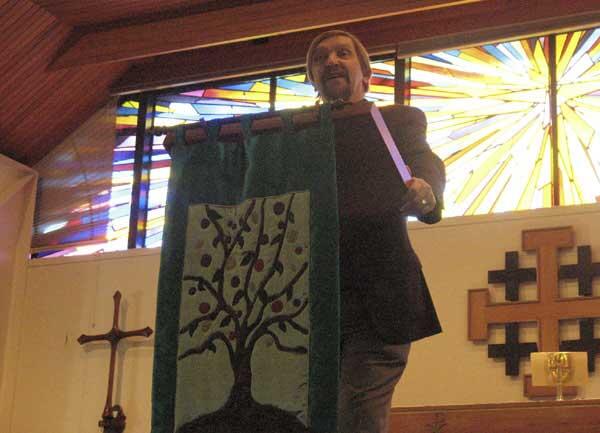 People researching churchgoing trends tell us that the tide is going out on church attendance more because the cultural background to church participation is rapidly changing than because the church is lacking competence in what it does.
Is that it then? Is smoothing the pillow of the church's declining years the best we can do? The answer is a resounding 'No!' when voiced by one of the world's leading exponents of a relatively new phenomenon called Fresh Expressions of church.
Bishop Graham Cray, Team Leader of Fresh Expressions and Archbishops' Missioner for the Church of England, is in New Zealand speaking to conferences arranged in the Dioceses of Christchurch and Wellington. His message is that Fresh Expressions of church are possible in a rapidly changing culture.
Traditional forms continue because they touch lives of current church participants. But for for people unlikely to respond to church as we have known it Fresh Expressions offer new ways to participate in church.
Armed with video illustrations of Fresh Expressions in England, Bishop Graham shared wisdom and insight from this growing movement in two conferences held in Christchurch through 8 – 10 July. Anglicans, Presbyterians, and Methodists soaked up key points.
This definition of Fresh Expression, for example: "a form of church for our changing culture established primarily for the benefit of people who are not yet members of any church." Then the insight that communities of people today are often not geographical but bonded through common interest. So Fresh Expression churches in England are often being planted where those common interests are expressed – at a place of work, by the beach for surfers, in an indoor skateboard park for skaters.
Often the church in the 20th and 21st centuries has gone with the idea that the key to attracting people to church is building some kind of bridge from the church out to community. Fresh Expressions is a new paradigm in which new churches are planted in communities rather than bridges built out from existing churches. These new shoots may be overseen by an existing parish church, or sown and nurtured through support from a diocese or national church mission fund.
Bishop Cray repeatedly urged the importance of learning from others, but not cloning what others have done. The precise shape and style of a Fresh Expression will grow from listening to what the Spirit is saying and discerning what is happening in the community, not from copying what others are doing in other communities.
Earthed in solid theology and anchored in the reality of life in church and world, Bishop Cray stressed that Fresh Expressions need fresh resourcing. They do not work as yet another burden added to busy ministers. Parishes, dioceses and national church bodies need to set apart and resource people for Fresh Expressions if they are to have a chance to fly.
Essentially this visit represents a crisis for NZ churches, in the best sense of the word 'crisis': a point of decision. Is the Spirit speaking to us (Anglicans, Methodists, Presbyterians and others) about new ways of being church? Do we discern that cultural change requires Fresh Expressions of church in our land. If the answers are affirmative, what strategic decisions will we make?
The tide of cultural change is racing away from us. Fresh Expressions could be the wind of the Spirit which helps us catch up.
Wellington Conference
Bishop Cray will speak at the Wellington Clergy Conference in Masterton, from July 14 through 16 (entitled Fresh Frontiers).
On the afternoon of Friday July 16 he will be available to speak to leaders of other denominations about Fresh Expressions at the Anglican Centre in Wellington, and that same evening he will engage with young people there.
The following day (July 17) Bishop Cray will speak at a diocesan ministry training day at St Paul's Paparaumu, which is open to everyone in the diocese. Contact the Rev Tony Gerritsen for more details – gerritsen@inspire.net.nz