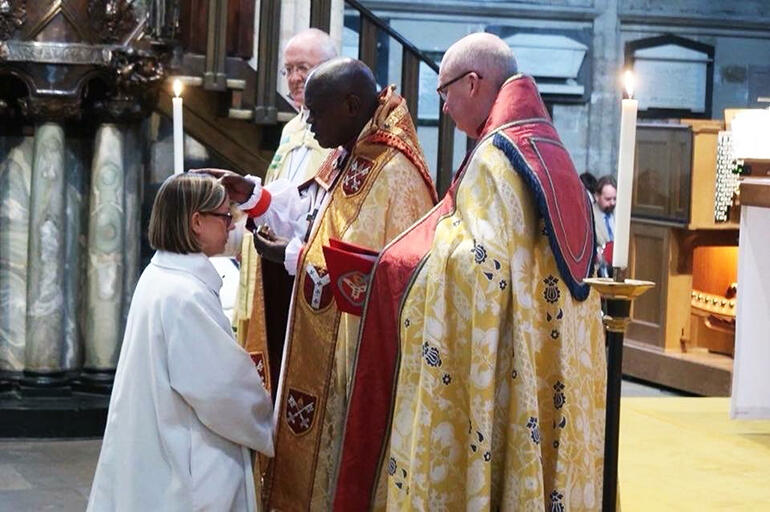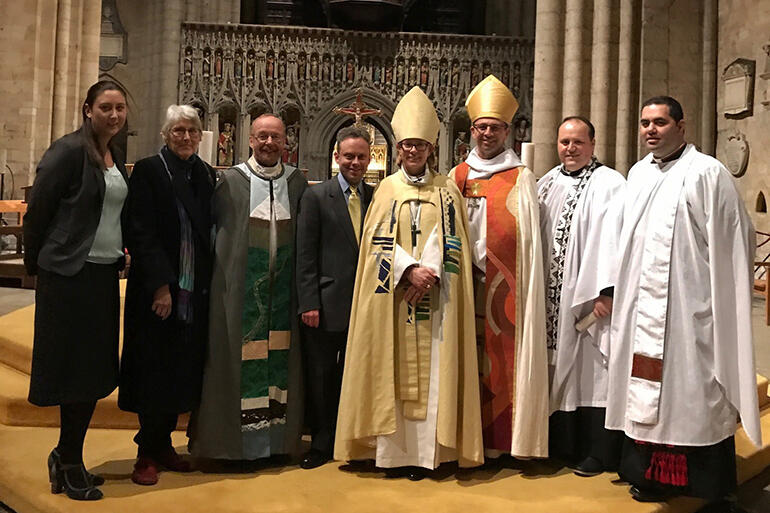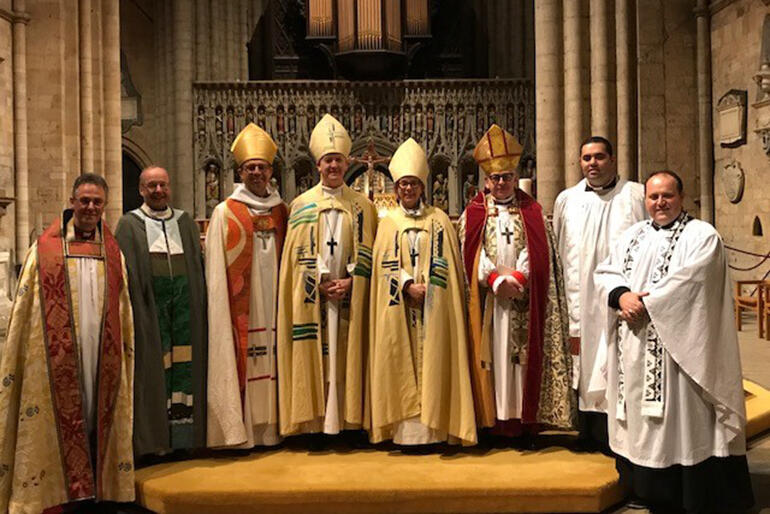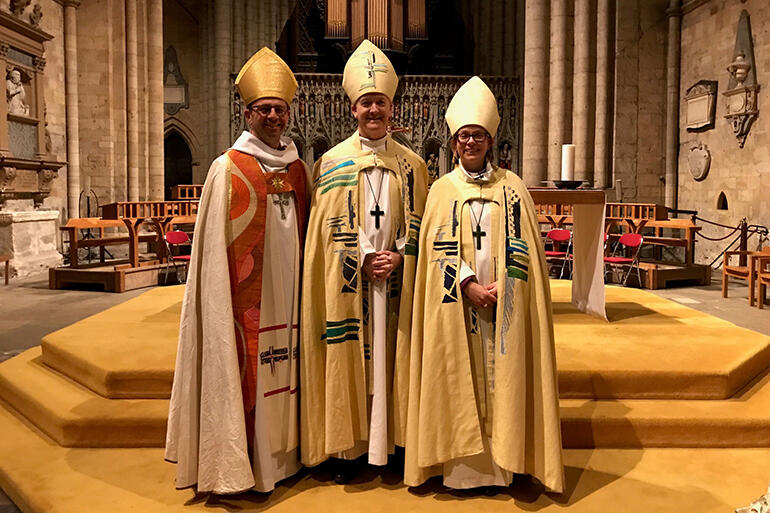 The rousing sounds of haka and chanted moteatea echoed through a packed Ripon Cathedral in North Yorkshire on Sunday as Bishop Helen-Ann Hartley – lately of Waikato and Taranaki – was led towards her new role as Bishop of Ripon.
Every seat in the cathedral – which began life as Benedictine monastery in 672 – was taken for the investiture, installation and welcome, and the 1000-strong congregation were given a baptism into tikanga as The Revs Ngira Simmonds (Manawa o Te Wheke) and Christopher Douglas-Huriwai (Tai Rawhiti) prepared the way for Bishop Helen-Ann.
They performed a 'waerea' – which is both the male version of a karanga and a protective karakia – and their version, liberally spiced with haka, had the congregation reaching for their phone cameras.
Chris and Ngira led the Bishop-designate through the nave to the sanctuary, to the place where she recited her vows before her diocesan, The Rt Rev Nick Baines, Bishop of Leeds, and the Archbishop of York, Dr John Sentamu.
Ngira Simmonds reminded the Archbishop that Maori recognise that the greatest treasure is people – and the greatest gift they can bestow is people.
"As a people from Waikato," he said, "we therefore bring Bishop Helen-Ann to her new people, rejoicing in (her new) calling. We do so honouring her ministry among the iwi of Waikato-Tainui."
Ngira urged the Church of England bishops and the diocese to look after their newly-gained treasure. Otherwise, he suggested, Chris and he would be back, with reinforcements, to perform a fiercer war dance than the waerea they'd just laid down.
Chris and Ngira weren't the only ones who traveled from Aotearoa New Zealand to support the new Bishop of Ripon. The Bishop of Waiapu, Rt Rev Andrew Hedge, and Archdeacon Trevor Harrison of Taranaki came too, as well as other Kiwi family and friends.
Bishop Helen-Ann later described walking into her new cathedral, accompanied by whanau both from the UK and from Aotearoa, as a profound experience, a coming together of opposite sides of the world.
"For me," she later reflected, "there was a letting go of one journey and the start of a new one, both intimately bound in the good news of Jesus Christ."