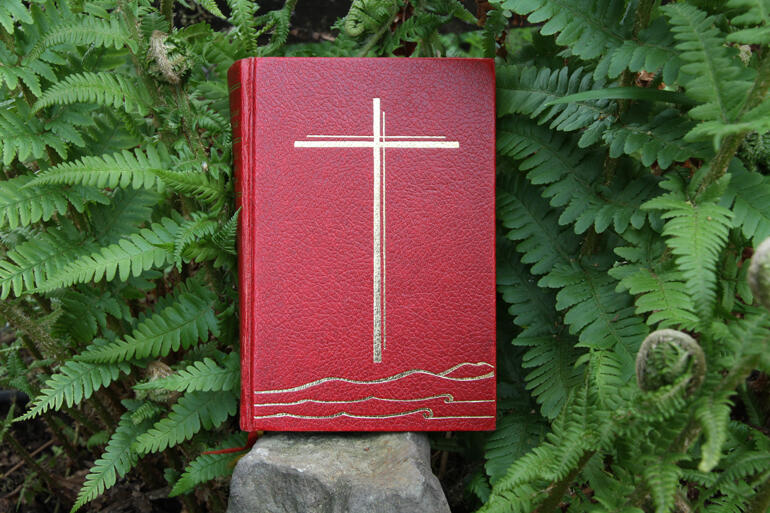 This December, as 'A New Zealand Prayer Book – He Karakia Mihinare o Aotearoa' turns thirty, the Common Life Liturgical Commission (CLLC) is inviting Anglican communities to pause and give thanks for the prayer book that in 1989 became the first to emerge out of this context, and which has become the staple of worship in churches across our province.
The CLLC has suggested a sentence and collect for 1 December to give thanks for the ministry of the prayer book and to honour all who contributed to its prayers – the writers and editors whose words remain with us and continue to enliven worship today.
He Karakia Mihinare o Aotearoa – A New Zealand Prayer Book anniversary day
Sentence
"The dwellers at the ends of the earth
are awed ′ by your ′ wonders:
you make the lands of sunrise and sunset
re′sound with ′ shouts of ′ joy."
(Psalm 65:8 from the ANZPB – HKMOA )
Collects
God of inspiration
who calls us to worship,
we give you thanks for our prayer book
a taonga from the Church to your people.
When we use it in our homes and in our churches,
may we find the nourishment we need to journey in faith,
so that we can make real your love for each other
and all those in need.
Through Jesus Christ our Liberator,
who is alive and reigns with you,
in the unity of the Holy Spirit,
one God, now and forever.
Amen.
E te Atua o te ihi o te mana o te wehi.
Karangatia e koe te katoa
ki te tuku whakawhetai me te whakamoemiti.
Anei tāu hāhi e koha tonu ana te tongarewa karakia nei
He Karakia Mihinare o Aotearoa
hei oranga tinana wairua hoki mō te iti me te rahi.
Ka mau i a mātou te hihiko me te papaki
o ēnei kurakarakia āwhiowhio.
He tino atakura tāu koha.
Ko Īhu Karaiti hoki tō mātou kaihoko,
e ora ana e kingi tahi ana me koe
i te kotahitanga o te Wairua Tapu
kotahi anō Atua ināianei, ā, mō ake tonu atu.
Amine.
The Common Life Liturgical Commission has released an extra set of prayer book resources, including newly revised editions of the Liturgies of the Eucharist - Ngā Hākari Tapu published in early 2019.
The new separate Liturgies of the Eucharist- Ngā Hākari Tapu books are still available and come in large as well as standard editions, with eight new versions of the Great Thanksgiving - Te Whakawhetai Nui. The new books also feature macronised Māori texts to support better articulation of Te Reo Māori in our worship.
The CLLC hope to launch a full reprint of A New Zealand Prayer Book - He Karakia Mihinare at the 64th General Synod in Nelson next year.
The new Prayer Book will include all the latest revisions in Māori and English, hopefully including the new Te Reo Māori collects for Years A,B and C and will add liturgies in Samoan, Tongan and Fijian following the order of 'Thanksgiving of the People of God' from ANZPB-HKMOA Page 404, along with a Samoan Eucharistic liturgy based on 'Te Whakawhetai me te Whakamoemiti' order of the Eucharist from ANZPB-HKMOA page 476.
The CLLC are recommending another resource to help our church reflect on the prayer book's fascinating and complex journey in the history written by Geoff Haworth - He Taonga Tongarewa, A Highly Prized Gift. That history was launched by the CLLC at Te Hīnota Whānui - General Synod in Taranaki in 2018 and is now available from the General Synod Office ($24 inclu. postage and packaging).