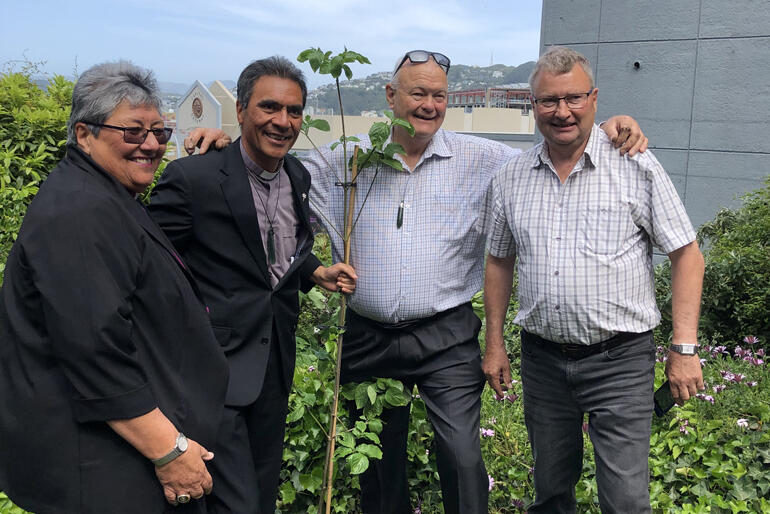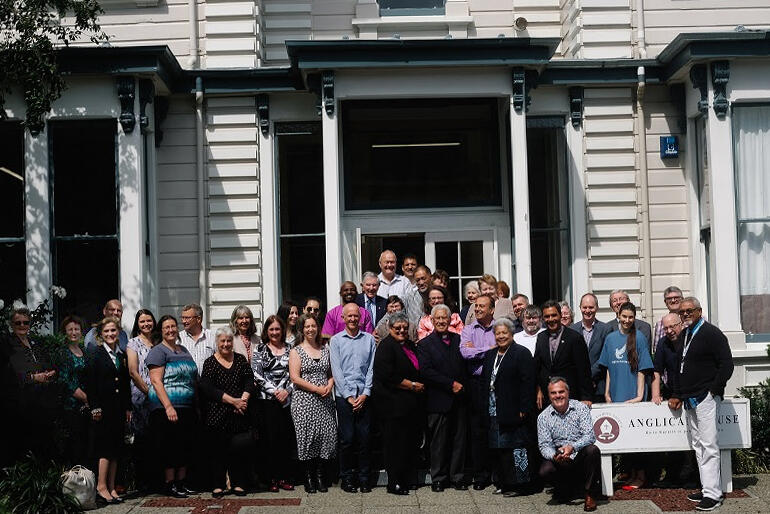 Anglican Missions has celebrated 100 years of promoting and funding missions around the world with a day of centenary celebrations at its Wellington-based headquarters on Friday 22 November 2019.
Anglican Missions CEO, Rev Canon Robert Kereopa welcomed a gathering of 50 mission leaders, Board members and supporters to the Anglican Missions headquarters in downtown Wellington last Friday to celebrate this province's mission work over the past 100 years.
Bishop Waitohiariki Quayle was one of the church leaders there to look back and celebrate, and she welcomed how Anglican Missions are still sending people to where there is mission need – both within and beyond this province.
Canon Robert told the gathering that a generous, forward-looking church will always be committed to global mission and today that is becoming simpler,
"Moving forward we are better connected globally than we have ever been, and more able to respond to outward mission challenges, particularly in our Oceania region," he said.
Robert Kereopa sees that a bright future for mission comes from maximising mission impact through transnational partnerships within the Communion,
"We can achieve so much more together – with partnerships such as the Anglican Alliance – the Anglican Communion's Relief, Development and Advocacy Network – and the Anglican Indigenous Network where we are advancing mission more effectively, and more widely, by working together."
Canon Robert said one of this generation's major challenges will be responding to the impact of climate change in our region, particularly in disaster preparedness and emergency relief in the face of cyclone devastation.
He highlighted the rebuild support Anglican Missions had been able to offer the community in Maniava after Cyclone Winston as an example of successful recent mission responding to the extreme weather effects of climate change. That story demonstrated how Anglican Missions goes about mission in the 21st century,
"We do our best to work with the mission priorities of our partners, and this helps ensure a broad range of mission activities as well as a variety of approaches in different contexts," he said.
"This means we are sending missionaries that are helping to build capacity in partner churches and schools: supporting theological education, emergency aid, hospitals and health services, as well as working in primary evangelism and discipleship."
During the day of celebrations, mission supporters planted a dogwood tree in the grounds of the Anglican Missions headquarters which is also the historic residence of 19th century CMS missionary the Most Rev Octavius Hadfield, who later became Bishop of Wellington and Primate of New Zealand.
Bishop Waitohiariki was pleased to have Octavius Hadfield's great great grandsons, David and Grant Hadfield there at the centenary, and she was delighted to take part in the launch of Wellington City Archivists' online project that features the letters of Bishop Octavius Hadfield during his time as a missionary in Kāpiti.
Supporters of Anglican Missions also turned out from the New Zealand Church Missionary Society(CMS) (National Director Rosie Fyfe), Church Army (Director Captain Monika Clark), Pihopatanga o Te Upoko o te Ika, (Bishop Waitohiariki Quayle), Pihopatanga o Te Manawa o Te Wheke, (Bishop Ngarahu Katene), Diocese of Christchurch (Bishop Peter Carrell and Teresa Kundycki-Carrell), Diocese of Polynesia (Bishop Gabriel Sharma, Bishop Henry Bull, Rev Amy Chambers), as well as former NZCMS Director and now Bishop of Nelson Steve Maina.
Bishop Peter Carrell called on our Church to remember that the primary task of sharing the gospel is far from done,
"Compared to 1919, we can say that many more people are disciples of Jesus, but many more people still do not yet know Jesus." he said.
"My hope is that we continue to be a sending church, responding to the Great Commission (Matthew 28:16-20)"
"Now in 2019 we have more and stronger Anglican churches in many nations, so we need to continue to work with and support those churches."
As part of the 100th anniversary celebrations mission supporters joined in worship at St Peter's Anglican Church on Willis Street where they affirmed the work of Anglican Missions over the last century, and heard the words of the Great Commission proclaimed afresh in different languages, read from each of the four gospels.
"The challenge for Anglican Missions is to keep supporting our partners overseas in their projects that transform lives and communities." said Anglican Missions' Linda Dear.
"And that means we have to encourage everyone to keep the funds coming in, as we continue to steward them wisely to keep uplifting people's lives with the gospel."