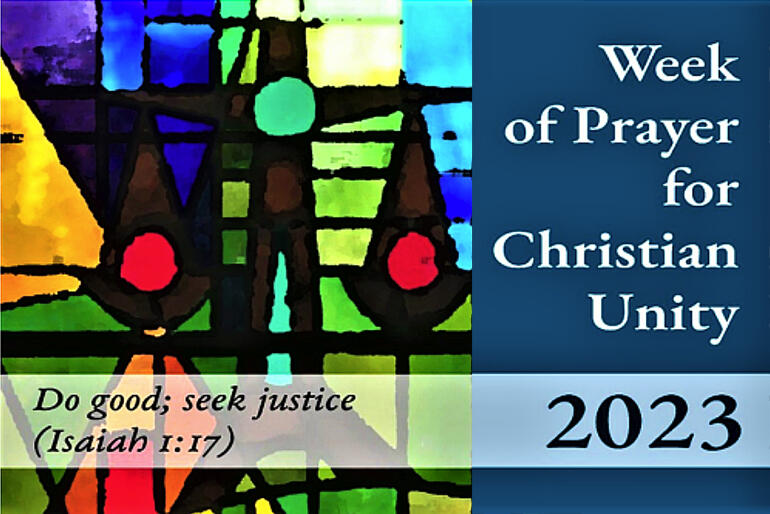 As the Week of Prayer for Christian Unity begins this Sunday, groups of local churches can turn to the international prayer resource or to the Aotearoa New Zealand-adapted resource as they plan local ecumenical services.
The global ecumenical Week of Prayer for Christian Unity has been celebrated by many Christian churches since 1908. The week takes place in the northern hemisphere in early January and in the southern hemisphere runs from Ascension to Pentecost from 21 – 28 May.
The 2023 theme for the Week of Prayer for Christian Unity is 'Do good; seek justice,' taken from Isaiah 1:17, which was chosen by this year's local planning group, the Minnesota Council of Churches (USA).
This year the drafting process was a difficult journey for some of the Black and Indigenous writers who experienced pushback from white contributors on some of the materials they wished to use. Among a wider discussion of prophetic action and justice, the explanatory notes to the resources include references to the structural sin of colonisation and call out Christians who are complicit with toxic racist ideologies such as White Supremacy and the Doctrine of Discovery.
The original set of resources for the 2023 Week of Prayer prepared by the Minnesota Council of Churches (with the input of the Vatican's Pontifical Council for Promoting Christian Unity and the World Council of Churches' Commission on Faith and Order) can be found here.
As each country prepares to celebrate the Week of Prayer they are encouraged to adapt the materials to their unique geographical and cultural contexts. The Aotearoa New Zealand-adapted Week of Prayer for Christian Unity 2023 materials have been prepared by the National Dialogue for Christian Unity for parishes, schools, or any worshipping group.
Hosted at Catholic.org.nz the Aotearoa resources include a number of waiata and prayers in Te Reo Māori, as well as notes to encourage use of more local songs and prayer resources where appropriate. The 'Eight Days of Prayer' resource has been designed as suitable for use by individuals.
Links to both International and Aotearoa New Zealand resources follow below:
USA-International Week of Prayer for Christian Unity Resources 2023
Aotearoa New Zealand Week of Prayer for Christian Unity Resources 2023