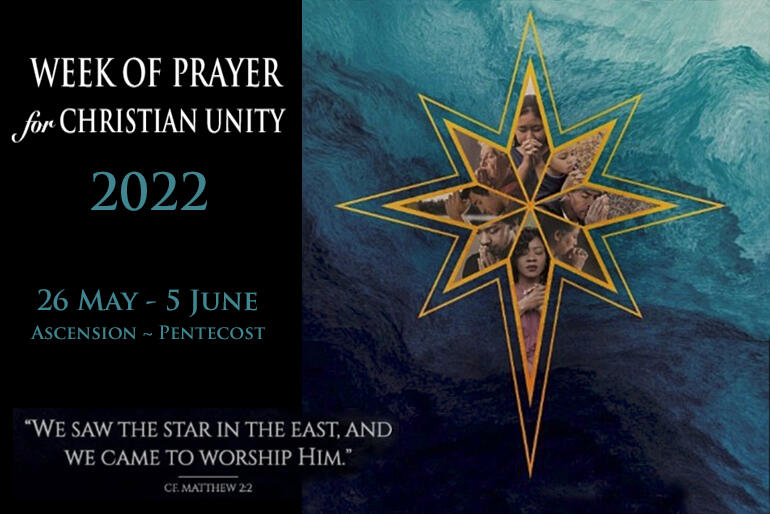 Anglicans across Aotearoa, New Zealand and Polynesia have been invited to unite in prayer with Christians in their local areas during the Week of Prayer for Christian Unity which runs between Ascension and Pentecost 26 May - 5 June, 2022.
This year, the World Council of Churches' Faith and Order Commission and Pontifical Council for Promoting Christian Unity have selected the Middle East Council of Churches (MECC) to take charge of preparing resources for the Week of Prayer for Christian Unity.
A Middle East Council of Churches (MECC) six-person working group has prepared prayers and biblical study materials based on the 2022 theme, 'We saw the star in the East, and we came to worship him.' (Matthew 2:2).
"More than ever, in these difficult times, we need a light that shines in the darkness and that light, Christians proclaim, has been manifested in Jesus Christ." they wrote.
"The Magi reveal to us the unity of all nations desired by God. They travel from far-off countries, and represent diverse cultures, yet they are driven by the same hunger to see and know the new-born king."
In the Pacific, churches come together during the mid-year Week of Prayer for Christian Unity to worship and praise God, celebrate their shared mission and to remember Jesus' prayer for his disciples that "they may be one so that the world may believe" (John 17.21).
Congregations and parishes across the Hui Amorangi and Dioceses can choose to exchange preachers, arrange joint ecumenical celebrations or open up their own services to practice the unity in Jesus' prayer.
The MECC working group have prepared a full ecumenical service on the 2022 theme from Matthew 2:2, as well as eight daily prayer offices for Christians wanting to observe the week in full.
The Week of Prayer for Christian Unity resources are attached in PDF below.