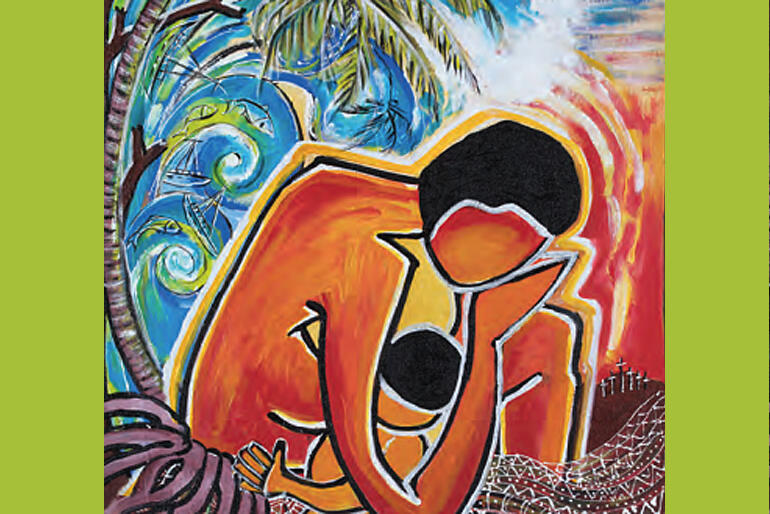 Aotearoa New Zealand World Day of Prayer Committee President Pauline McKay is encouraging Pacific churches to mark the World Day of Prayer this Friday, by beginning or renewing friendships with Vanuatuan people living in their communities.
This year's ecumenical World Day of Prayer (WDP) has been designed and published by the WDP Committee of Vanuatu focused on the theme 'Build a strong foundation.'
Through the resources they have prepared for this global event, Vanuatuan women share their faith in God's love, and share challenges they face living in a country vulnerable to frequent disasters like last year's Cyclone Harold, the effects of ongoing damage to the climate and now the economic impact of Covid-19.
In 2021, the global pandemic has caused significant loss of income for many people in Vanuatu due to the collapse of tourism. Like women everywhere, women in Vanuatu face the everyday struggles of providing healthy food for their families, educating their children, and finding options for employment or growing adequate livelihoods. In the last few years, both natural disasters and economic pressures have made their jobs harder.
The World Day of Prayer service and its accompanying Bible study provide Vanuatuan women's reflections on the story Jesus told about building houses on solid ground. Decisions about where to build can be critical in their homeland rocked by earthquake and cyclone, covered in volcanic ash and threatened by rising seas.
"This service comes from the Pacific and explores themes highly pertinent to our region." says Pauline McKay, Aotearoa New Zealand WDP President and Director of Christian World Service, the Aotearoa New Zealand churches' aid and development agency that works across the Pacific.
"It is an opportunity for us all to share with ni-Vanuatu residents in our communities and show our solidarity in taking action to care for the world we share."
The WDP committee in Vanuatu have featured a cover painting on their World Day of Prayer booklet which captures the prayer of the ni-Vanuatu in 'Cyclone Pam II: 13th of March 2015' depicted by Vanuatuan artist Juliette Pita from Erromango island.
The stylised image portrays a mother praying over her child, protected from large waves by a palm tree held firm by its strong roots. During the cyclone, artist Juliette Pita took refuge in a shipping container alongside her neighbours. When they opened the door the following morning, everything had been destroyed except for her studio, a traditional hut made from palm trees. Juliette says God answered their prayers and nature protected them from harm.
Churches wanting to offer practical support to communities in Vanuatu can send offerings from their WDP services to Christian World Service partners' new food security programme providing essential food items for families struggling to put food on the table as a result of the global Covid-19 pandemic. The food programme is supported by the Vanuatu Christian Council.
Click on the link to download the World Day of Prayer 2021 PDF resources (includes background info and full ecumenical WDP prayer service).
For more information contact your local World Day of Prayer organising group, or email Zella McGirr on wdpnz@xtra.co.nz
The World Day of Prayer is a global movement of Christian women who come together in prayer and mission in more than 170 countries. Each year it is designed and resourced by the ecumenical women's World Day of Prayer Committee in a different participating country. Begun in the USA and Canada in the nineteenth century, it became a global movement in 1927. The first service in Aotearoa New Zealand was held in Christchurch in 1931.
Note: World Day of Prayer services suspended due to Level 3 lockdown in Auckland may be observed on new dates depending on Level changes over the next few days. Watch this space.