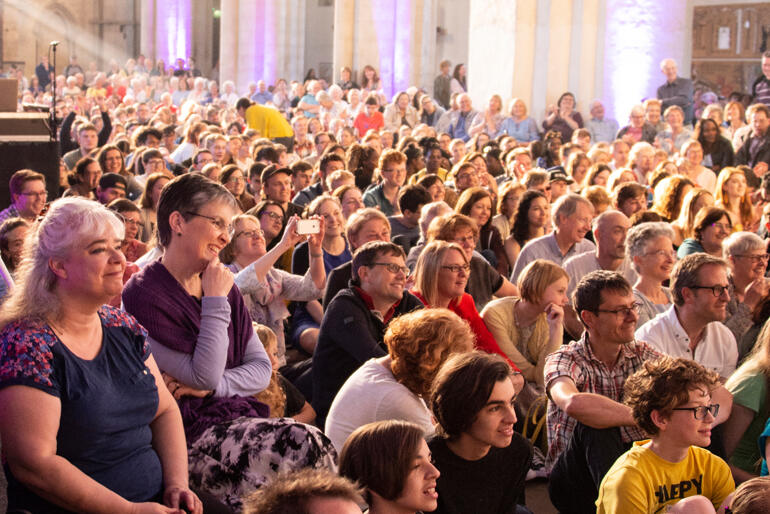 Christians around the world are preparing to pray individually, in churches, in ecumenical gatherings and in large-scale beacon events, as part of this year's Thy Kingdom Come global wave of prayer.
The initiative began in 2016 as a call from the Archbishops of Canterbury and York, Justin Welby and John Sentamu, to the clergy of the Church of England to set aside time between Ascension and Pentecost to pray for more people to know Christ.
Leaders of other Christian Churches in the UK echoed the call, as did Anglican leaders around the world.
Pope Francis has endorsed this year's event with a video message.
"Come Holy Spirit. This is the cry of all Christians on this day of Pentecost. Come Holy Spirit – the promise of the Father; the promise of Jesus, that the Holy Spirit may enlarge and widen our hearts." said Pope Francis in his video endorsing Thy Kingdom Come.
"We all have a problem, and that is that our hearts tend to shrink, become smaller and close. We can't solve that problem by ourselves. Only the Holy Spirit can solve it. Come Holy Spirit. And to Jesus, thy Kingdom come – the Kingdom of the Father that you came to announce.
"And to you, my brothers and sisters with my brother Justin Welby, we want to tell you that we walk alongside you in this prayer - Thy Kingdom Come."
In Ireland, the Anglican and Catholic Primates, Archbishops Richard Clarke and Eamon Martin, issued a joint message, which has been published as a blog by the Anglican Communion News Service. "Praying 'Thy Kingdom Come' can be a familiar phrase that trips off the tongue a little too easily, but it should never be such", they said. "'The Kingdom of God' can best be understood as being the realm of God, that place where God is in full control, where God is completely supreme in the hearts and minds of his people.
"Praying for God's Kingdom to come is therefore not simply a prayer for the world (although it is that), but it is also a prayer for our own spiritual renewal and a prayer for the Holy Spirit of God to enter the lives of those we know and love in a new and powerful way."
The Diocese of West Malaysia in the Province of South East Asia is using the 10 days as a period of "intensive prayer . . . for the lost, the least, the little and the lonely that they may be comforted with the Word of God and God Almighty himself", Archbishop Moon Hing said.
The diocese has published a prayer resource booklet for Thy Kingdom Come. The Diocesan Prayer Coordinator, David Rajiah, said that "through this we hope to . . . be transformed through prayer, be given new confidence and encouragement by the Holy Spirit, [and] be effective witnesses for Jesus Christ.
Churches in Aotearoa, New Zealand and Polynesia who are holding 'beacon events' to mark Thy Kingdom Come can lodge details of these events on the global Thy Kingdom Come website here.