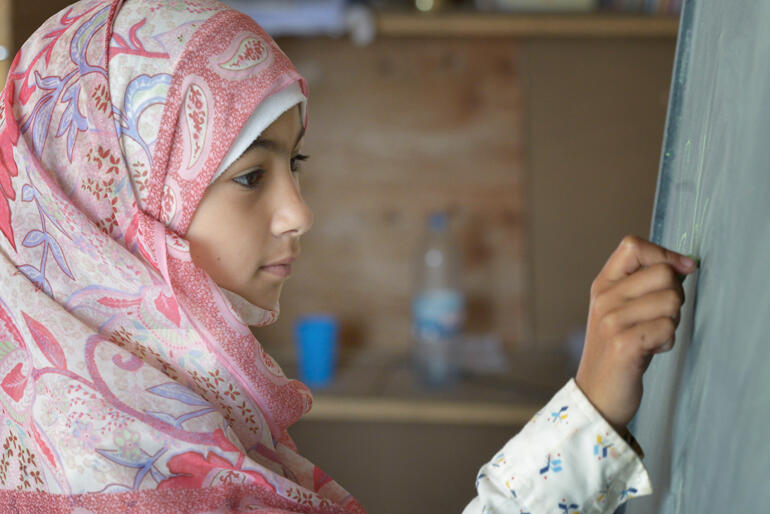 Christian World Service is calling on Anglican churches to mark Refugee Sunday on 7 July this year, to remember the 68.5 million people across the world who are displaced or living as refugees.
CWS has prepared a set of resources for Refugee Sunday as a PDF document 'Working for the Good of All'. Resources are based on the 2019 lectionary readings and feature stories from CWS partners who work with Syrian refugees in Lebanon and Jordan, as well as Refugee Sunday prayers, a children's talk and additional material including a PowerPoint presentation here.
CWS partner the Department of Service to Palestinian Refugees(DSPR) in Jordan and Lebanon urgently need funds to maintain their support programmes to Syrian refugees.
Funds raised on Refugee Sunday will go to the CWS Syria Appeal to help meet Syrian refugees' school and medical costs, provide psycho-social support and run training programmes, especially for women.
As part of making an impact on Refugee Sunday, CWS encourages Anglican churches and ministry communities to commit to a special appeal or fundraiser, to help CWS partners provide more emergency food, education programmes and medical care to the millions of refugees living in countries adjacent to Syria.
Operation Refugee is one way that individuals or groups can fundraise through the "Be the lifeline" challenge to survive on refugee rations for 2 or 5 days, or the "Walk the Talk" challenge to walk in solidarity with refugees who must flee on foot, by completing a set number of kilometres or steps in five days.
Providing hospitality to displaced people by welcoming the stranger, or protecting people forced to flee are recurring themes throughout the Bible. Refugee Sunday 2019 is an opportunity to help translate our prayers into action by directly funding those organisations working in the places where the majority of Syrian refugees live.