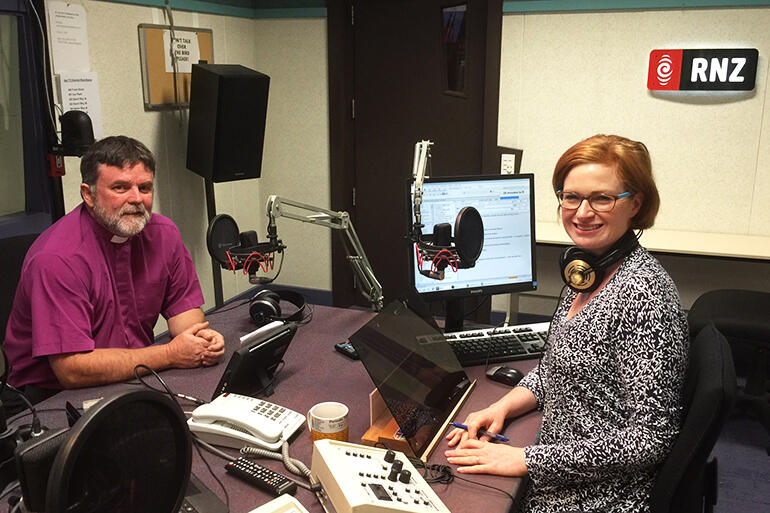 The leaders of the Anglican Church in New Zealand are formally seeking a "substantial increase" to our annual refugee quota.
Over and above that, they're also asking for new pathways for refugees to become legal residents of New Zealand.
Archbishops Brown Turei and Philip Richardson have made a case for these things with the Minister of Immigration, Michael Woodhouse, and the Minister of Foreign Affairs, Murray McCully – who, in turn, will recommend to Cabinet where this country's refugee quota should be set for the next three years.
In a detailed written submission, the two Archbishops[1] argue that New Zealand has been a "minimal contributor" where refugee and asylum-seeker intake is concerned – our refugee quota has been pegged at 750 for almost 20 years.
And while they don't advance a revised number, they say they are "very sympathetic with the calls to double the quota."
They also say the "alternative pathways" could include:
1. Community-based, private sponsorship schemes – whereby sponsors, typically churches, NGOs or small groups of concerned citizens – put their hands up and say, in effect: 'We'll be responsible for this group of refugees.'
In Canada, for example, more than 275,000 refugees have been resettled in this way;
2. Devising a loan scheme to encourage groups to get into private sponsorship;
3. Ramping up the existing family re-unification scheme – whereby a solo refugee can sponsor family members (who may be stuck in refugee camps, or in danger) to come here. New Zealand's refugee family reunification scheme is presently capped at 300 people a year;
4. Enabling gifted young refugees to study at our universities through scholarships that cover fees and living costs;
5. Setting up fast-track schemes for refugees who have sought-after work skills.
The Archbishops also say Pacific Island people who are the victims of rising sea levels and extreme weather should be recognised as climate change refugees.
And they're asking for sustained focus on orphaned children ("the most vulnerable souls on earth") both within a more generous quota, and in that above-quota intake. They point to the successful integration of Polish refugee children here after World War 11 as proof of how this can work.
The Church as stakeholder
In their submission[2], Archbishops Brown and Philip first make the case for the church speaking into the debate.
They outline "a long history of commitment" to refugee and asylum seekers resettlement – in the beginning through the Resettlement Office (which was a joint venture between the National Council of Churches and the Catholic Immigration Committee) and then through the Inter-Church Commission on Immigration and Refugee Resettlement agency (ICCI) which, from 1976 until 1989, was the sole agency responsible for the admission and resettlement of refugees in this country.
"Over this period parishes and congregations became adept at welcoming refugees and asylum seekers into local communities… and this tradition has never ceased[3]."
When the Prime Minister announced last September that the Government was willing to accept hundreds of Syrian refugees beyond the quota, Archbishop Philip and the Catholic Cardinal John Dew proclaimed that there was "overwhelming support" within their parishes for this move – and followed that up with a commitment to look after 300 families.
They went on to say:
"We know that Catholic and Anglican Christians throughout the country will step up to provide support and assistance to those our country offers refuge to.
"We have done so in the past, we continue to support newcomers and we commit ourselves and our resources into the future to this task."
A global crisis of unprecedented size
In their submission, Archbishops Philip and Brown quote UNHCR figures which show that there are now 60 million "displaced" people in the world – people scattered by war and persecution – and that number has jumped 76 percent in the five years to the end of 2015.
In that same period, the number of people forced from their homes by conflict every single day has nearly quadrupled – from under 11,000 in 2010, to 42,500 last year.
More than 1 million refugees surged into Europe last year – which is a fourfold increase on 2014 figures.
But the pressure on Middle Eastern countries is far greater. The archbishops quote UNHCR figures which show that at the end of last year, for instance, there were 2.5 million Syrian refugees in Turkey, 1 million Syrian refugees in Lebanon, and 635,000 Syrians in Jordan.
But because of its isolation, New Zealand has been able to be a "laggard country", a minimal contributor to refugee and asylum safety, a country whose efforts fall far short of our neighbours across the Tasman.
Australia accepts five times the number of refugees per capita that we do[4], and New Zealand's record of hosting refugees falls far short of countries such as Denmark (13,710 last year) Finland (11,252) and Ireland (6001) whose size, wealth and populations are roughly similar to ours.
The submission also notes that the intake of asylum seekers (those who claim asylum there, as distinct from refugees who have been accepted abroad under the quota system) "reduced substantially" over the last decade.
"This (reduction) has happened at the same time as the movement of asylum seekers across borders has been increasing dramatically globally…"
"In the light of responses from most other like countries," say the archbishops, those figures are "embarrassing for New Zealanders…"
The archbishops "respectfully request the New Zealand Government to substantially increase the refugee quota" – while also urging the government to look at other ways of accepting refugees into the country.
They also question the present intake policy, which is geared towards refugees from the Asia Pacific region (from Myanmar, for example), rather than on worldwide need.
Last year, for example, refugees from the Asia Pacific region made up 61 percent of the quota intake. Yet by far the largest refugee populations come from the Middle East and Africa.
Community-based private sponsorship
Last year, the UNHCR encouraged member states of the European Union "to use other legal avenues to allow people in need of protection to reach Europe."
The archbishops have drawn on this idea. They've asked the Government "to consider a range of innovative, alternative, legal avenues" by which refugees could be accepted into New Zealand over and above an increase in the quota.
Private sponsorship schemes are recommended by the UNHCR, and these are gaining traction in a number of countries.
Canada has been running its Private Sponsorship of Refugees program since 1979, and 275,000 refugees have arrived in Canada that way.
Australia launched a similar scheme in 2013, and Germany, Switzerland and Ireland have done so in the wake of the Syrian crisis.
These schemes can have a number of advantages, the archbishops argue – including offering "a 'hands-on' way for members of the public to engage directly in resettlement. In Canada, for example, a group of five citizens may group together to sponsor a family. They become involved in providing for the family and resourcing their first year in the country."
The costs of such schemes need to be carefully thought through, however.
"There are costs getting to New Zealand", says the archbishops' submission, "and there are a lot more (costs) when they arrive.
"We recommend an interest-free loans scheme be devised which could help with costs and be paid back over two or three years, by both sponsors and refugees. The sponsors could stand as guarantors."
Extending the Refugee Family Support category
At present, the Refugee Family Support Category is capped at 300 people per annum.
To qualify as a sponsor, the refugee settled in New Zealand has to be single, a sole carer or a dependent child and have no other immediate family in New Zealand. And the full costs of travel, settlement, housing and living must be borne by the sponsor.
"Family reunification," says the archbishops, "is a less costly process of bringing in other refugees for the government and can be expected to lift the quality of life of the sponsoring refugee.
"The sponsored group usually becomes quickly included in New Zealand communities because their loved one is already over here and gives them a head start….
"We recommend the Refugee Family Support Category be extended considerably, as also recommended by New Zealand Red Cross."
"The most vulnerable souls of earth"
"Refugee children who have lost their parents through war or persecution are some of the most vulnerable souls on earth."
What's more, the UNHCR noted last year that the number of unaccompanied children seeking asylum was "rising to levels unseen before".
"A number of these children find relatives in the camps or on the roads and join them, often becoming part of their family. Other children simply join other families. Extended families of this type could be prioritized and the children accepted as part of the one family.
"There may also be situations, as with the Polish orphaned children who arrived in 1944 as a group with a mix of mothers and unaccompanied children. These families or groups of people won't fit tidily into the standard nuclear family structure for assessment.
"Given the acute vulnerability of such children, we ask that families who incorporate unaccompanied children be accorded a priority category visa, and flexibility be given to the definition of family..."
Climate change refugees
In their submission the archbishops also highlight a looming crisis in the Pacific.
"Low-lying countries like Tuvalu, Kiribati and Tokelau are vulnerable to rising sea levels, and devastating cyclones and hurricanes have become much more frequent.
"It is our view that New Zealand should be preparing for climate change refugees", and they note too that, at present, there is "no provision in international law for people displaced by climate events."
"We recommend the Government address the matter of climate change refugees and prepare policies to adequately address it for the next Refugee Quota Programme Three Year Cycle."
Academic scholarships and labour mobility schemes
Refugees are people whose lives have been put on hold, say the archbishops, and they include high-achieving university students.
And the archbishops are suggesting that scholarship visas would create benefits for both these refugees and for this country.
Likewise, refugees with specialized skills could be an answer to labour shortages – and people with the in-demand skills should be accepted earlier than they normally would be.
Government investment and the church's commitment
The archbishops say that their submission seeks to demonstrate: "that New Zealand can and should respond much more generously to the… refugee crisis, by granting many more visas through a diverse intake system.
"We recognise that improvements in quota and modes of entry of the magnitude suggested in this submission will require increased funding from Government.
"We believe most New Zealanders will consider this a responsible use of the public purse."
"We are not requesting the Government to carry out this task alone.
"We have publically committed resources, both financial and in-kind. We wish to work together for New Zealand to develop a response to the global refugee crisis that we can all be proud of..."
To read the full, unedited submission to the Ministers, click here.
Footnotes:
[1] Archbishop Winston Halapua, who is the Suva-based Bishop of the Diocese of Polynesia, is not a signatory to the submission.
[2] The research data for the submission was prepared by the Family Centre Social Policy Research Unit, Anglican Social Services, Hutt Valley Inc.
[3] In 1989 that work became the responsibility of the newly established Refugee and Migrant Service (RMS). Later still, the Red Cross took the responsibility of being the lead agency in refugee resettlement here.
[4] Australia has agreed to lift its annual refugee quota from 13,750 now to 18,750 in 2018-19 – and has also agreed to take an extra 12,000 refugees above their quota this year.