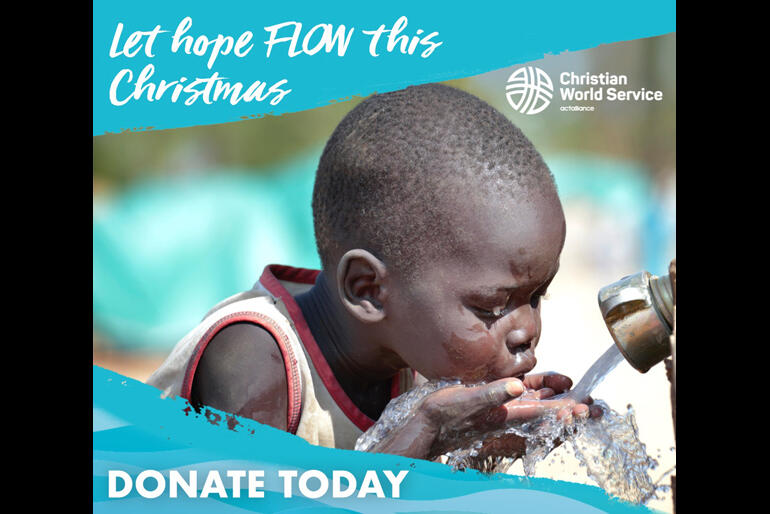 This Christmas, Christian World Service (CWS) is calling on Aotearoa New Zealand churches to help resource people as they prepare to survive drought, flood, water pollution and inundation and other effects of climate-change driven disasters on their homes.
Donations to CWS for this year's 'Let hope flow' Christmas Appeal will help:
- Build lifesaving rainwater tanks for families caring for AIDS orphans in Uganda
- Support people to rebuild and recover from floods in Pakistan
- Support Pacific communities relocated due to seawater inundation
- Fund water projects for refugees in Galilee, Gaza, Jerusalem, the West Bank, Jordan and Lebanon
- Organise villagers in Nicaragua to manage their scarce water supplies, improve crop production and prepare for climate disasters
The Christmas Appeal 2022 recognises that the changing climate has made daily life harsher for many people as they struggle to adapt to climate extremes, and especially successive droughts or rising sea waters.
Donations to the Christmas Appeal will go to five CWS partners that work with communities to help manage life amidst increasing climate hazards. These partners are: Centre for Community Solidarity (Uganda), Pacific Conference of Churches (Fiji-based), Community World Service Asia (Pakistan), Nicaragua Council of Protestant Churches and the Department of Service to Palestinian Refugees (Gaza, West Bank, Galilee, Jordan, Lebanon).
Each of the 2022 Christmas Appeal partners provide effective, economical, local solutions to help families build sustainable futures as they prepare to survive on the frontlines of the climate emergency.
For more information about the CWS 2022 Christmas Appeal partners go to Christmas Appeal featured partners.
CWS encourages Anglicans to give generously to the 2022 Christian World Service Christmas Appeal. All donations to CWS are tax deductible in Aotearoa New Zealand.
To watch a video introduction to the Appeal, go to the Appeal Videos.
Resources for churches are available here.