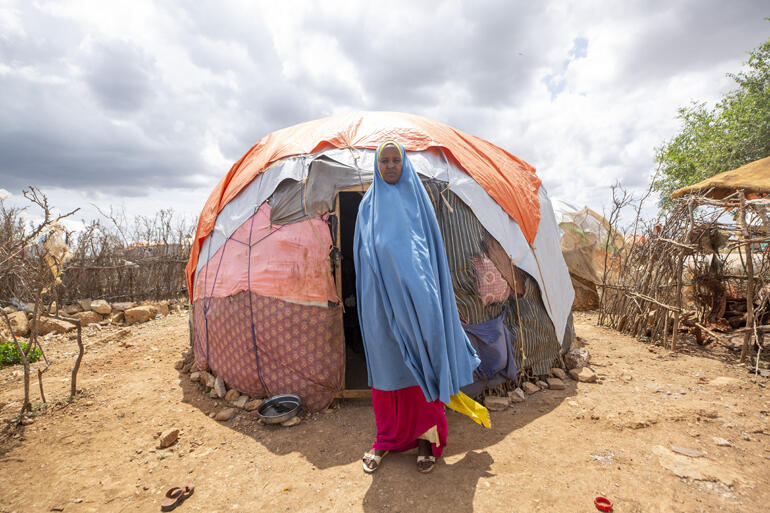 Christian World Service has opened an East Africa Appeal to gather aid for people living in drought-affected regions across East Africa, where a severe food and water crisis now threatens the lives of millions.
The Horn of Africa has seen four years of drought which has left its pastoralists, farmers, families and their animals with no crops to eat and no water to collect. Starvation led by climate change is driving people out of the continent's arid regions – including parts of East Africa and the Sahel lands bordering the Sahara Desert – where temperature rises have worsened dry seasons and made them more frequent.
The UN reports that families in these regions face severe food shortages, which have deepened since the war in Ukraine cut off food imports. Many sub-Saharan African countries rely on Ukraine and Russia's food grain exports, with some importing up to 30%-40% of their total grain needs from the two countries.
The East Africa food crisis had been exacerbated by the compound effects of the Covid-19 pandemic, regional conflicts, locust invasions, and now by the surge in food and commodity prices due to the conflict in Ukraine.
"The cost of a typical food basket has risen by 66 percent in Ethiopia and 36 percent in Somalia. In the worst-affected parts of Kenya, the emergency sale of livestock means prices are at their lowest since 2011. In all three countries, women are bearing the brunt of the crisis – they are the last to eat in each household, and the first to be displaced." said Obi Anyadike to The New Humanitarian.
Sadly, as many countries have redirected aid funding to the humanitarian crises caused by war in Ukraine, much life-saving aid has been taken away from East Africa and the world's other 'forgotten crises' such as the Bangladesh camps for Rohingya people who have fled Myanmar.
What can we do?
Through the Big Hearts campaign, Christian World Service is lobbying for an increase in Aotearoa New Zealand's Official Development Assistance to keep us faithful to our promises to give to people facing starvation.
Last month the New Zealand Government released its annual budget that signalled an increase in next year's aid quota that should push the total allocation over $1 billion for the first time.
In the meantime, families in East Africa still urgently need funds to buy food and water today.
Christian World Service is calling for donations to go to the Action of Churches Together (ACT) Alliance Appeal, which can direct immediate help through church-based aid organisations in the drought-stricken regions of Ethiopia (Afar, Oromia and Somali) Kenya (Marsabit) and Somalia (Gedo).
Funds directed to Christian World Service will support people fleeing drought-affected areas with immediate food and water needs, as well as with tools to rebuild gardens, schooling for displaced children and protection for vulnerable women in 'Internally Displaced People's camps.
Donations to the CWS East Africa Appeal will provide people in affected areas of Somalia, Ethiopia and Kenya with food and:
– Fast-growing vegetables and seeds
– Water, sanitation and hygiene needs
– Animal feed and health
– Protection and psychosocial support, especially for vulnerable women and girls
– Shelter and non-food items
– Disaster preparedness and other training
Please give generously to help CWS and the ACT Alliance deliver life-saving aid in East Africa.