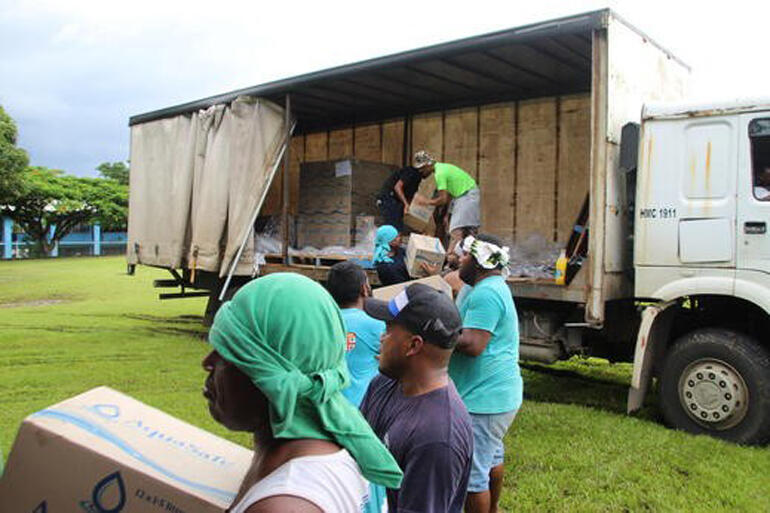 Since the Hunga Tonga-Hunga Ha'apai volcano erupted in mid-January, people in Tonga have been hard-hit by the impact of ashfall and the resulting tsunamis, which have devastated communities' land, homes and livelihoods.
Now the arrival of humanitarian aid has brought Covid-19 to Tonga, adding an extra burden to people undertaking disaster recovery and caring for community health amid lockdowns and other Covid-19 restrictions. In early January 2022, Tonga had zero Covid-19 cases, but by 14 February, Matangitonga News reported 139 active cases, with the Omicron variant among them.
Anglican Mission's Diocese of Polynesia partners in Fiji and Tonga have already distributed food and shelter supplies while more arrived this week: including water, dry food, children's packs, dignity packs and cleaning equipment. In addition Anglican Missions is working with shipments heading to Tonga through the Auckland-based Episcopal Unit of the Diocese of Polynesia in Aotearoa New Zealand.
Another container full of Anglican Missions'-supported emergency provisions is poised to ship from Suva on 20 February, loaded with additional food and water, plus hand sanitiser and masks for families affected by the Covid-19 lockdown.
People reporting from on the ground in Tonga tell Anglican Missions that locals have already displayed incredible resilience, but communities still have a desperate need for funding to provide basic supplies and essential community health support.
The Diocese of Polynesia's Development and Humanitarian Aid Project Manager, Karen Chute-Delaivoni reports that both young and old in Fiji have been working hard to get provisions ready for sending to Tonga.
"For container one and two, we were focused on providing essential needs such as food, water and cleaning equipment."
"But now our Tongan communities tell us they need to focus on food security, and repair and rebuilding works for the long haul."
Anglican Missions and the Diocese of Polynesia are calling on generous donors to once again reach out in support for our Anglican whānau in Tonga to help fund:
- Specialist social and mental health services for children
- Repair of buildings, including churches (also used as evacuation centres)
- New water tanks or repairs of tanks destroyed by tsunamis
- Start-up provisions to enable families to replant gardens, and re-establish farming and fishing
Due to the enormous amount of damage inflicted on our brothers and sisters in Tonga, Anglican Missions and its partners are calling for your donations to lend a vital helping hand to Tongan communities as they work hard to rebuild and recover.
Please send your donations through the Anglican Missions website here