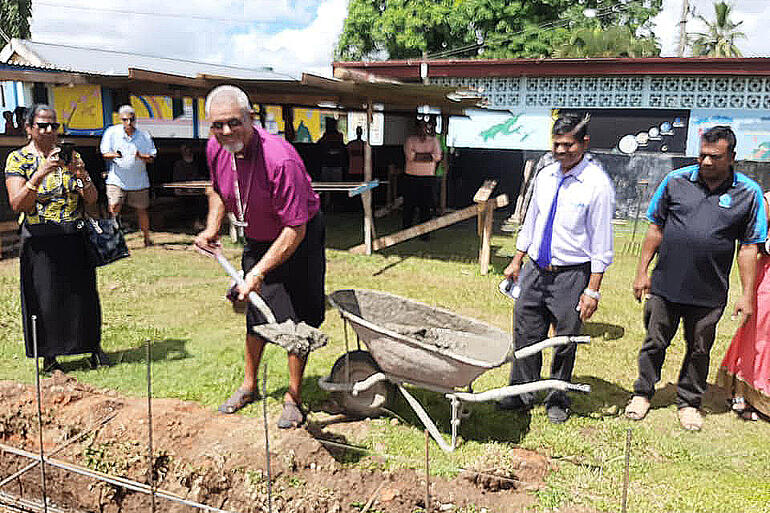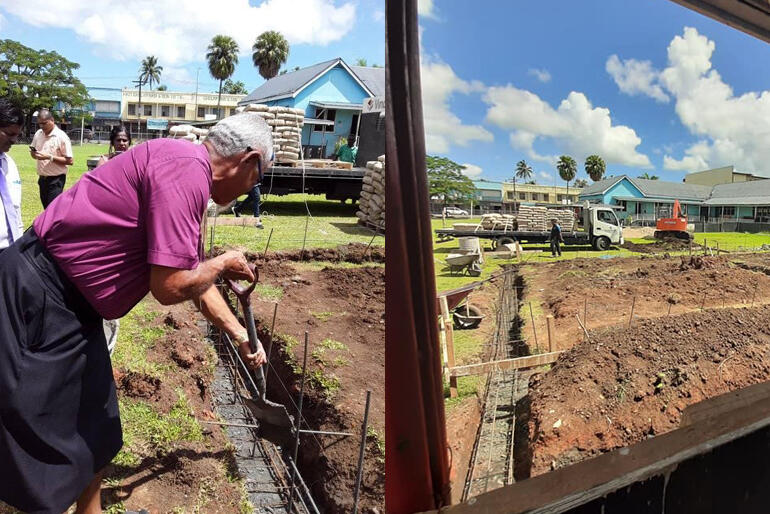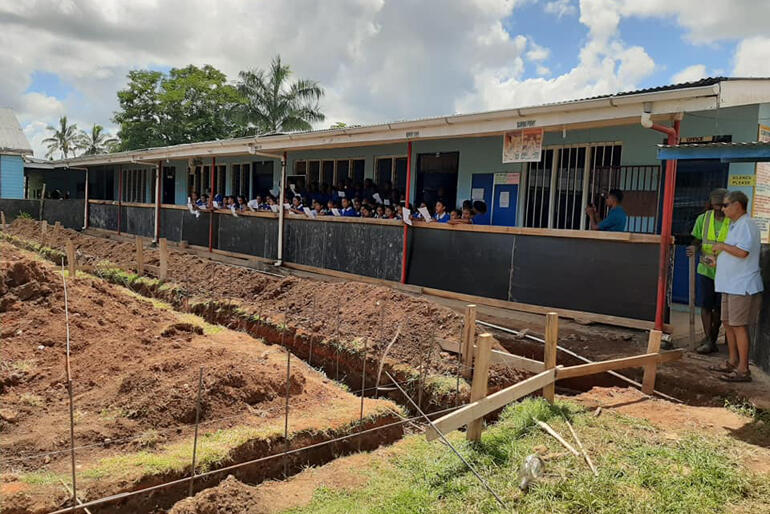 Bishop Henry Bull has blessed the foundations for a new dedicated science lab, computer room and additional classroom at St Mary's Anglican School in Labasa, an 800 pupil primary school in Bishop Henry's Vanua Levu bishopric.
In a post on social media this week, Bishop Henry praised God for the school's acquisition of the new classrooms, which will create more space to house its students whose existing rooms average 34 children per class. He thanked the Suva-based Japanese Embassy, who have given a major grant to fully finance the classroom buildings, plus another sum that will cover the cost of furnishing the rooms.
Vicar of St Thomas Labasa, Rev Gerald Billings – who is manager of St Mary's School and chairman of Anglican Schools in Vanualevu – said it was an historic moment for St Mary's, which urgently needed the two new labs to comply with the Fijian Government's revised curriculum in its demand for dedicated science and IT facilities.
"This is the first time since the school was established in 1937 that we have received any Government or overseas aid assistance." said Gerald Billings. "We were very pleased that our application was successful."
St Mary's School headteacher Sunil Dutt, who also helped secure the financial support, acknowledged the prayers and work of the wider community that had helped pave the way. Alongside Bishop Henry Bull, he thanked St Mary's School Board, St Thomas' Church vestry and Japan's Ambassador to Fiji Masahiro Omura and his embassy staff.
Work has progressed since the breaking ground and blessing ceremony in December 2019, so that now with the foundations complete, the classrooms' concrete floors are ready to be poured.
Gerald Billings reported that an earlier appeal for computers for the new laboratory has now received overwhelming support from Southwell Primary School in Hamilton which has donated a shipment of second-hand Chromebooks.
"The school community is very grateful for this support." he said today.
The Southwell laptops were due to be disposed of, but were worked on free of charge by Southwell teachers in order to be useful for St Mary's, while the freight costs were donated by the Anglican Schools' Office of Aotearoa New Zealand and Polynesia.