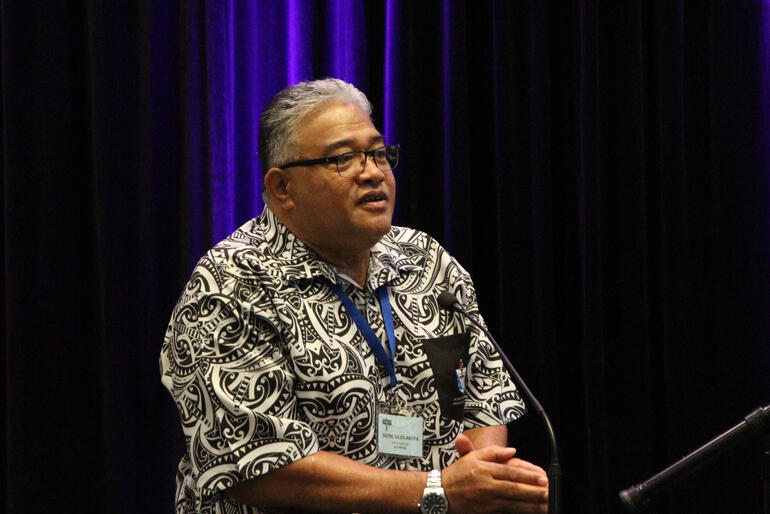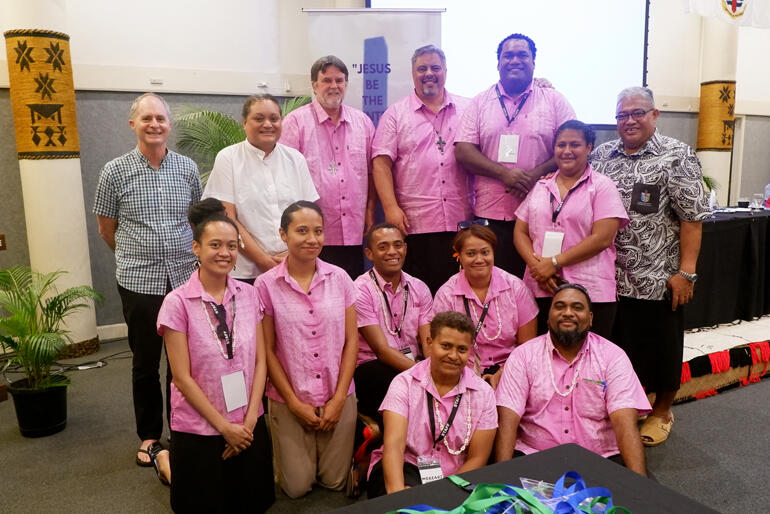 The Diocese of Polynesia Electoral College has elected Principal of St John the Baptist Theological College, Suva and priest of thirty years, the Rev Sione Ulu'ilakepa, as the next Bishop of Polynesia.
Fr Sione Ulu'ilakepa was confirmed as Bishop-elect of Polynesia by majority assent of General Synod Te Hīnota Whānui this week, which means he is also Archbishop-elect of the three Tikanga Church.
Archbishop Don welcomes Fr Sione as a fellow primate who brings immense ministry experience and theological depth to the role – much as Don has experienced with the last two Bishops of Polynesia.
"Fr Sione is a deserving successor to Archbishop Winston Halapua and Archbishop Fereimi Cama, with a decades-long track record of ministry and leadership throughout Polynesia."
"I have known Fr Sione for a long time. He is a good person and he has a shepherd's heart."
Over his thirty years in ordained ministry, Rev Sione Ulu'ilakepa has undertaken ten parish positions and ten diocesan roles in Polynesia, and has ministered in every country served by the Diocese.
Archbishop Philip Richardson reports he was struck by the breadth and depth of leadership talent he observed at Polynesia's electoral college, an event he found characterised by grace, humility and kindness.
Archbishop Philip welcomes Archbishop-elect Sione, highlighting his work as a parish priest, educator, liturgist, a member of General Synod Te Hīnota Whānui and its Standing Committee.
He commended the Archbishop-elect's ability to take on this new phase of leadership,
"Under Fr Sione's oversight and guidance this will be a great season in the life of this Church and his wonderful diocese."
Looking across the Pacific, Archbishop Don feels confident too,
"Fr Sione is now at the forefront of a generational change in leadership in the Diocese of Polynesia. There are a number of capable, dynamic, and highly-experienced leaders that he can call on..."
"…and behind them is an exceptional group of young people who are following in their leaders' footsteps. I'm excited to see what the future holds for them and for us together as a Three Tikanga Church."
#
Rev Sione Ulu'ilakepa (56) comes to his new role as a long-serving priest and pastor, educator and educational administrator at secondary and tertiary levels and is well-versed in theology, liturgy, church and community governance.
As a parish priest and Moana Ministry Educator, Fr Sione has led Tongan and Fijian communities in formation and training, and helped develop climate disaster preparedness strategies, nurtured work in youth CIVA training and offered his backing to the 'No Pelestiki' plastic-free campaign.
As a liturgical innovator, Fr Sione has served for many years as a Common Life Liturgical Commissioner and loves to blend traditional Pacific images, symbols and cultural forms into liturgies that enliven worship for the moana ministry context.
His vision for the Diocese of Polynesia calls for a return to the basics of godly listening, and an embrace of not only new worship, but new technologies that can aid the Diocese of Polynesia – especially as it deals with the shocks of increasingly frequent natural disasters and the ongoing impact of the Covid pandemic.
"The Church is the voice of our voiceless, our marginalised and those of us who are vulnerable. And the Church must listen to the cry of the land and the ocean which is our home... those voices call for a new proclamation of the Good News of God."
#
Sione Ulu'ilakepa was born in Kolofo'ou, Nuku'alofa in Tonga in 1965. He was the eldest of four to parents Melesa Uluilakepa, a fulltime mum, and her husband 'Isileli Ma'afu Ulu'ilakepa, a mechanical engineer at the Tonga Electric Power Board.
Sione grew up in Tofoa and Fasi mo e Afi with a strong grounding in Christian faith as a member of his 'staunchly Anglican' family. As a teen he attended St Andrew's Anglican High School, the historic Anglican mission school in Tonga where he would later serve as chaplain then principal.
Rev Sione says the mentors and models who nurtured his faith are too numerous to name, but gives thanks especially for his parents and late grandfather, and for the inspiring example of three late clerics: Bishop Fine Halapua, Rev Siosaia Fineanganofo and Rev Tavake Tohi.
At the age of twenty, Sione responded to his heartfelt desire to serve God and set course for the ordained ministry. He began his journey at St John the Baptist Theological College in Suva, before heading to Australia to study liturgy at St John's College Morpeth in the Diocese of Newcastle. He then returned to Fiji where he studied at Pacific Theological College and later he completed post graduate study in theology at St John's College and the University of Auckland.
Sione's fascination with liturgy was kindled through the years he'd observed it up close in the sanctuary,
"It all started when I was an altar server. There I recognised that in worship, the invisible grace of God can be visibly embraced by the whole community of faith."
Sione's passion for liturgy grew, and particularly for those acts of worship that speak from a Pacific heart.
This year Fr Sione's work to contextualise liturgy for the Pacific went global when his Tongan-English song and dance named 'Together in Christ we Move,' was performed in the opening worship of the 4000-strong World Council of Churches' General Assembly in Germany.
The Archbishop-elect's commitment to liturgical innovation shone through again back in 2020, when he helped the Diocese of Polynesia bring to fruition a decades-long project to translate liturgies of the Eucharist into Pacific languages for the new version of 'A New Zealand Prayer Book'.
#
Thirty years ago, in 1992, Rev Sione Ulu'ilakepa was ordained priest at St Paul's Church, Nuku'alofa by the late Bishop Jabez Bryce.
He was first assistant priest at St Paul's Ha'apai, then set off to American Samoa as caretaker minister for St John's Pagopago, before settling in Samoa as Priest in Charge of All Saints' Apia, where he stayed until 1995.
In 1996 Rev Sione moved to Fiji to become priest assistant at Holy Trinity Cathedral in Suva, and for a time cared for St Leonard's Savusavu.
Moving back to Tonga in 2000, he served as Vicar of All Saints' Fasi in Nuku'alofa and as Tonga Ministry trainer, as well as chaplain to St Andrew's High School, then in 2008 he moved to the top spot at St Andrew's as principal of the school.
Fr Sione would go on to lead St Andrew's for six years, only stepping down in 2013 when Archbishop Winston Halapua appointed him Moana Ministry Educator, a role that once again took him to different countries of the diocese.
By the time Fr Sione was appointed to his current role as principal of St John the Baptist Theological College in 2018, he had spent a decade leading education and ministry in the Diocese of Polynesia.
Looking ahead, Archbishop-elect Sione is keen to get to grips with the next stage of his journey serving the people of his Diocese and this Church he knows so well,
"God has put us in a time and a world that is in need of God's healing, reconciliation and forgiveness. Our response to this need must be as agents of justice and God's loving embrace."
"We have work to do."
The consecration and installation of Rev Sione Ulu'ilakepa as Bishop of Polynesia and Archbishop of the Anglican Church in Aotearoa, New Zealand and Polynesia is scheduled to take place in March 2023.
Rev Sione Ulu'ilakepa is married to Taina Ulu'ilakepa and their two children are Kaliopasi and Fifita Ulu'ilakepa.