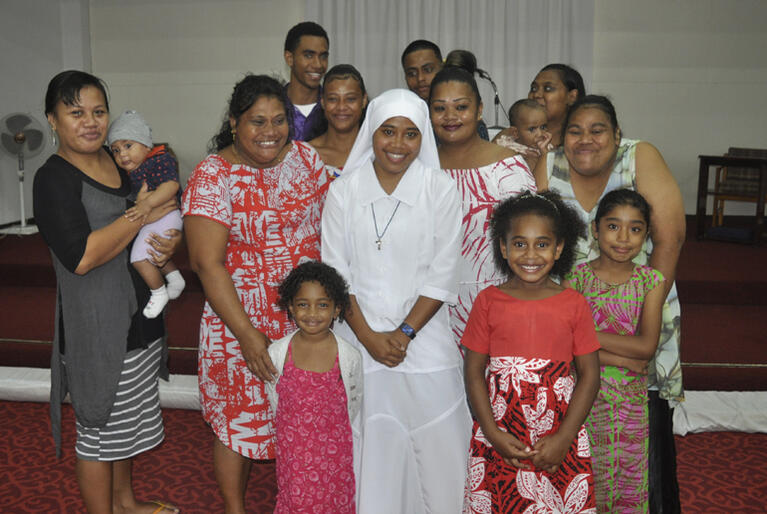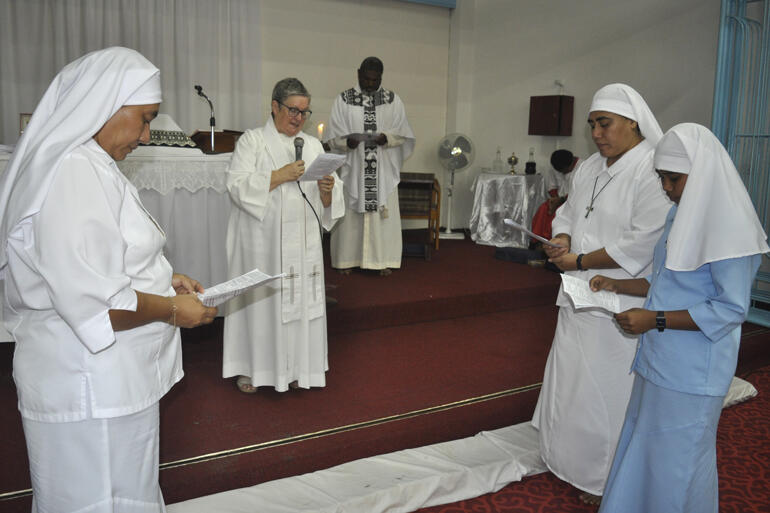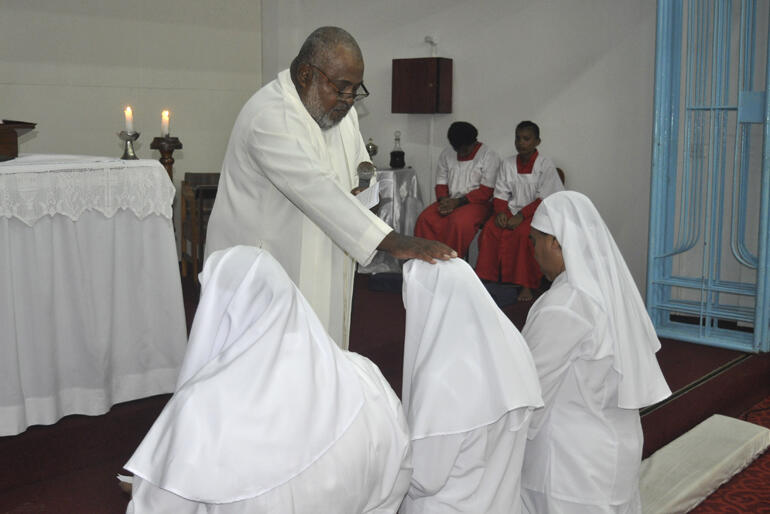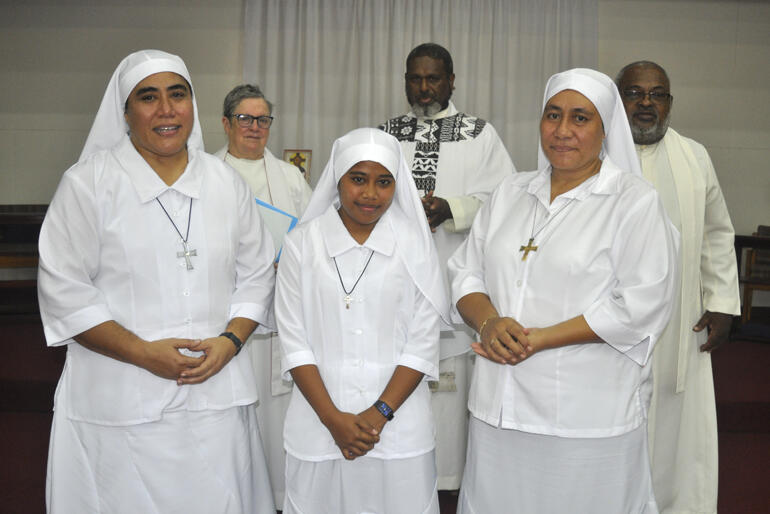 The Moana Community of Saint Clare has welcomed Miliva Toariki into the fold at a Eucharist celebrating her clothing as the order's first novice since the Community set out in mission back in 2016.
83 friends and supporters of the Community joined the sisters for a special Eucharist at St Christopher's Church in Naulu, Fiji on 24 February where Miliva made her promises to observe the Rule of the Moana Community of St Clare marked by prayer, compassion, simplicity, companionship and a care for creation.
As she was clothed in the white habit, representing living in the light of Christ, Miliva took vows of obedience and chastity, and promised to "cheerfully accept help and advice and live in the Spirit of Christ in love and fellowship with her sisters."
Miliva will now spend two years in training and discernment as a novice before she will have the chance to make her first profession as a sister in the Moana Community of Saint Clare.
Miliva's new life as a novice will be marked by a routine of five times of daily prayer, stretching from morning prayer at 5am, through to night prayer at 9pm each day. During her days she will continue study and serve at St Christopher's Home caring for the children and working with the other sisters to keep the Home running.
Miliva delights in the opportunity to share her faith with the children from so many different backgrounds and to nurture them in their talents and their self confidence, as well as teaching them all they need to live good and healthy lives.
"My favourite aspect of being with the children is nurturing them to know God… and to value themselves and not belittle others."
Miliva also savours offering pastoral care and big sisterly advice,
"I love to listen to them… (especially the older girls) and see how I can help them spiritual, emotional or physical needs."
Sister Vutulongo Tuineau, who is the Community's novice mistress, said her heart felt full of joy as she watched Miliva take her vows. Sr Longo is looking forward to helping Miliva deepen and strengthen her prayer life over her first year as a novice.
"She will be learning meditation and her Bible, and getting to know her calling, understand her value to God and know herself better."
Sister Longo aims to create an environment where Novice Miliva will form trusting relationships with her two senior sisters. That way she will come to know she can rely on them for support as she faces the challenges of religious life.
Rev Sue Halapua first began her connection with St Christopher's and the Community of the Sacred Name in the very early days, back in 1977, and has now taken up Archbishop Fereimi Cama's request to serve as chaplain to the Moana Community of St Clare.
"I rejoice in Miliva's becoming a novice," she said.
"She is young, like St Clare was when she was inspired by St Francis of Assisi, and ran away from home to join the religious life."
"Miliva has a strong sense that this is what she wants to do – and she has a passion to care for the children."
St Christopher's Vicar Fr Winston Tarere presided at the clothing service, supported by former Moana Community chaplain Fr Orisi Vuki, while Rev Sue was the preacher for Miliva's special day. Sue reminded those gathered that each and every Christian has a calling to God's service, wherever their realm may be – as a teacher, a mother, a father, a priest, a sister or in any kind of vocation.
Sue offered Miliva both comfort and challenge from Jesus' words in John 15:16, the text for St Matthias' Day,
'You have not chosen me, I have chosen you.
Now go forth and bear fruit that will last.'
Reflecting back on the day, Sue highlighted Miliva's courage in following her call, which she says Miliva has stuck with despite opposition she had faced from some in her family. Sue said the service held a blessing in that way too.
"It was truly beautiful to see that at almost the last minute, a large number of Miliva's family arrived at the church to support her."
Miliva was delighted to have family members stand beside her as she set out toward her lifelong dream of becoming a missionary.
"I was so happy that they had come to witness me taking another step towards the new life I have chosen. It meant a lot when my aunty Teresia Saulekaleka said the service was beautiful and gave her blessing for my life ahead."
Sue hopes that the Moana Community can build on the creative vitality the two Moana sisters have already displayed in their work with the children, the Fiji social services and all the Home's supporters. Sue was pleased to find that same quality in Miliva's answer to her call,
"I hope she, like the Order, will continue in her openness to God's Spirit and a willingness to embrace change and courage to tackle challenges."she said.
"These women's lives founded in prayer show vision and sense of purpose, and they work extremely hard. Miliva is joining a community that is loving, prayerful and practical."
The Moana Community of Saint Clare was founded by two former sisters of the Community of the Sacred Name and is the first Anglican women's religious order to be founded within the Diocese of Polynesia.