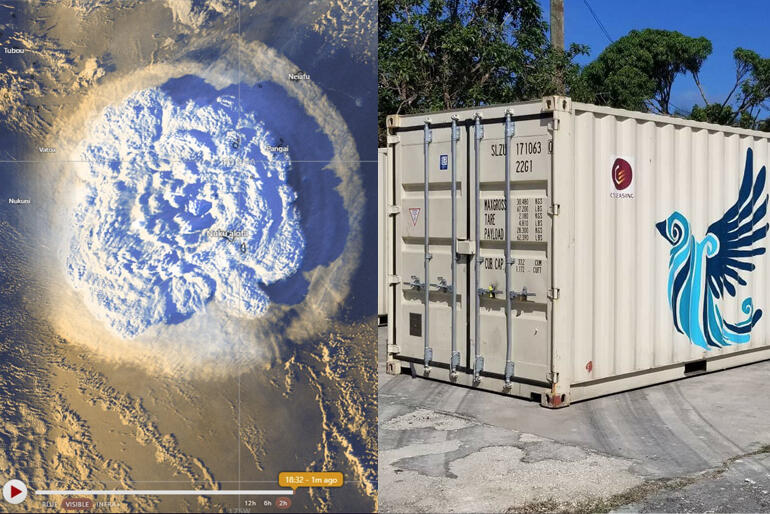 The Anglican Diocese of Polynesia and Anglican Missions have launched an Emergency Appeal for Tonga after the Hunga Tonga - Hunga Ha'apai Volcano erupted in the sea 65km from Tonga's capital Nuku'alofa, generating a 19.2 km high, 5km wide ash plume and triggering tsunami waves across the islands nation.
Initial reports on social media showed metre-high surges inundating coastal areas of Nuku'alofa and aerial and satellite images have shown the capital is blanketed in ash.
The Tongan Navy has reported major damage on the islands of Mango and Fonoi in the Ha'apai group, where waves were estimated to be 5-10 metres in height, reaching 500 metres inland and causing significant damage.
Pending assessments, damage in the northern isolated islands will also likely include contaminated water and food supplies as a result of ashfall as well as major damage to buildings and crops caused by inundation.
Now electricity and mobile phone networks have been re-established on the main island of Tongatapu, but communications with the outer islands remain intermittent.
Anglican Missions is working closely with the Diocese of Polynesia and a network of New Zealand agencies responding to this event in Tonga, as well as maintaining links with the official New Zealand government response.
Christian World Service, the Presbyterian Church, the Methodist Church, the Baptist Church and the Religious Society of Friends (Quakers) are now working together to ensure support from Aotearoa New Zealand is joined-up and not duplicating effort.
The Diocese of Polynesia and aid and development agencies here are asking churches to channel their support by raising and donating money – which can then be used to mobilise support for communities' priority needs as on the ground assessments are carried out.
Funds sent through to the Diocese of Polynesia via Anglican Missions' Tonga Emergency Appeal will initially be used to replenish prepositioned relief supplies already located at four Anglican churches in Nuku'alofa, and further funds will then be deployed according to an assessment of needs which should be available over the next few days.
Donations can be made via the Anglican Missions website donate page (enter donation amount in 'Emergency Appeal Tonga' box).
A useful video introduction on the importance of not sending goods straight after a disaster in the Pacific is available on the Donate Responsibly website.
For updates as Anglican Missions receives more information from the Diocese of Polynesia, please check the Anglican Missions website.