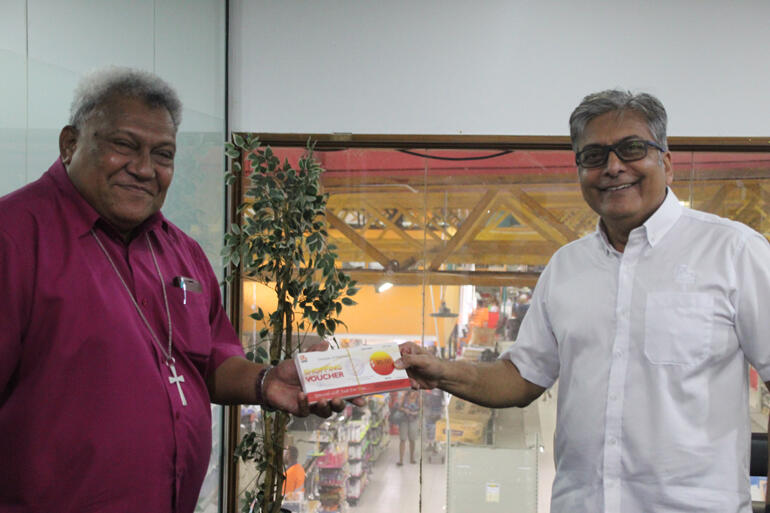 In April 2020 the Anglican Missions Board launched a Covid-19 Appeal to support the Diocese of Polynesia with its response to the coronavirus pandemic, which initially looked to promote public health education and Covid-19 related hygiene and medical supplies.
However, when the Diocese of Polynesia assessed those people most affected by the pandemic, their pressing need was for food assistance to help them through.
Tikanga Pasefika representatives on the Anglican Missions Board, Bishop Henry Bull and Rev Amy Chambers, as well as Community Integrated Vulnerability Assessment and climate resilience trainer Fe'iloakitau Kaho Tevi, rewrote the proposal to Anglican Missions to request that the funding of FJD$8,640.00 go to food aid to support families affected by Covid-19.
Families in the mission units of Viti Levu West, Vanua Levu & Taveuni, and Suva and Ovalau were strongly affected by either complete loss of livelihoods or major reduction of income due to reduced hours and lowered sales of fish, farm produce and handicrafts. The situation had been further hampered by the impact of Tropical Cyclone Harold that swept across the country in early April.
In the Waidradra settlement (of Suva-Ovalau Archdeaconry), where the majority of families rely on income from the Pacific Harbour Cultural Centre, work went on hold for cultural and hotel entertainers, tour guides, divers, handicraft stall holders, bure builders, chefs or hotel workers. At the same time construction work, ferry, shipping and aviation jobs also dried up in Fiji during the Covid-19 response.
In Nadi, families lost income from suspended tourism sector jobs while factory jobs closed up too. In Sigatoka, some families lost a large portion of their income from businesses that depend on the tourist population for sales of fish, shellfish, fruit and vegetables.
Diocese of Polynesia Registrar Rev Sepiuta Hala'api'api reported that parish and community assessment visits around the diocese in early May showed some people in Fiji had had to turn to subsistence employment for a living. But there are limits to that, and families needed practical and pastoral support to get through the tough economic times that Covid-19 closures have caused.
"People are now looking for jobs, and subsistence farming vegetables and root crops, or semi-subsistence fishing for family and income earning, and bartering labour and skill for groceries." said Sepiuta.
The Diocese of Polynesia's assessment and reporting system has been critical in helping the diocese gather information for the Appeal by identifying which families in their neighbourhoods needed food supplies to help them through.
By early May, 181 families had received assistance via food vouchers or food rations including staples such as rice, flour and milk powder.
Church and community members have received food assistance through parishes in Viti Levu West (50 families), Suva and Ovalau (111 families) and Vanua Levu and Taveuni (20 families).
Polynesia's Diocesan Office in Suva continues to receive food parcel request forms from families and parishes across the country. Another 45 families will receive food rations in early June, while seed, seedlings and gardening equipment will be in another distribution planned for late June. This will increase parishes' self-sufficiency and help to support community resilience.

Depending on the funds received, longer-term community resilience work will enable community vulnerability mapping (CIVA), storage of emergency relief items and improved communications systems to ensure the Diocesan Office is better able to keep in touch with some of the more isolated parishes.