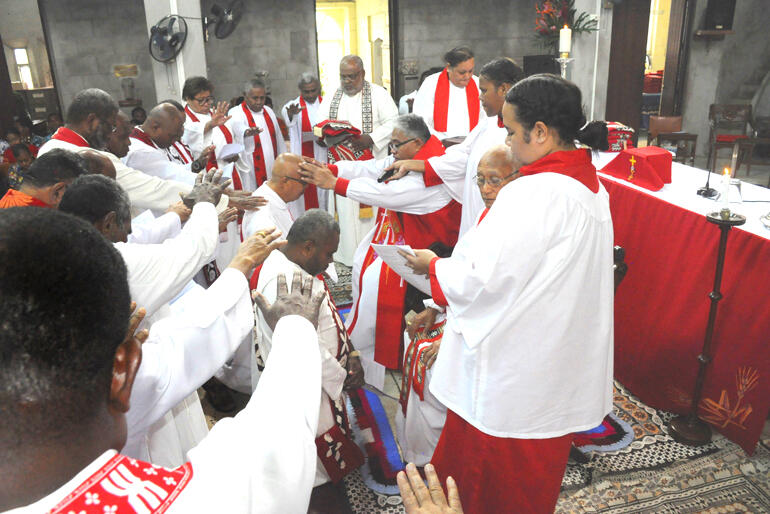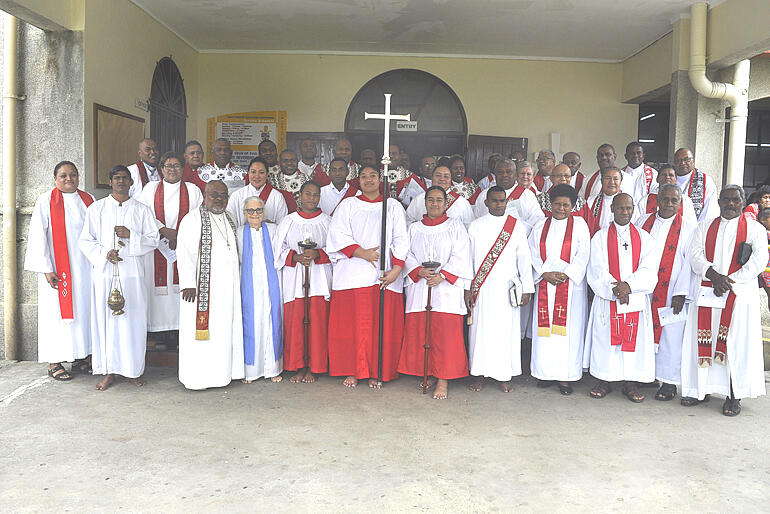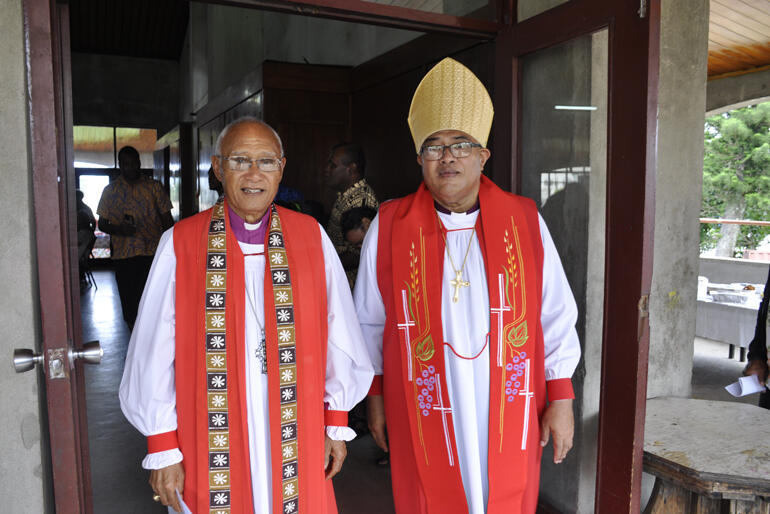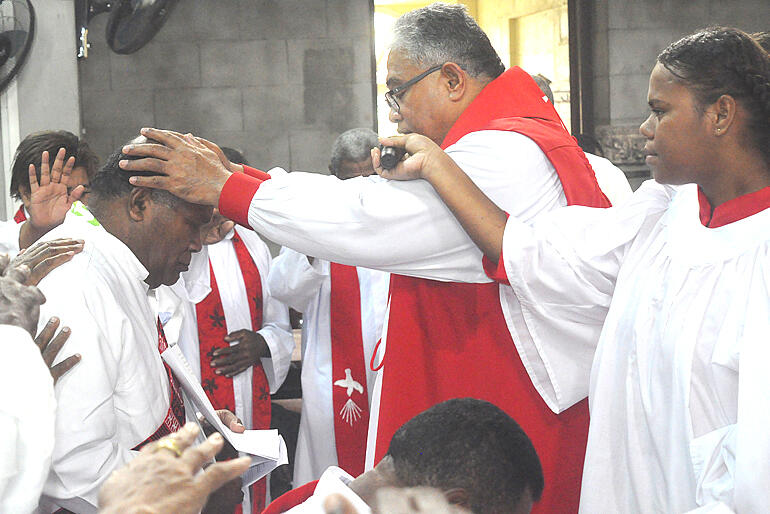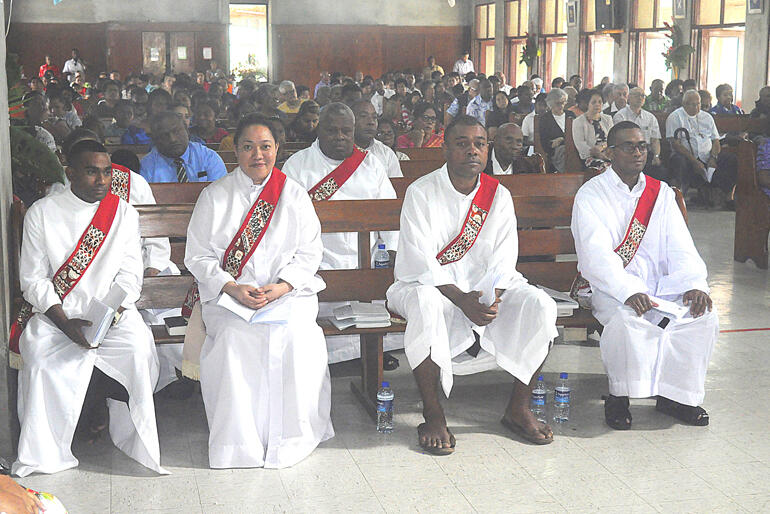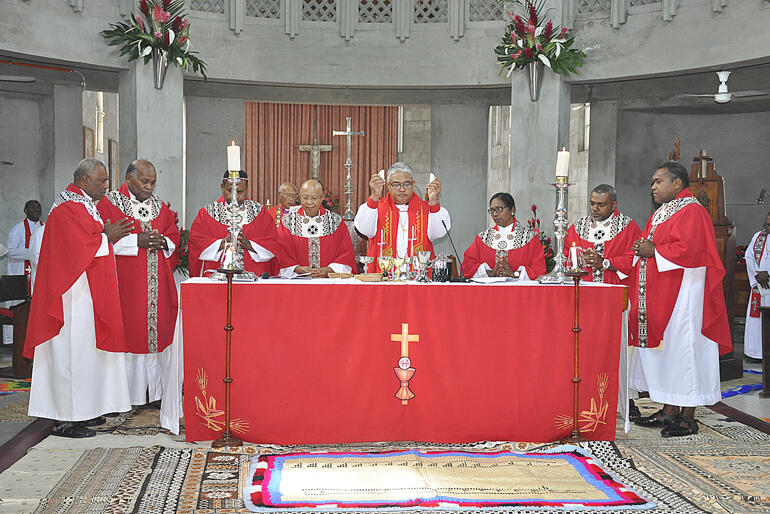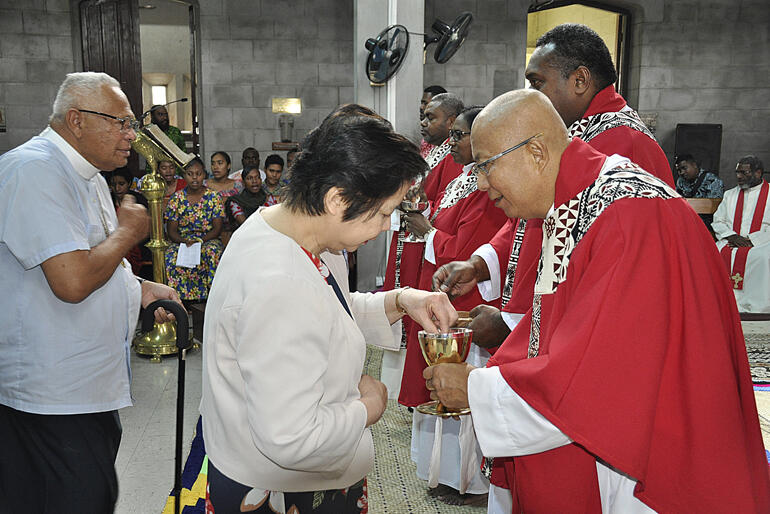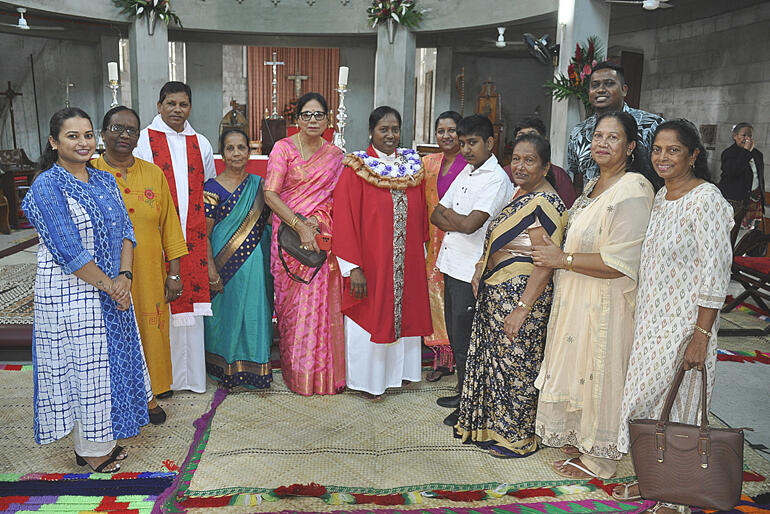 As the Diocese of Polynesia gathered to celebrate thirteen ordinations on 29 July, they reached a long looked-toward and poignant day for the seven priests ordained more than three years ago by the late Archbishop Fereimi Cama.
Archbishop Sione Uluilakepa had worked with the ordinands preparing for their big day, in his role as Principal of St John's Theological College in Suva and Ministry Educator for the Diocese of Polynesia, since before the unexpected and sad loss of Archbishop Fereimi in July 2021.
Since Archbishop Sione became Bishop of Polynesia this year, these ordinations are the first time he has not only acted as mentor and teacher to the women and men entering their new vocations, but went on to ordain them into holy orders.
Archbishop Sione knew each of the ordinands well and has watched them grow their ministry potential.
At St John's Theological College he worked with them over two years for a Diploma in Theology and then another two years on practical attachment in parish community, with an emphasis on their spiritual and clerical formation.
Archbishop Sione hopes his new clergy will work well together and start new initiatives such as community projects for discipleship and capacity building amongst Sunday schools, youth and mens' groups.
"My hope is that they bring fresh new energy to the ministry of the diocese, bring liturgical uniformity to worship that reflects who we are as Tikanga Pasefika in worship, and take leadership in new directions, including when it deals with climate change which affects the life of our people in the diocese."
Preacher at the ordination was Archbishop Emeritus Winston Halapua, who shared in the laying on of hands. He talked of the gospel call to embody the transformational power of 'love in action' – the same love shown by Jesus in John 13 when he washed the disciples' feet.
Archbishop Winston spoke too on the legacy of William Wilberforce, the renowned 18th-19th century social reformer who championed the abolition of the slave trade and is remembered in this Church's lectionary on 29 July.
Archbishop Winston explained how William Wilberforce became a Member of Parliament in Britain at age 21, and soon after encountered a spiritual experience that changed his life.
"Wilberforce's spiritual revelation convinced him that his service to God would be to work for the wellbeing of people…his conviction was so strong, that he did not step back from challenging inhumane treatment when he found it."
Archbishop Winston explained that while today's abuses of human dignity and freedom look different, the need for Christians to be makers of change and vehicles of Christ's love in the world has not changed.
"Wilberforce, along with many others, worked tirelessly. After many years, laws were changed. He suffered ill health but was determined. He endured and persevered. Wilberforce is an example of living out the Gospel – he showed 'Love in Action' with determination and great courage."
Rev Pate Nunu was among the priests ordained this July, and was struck by the Spirit's power as the Archbishop laid hands upon his head. But it was the Archbishops' request for a blessing that really stuck in his mind.
"My take on the day was 'with the calling comes humility.' No matter what position I may have in the church or in the community, I need to remind myself of the two great men of God who came down and knelt in front of the new ordained priests to also seek their blessings. What a humility! I just can't fathom the holiness of God in them."
Ordained priest alongside Rev Pate were Revs Daniel Houng Lee, Jesa Baro, Peni Waqamaira, Reena Prasad, Samu Gagalia and Samu Viaviaturaga.
The six deacons ordained in Suva were: Revs Aminiasi Saku, Joseva Tuwere, Liliani Julia Havili, Mosese Toroca, Samu Siata and Tupou Aonu'u Lino.
Amongst the deacons ordained on 29 July was Rev Liliani Havili, who was recently appointed Principal of St John the Baptist Theological College in Suva becoming the first lay theologian to hold the position.
While Liliani has been an educator for many years and has now become a clergywoman, she wasn't initially drawn to either role.
"My original aspirations did not include teaching or serving as a priest, yet it appears that God had other plans in store for me…these two vocations have since become my greatest passions."
Rev Liliani has been a lecturer in Spirituality for Mission and Ministry, Women in the Bible, and 'Talaiga: The Mission of the Diocese of Polynesia in a Three Tikanga Church' at St John's for the last three years, and before she that taught at St Andrew's High School in Tonga, while Archbishop Sione was principal there.
Liliani has a particular interest in developing theological studies appropriate to the Pacific context, which she says means keeping the realities of diverse cultures and nations of the diocese in mind, and holding up the issues that affect people the most, including the cost of living and the impact of the pandemic.
"We will have a focus on the Archbishop's charge, and that means we need to put an emphasis on climate change too. So as a Theological College that means looking at a theology for responding to climate change in our ministry and especially disaster preparedness."
With Liliani's appointment, St John's Suva will move to expand its reach into additional areas of training. One area of development is distance teaching, where Liliani hopes to expand the College's IT infrastructure and develop online learning so that clergy training for ministry in the islands farthest from Suva will not have to move to the city to study full time.
Liliani says that because of the different languages and educational backgrounds of its students, St John's tailors study programmes for each individual. The College's vision is that anyone that receives the call from God and their community should be able to gain the skills they need to serve.
"We use student-centred learning and take a pastoral attitude with students. And of course we are getting them in-depth into the Bible, knowing who we are as Anglicans, into their spiritual and priestly formation, and what we can do in terms of reaching out in our communities."
The Diocese of Polynesia's newly ordained deacons and priests will serve in ministries across the Fiji Islands, in Aotearoa New Zealand, Tonga and Samoa.