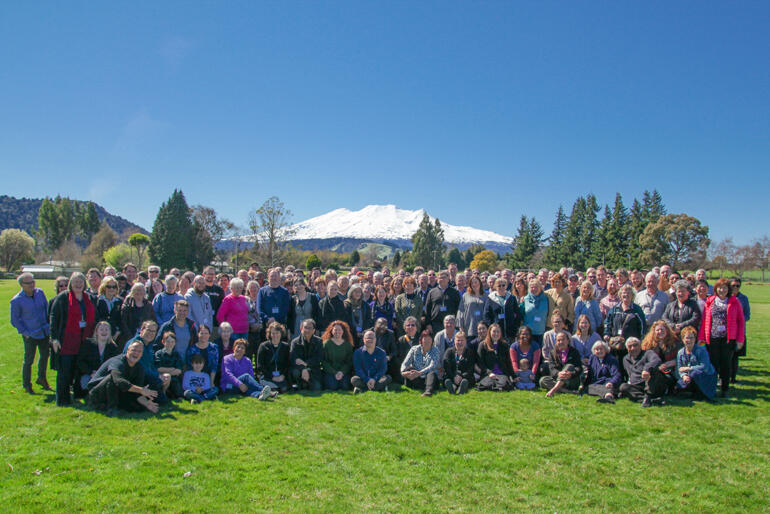 The Diocese of Wellington has energised their people and refocused their mission for the upcoming year at the 2019 Synod gathered at Ruapehu College, Ohakune this 21-22 September.
Bishop of Wellington Justin Duckworth opened the meeting with a reminder that the synod's task was to "listen to God's Spirit in this land" and respond as God's people with "stewardship, connectedness, hospitality and unity."
Around 250 people from across the Wellington diocese attended the Synod hosted by Ruapehu Parish at the foot of Mount Ruapehu magnificent in its korowai of snow.
The synod refocused its ministry and mission efforts into its 2020 theme of discipleship, which will run alongside and through the existing focus areas of child poverty, with an emphasis on housing, and climate change with an emphasis on reducing carbon emissions.
Child poverty came to the fore at the synod in a motion proposed by Rev Charles Waldegrave which has led the diocese to write to the Prime Minister and Minister of Finance, asking them to implement the recommendations of the Welfare Expert Advisory Group.(WEAG)
"Implementing the WEAG Report would decrease inequality and improve the lives of a quarter of New Zealand's children substantially and many adults living below the poverty threshold." said Rev Charles, who was part of WEAG team that put together the Whakamana Tāngata – Restoring Dignity to Social Security in New Zealand report.
Wellington's Synod changed two of its diocesan systems to better enable lay ministry and protect clergy and lay leaders from burnout through providing sabbatical rest.
Wellington Diocese reconfigured its lay ministry canon to enable some lay pastoral ministries to be carried out by church members without requiring a bishop's licence. Lay leadership roles in parishes will still require a bishop's licence.
The Diocese of Wellington has moved its sabbatical funding system into a central diocesan fund, so that all clergy or lay leaders in charge of parishes are able to take a seventh-year sabbatical leave. This replaced an earlier system that relied on individual ministry units to plan for sabbaticals, which had led to disparities from church to church as some parishes had not provided for leaders' sabbatical leave.
More news from the Diocese of Wellington 2019 Synod can be found on the Movement Online Synod News page.