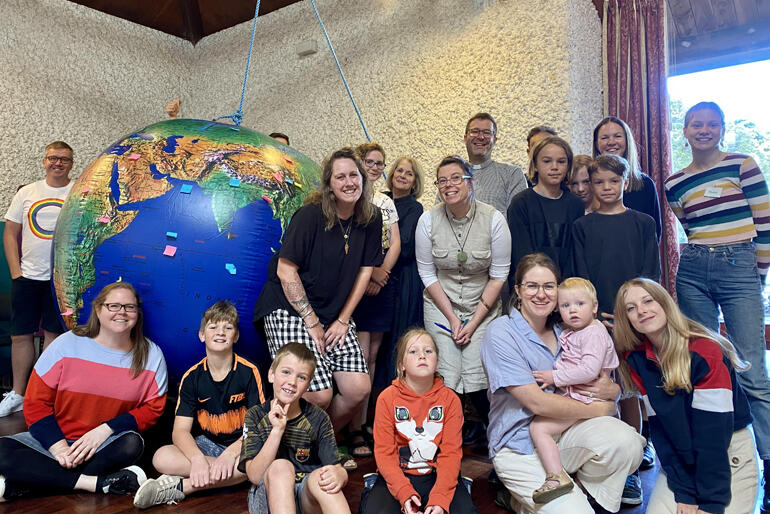 Anglicans in the Diocese of Wellington have made 776 submissions on the Climate Commission's advice to Government that will shape how our country meets our carbon emissions reduction targets.
Kate Day, who is Diocesan Advocacy Enabler leading Wellington's work on climate action, delivered the submissions by the deadline of Sunday 28 March.
The real figure for diocesan submissions is likely to reach well over 850, as the 776 figure does not count those made directly via the Climate Commission's website or young Anglicans who shared their views in group photos.
"We are delighted that so many people care about New Zealand's response to climate change," said Kate in holy week.
"The fact that people wrote in their own words is very powerful. Sending a personal message carries more weight than clicking a button on a pre-filled submission form."
That number of submissions means the Diocese of Wellington has contributed around 7% of all submissions nationwide, with the Commission's website reporting that over 10,000 submissions were received.
Anglicans were responding to the call for public comment on the Climate Commission's recommendations for cutting greenhouse gas emissions, which are wide-ranging and call for everyone in Aotearoa New Zealand to make lifestyle changes that aim to cut climate-damaging emissions.
The Commission recommended that Aotearoa New Zealand reduce net emissions by 36% over the next fifteen years. To do this they suggest a ban on the import of petrol cars; a huge increase in walking, cycling and public transport; and a shift to 99% renewable energy. They also recommend diverting organics from landfill, ending new installations of gas and coal heating; reducing sheep and cow numbers by 15%; and a significant tree planting programme, including up to 25,000 hectares of native forests annually.
The Climate Commission has measured its investigations against the four 'He Ara Waiora' values of manaakitanga, tikanga, whanaungatanga and kotahitanga and emphasises the role of Treaty relationships and iwi consultation in considering any actions to cut carbon emissions.
Wellington's submitters were also speaking to the Climate Commission's priority of reducing emissions, rather than countering carbon outputs with forestry or overseas carbon offset purchases.
Submitters on the Commission's report were asked to comment about the best timeline for cutting emissions, share preferred ways to reduce climate damage, and offer perspectives on how to avoid unfair economic impact on communities reliant on heavy greenhouse gas emitting industries for employment.
Wellington reports that their churches, ministry groups and individual Anglicans have stepped up in even greater numbers than their last climate action back in 2019, when the diocese made over 500 submissions on the New Zealand Government's Zero Carbon legislation.
"We know from the Zero Carbon submission process that our voices get listened to and are a huge encouragement to those who form policy," reported Kate Day.
"In the Ministry for the Environment, our submissions were stuck up on the walls and on coffee tables because they were creative and impactful."
Wellington's Diocesan news site Movement Online finished its report with words of encouragement for all those who part,
"Know that our actions [in making these submissions] means that as followers of Jesus, we have a growing influence to speak up for the last, the lost and the least, especially those who are affected by climate change."