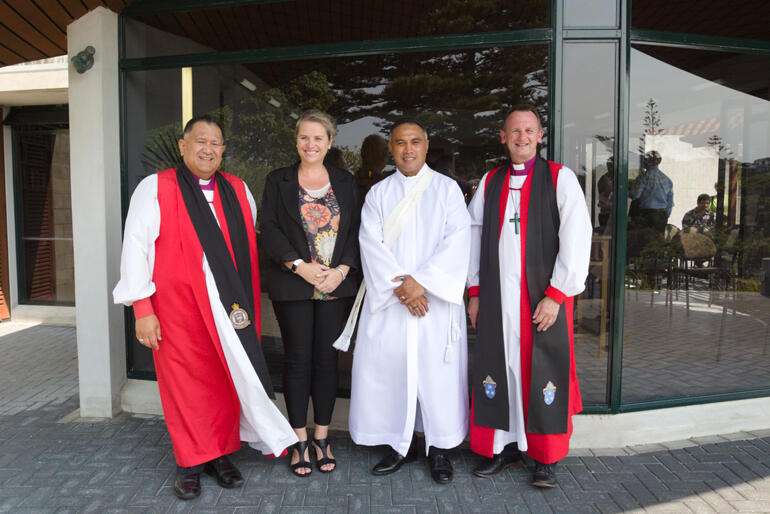 Vaughan Park Board Chair Angus Ogilvie has announced the Board's appointment of Lesley Snyman as Director of Vaughan Park Retreat Centre and the Rev Sapati Tima as its new chaplain.
"The calibre of these two new team members is outstanding," said Angus.
"Their experience and skills mesh beautifully with the needs and ethos of the Centre."
Bishop of Taitokerau Te Kitohi Pikaahu preached at their installation in Ruatara Chapel on 2 February, reminding the new staff that Vaughan Park's purpose is to be a place of scared encounters whose hosts form a 'sacred circle,' akin to the concept of sacred circle shared by indigenous Anglicans in Canada.
"Vaughan Park is a place for encounters of all kinds. It is to be found in its people, domestic staff, visitors and guests," Bishop Kito said.
"It is a sacred place for sacred encounters where God's promises and purposes are revealed and experienced."
Rev Sapati Tima comes to the chaplaincy role as a newly ordained Anglican priest after a 10-year professional ministry in the Samoan Congregational Church, particularly serving in academic settings and among Samoan youth.
Rev Sapati brings his years of experience in leading and supporting Christian communities along with his Master's in Theology from Auckland University, which focused on practical and pastoral theology. In some ways the shift to an Anglican context was a leap of faith for Rev Sapati, but he is looking forward to what the new role will bring. "For me, one chapter closes and another opens – but God is still the author." he said.
Sapati is joined by wife Meiolandre Tagoilelagi and their three young children who will live on site at Francis House.
Lesley Snyman takes up the post of Director from a background in events management, public relations and marketing, which the Board believes will give strategic advantage to Vaughan Park as it moves toward a stronger financial position to extend its unique ministry into the future.
Bishop of Auckland Ross Bay commended the Vaughan Park Board on the appointments and their new vision for the Centre.
"I look forward to Lesley and Sapati using their respective gifts to deepen the spiritual life of Vaughan Park and its ministry of hospitality," he said.
Lesley shares the vision of Vaughan Park as a place of sanctuary for all who may come.
"My highlight has been to witness the true diversity of visitors we have welcomed to the centre thus far," said Lesley.
"From individuals looking for a quiet day to reflect, plan or work, through to the larger groups on away days or week-long retreats or conferences, each is so different and yet in some ways also the same."
"You can see the look of achievement people have at the learning, experiences or accomplishments they have attained, but equally important is the shared sense of peace and tranquillity this place brings," she said.
"As Bishop Kito told us, Vaughan Park becomes a sacred community guided by the Spirit who reveals the Messiah to us when we seek him. You never know who you will encounter here."