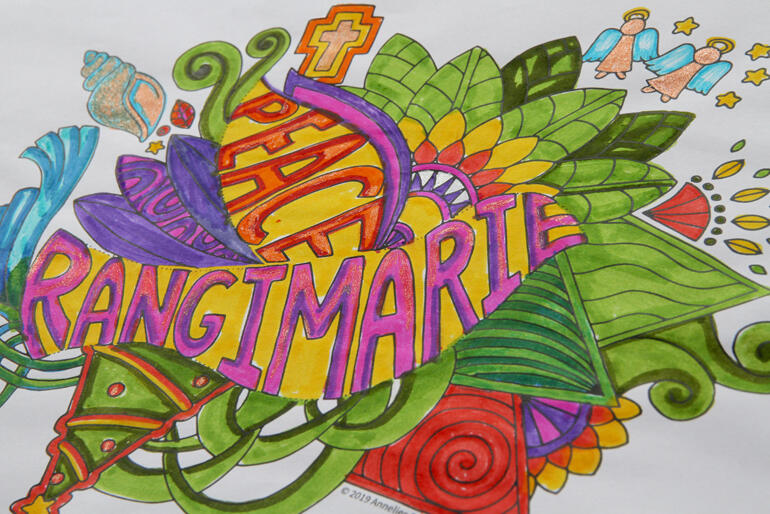 Diana Langdon and Annelies Berends have put together a series of Advent illustrations focused on the four Sundays of Advent 2019 for the Tikanga Pākehā children and families' ministry hub, Strandz.
Diana and the team from Strandz decided to put out a downloadable resource that Anglicans can use to reflect on weekly Advent themes of Aroha/Love, Rangimarie/peace, Koa/Joy and Tumanako/Hope on the Sundays leading up to Christmas.
"These Aotearoa New Zealand Advent Illustrations are designed to be useful for anyone and everyone." said Diana about the new colouring sheets that pick up on Aotearoa New Zealand seasonal images from native flora and summertime at the beach.
"We hope they will be enjoyed by families, churches, 'Messy churches', as part of welcome packs for kids this Christmas, or anyone running reflective services where a contemplative colouring activity will work – from services in rest homes to community Christmas events."
The Advent Illustrations can also be printed as large posters for use as a collaborative project in an all-aged group. They were designed by Strandz administrator and illustrator Annelies Berends, and the downloadable images can be shared under a Creative Commons licence when credited to Annelies Berends and Strandz.
The new Advent illustrations complement the many Advent and Christmas resources on the Strandz website which include: Advent calendars and videos, resources for intergenerational Advent and Christmas services, Advent prayer stations and candle prayers, and a bunch of ideas for families to mark the journey toward Christmas at home.
The Strandz website also features a travelling nativity project Christmas on the Move, which is a free printable resource with Bible characters and a nativity set ready to make. Christmas on the move can be used at church or as a family activity at home with children or grandchildren.
The Kiwi Advent Illustrations are available to download as individual jpegs by clicking on the links below.