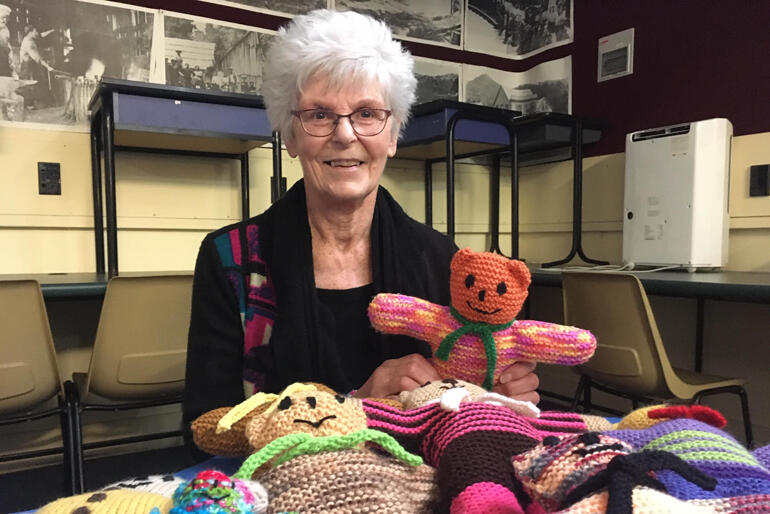 Taranaki Anglican Rosemary Richards has been selected for a long service award in the 'Weaving People Together' category of the 2021 Volunteering New Plymouth Volunteer Recognition Awards for her fifteen years' work with the 'Seasons for Growth' programme.
Rosemary Richards, who is a long time member of St Chad's Anglican Church in West New Plymouth, has mentored many groups of children as they worked together through their grief in the Seasons for Growth programme over the last fifteen years.
Initially helping out as a teddy bear knitter for children to take home with them as the programme finished, it was more than her usual desire to help that drove Rosemary to take up the role.
"My own experiences of change, loss and grief led me to the Seasons For Growth programme." she told Taonga online.
"After my adult daughter died – and through my own little grieving grandchildren – I realised that children and young people needed to be able to say how the loss and change was for them."
Seasons for Growth in Taranaki runs under the auspices of the Bishop's Action Foundation (BAF) of the Diocese of Waikato and Taranaki, as a peer support programme for young people aged 6 -18 who are suffering grief and loss.
Children coming to the programme may have experienced grief through the death or life-threatening illness of a parent or close relative; the separation or divorce of parents; long-term imprisonment of a parent or close family member; long-term placement with foster parents; separation from loved ones due to migration or other circumstances.
Rosemary and her fellow Seasons for Growth volunteers work with small, age-appropriate groups of young people as their volunteer adult companions. The programme runs for nine weekly sessions and guides young people along a structured journey to explore their feelings and develop sustainable coping strategies for grief and loss.
Like many other volunteers involved in the Seasons for Growth programme – which is an Australian initiated programme, administered in Aotearoa by the Catholic Archdiocese of Wellington, – Rosemary is driven by her faith to be there for others whenever she can.
As well as roles in her parish, community and with mission projects, over the years Rosemary has volunteered at Lifeline (for 18 years), in Industrial Chaplaincy (for 15 years) and in Prisoners' Aid and Reintegration (for 17 years).
Rosemary says the Seasons for Growth programme is a highly valuable programme and around the country they are always looking for empathetic, resilient mentors who can connect with children and young people, as well as work well in teams or groups.
"The 'Seasons for Growth' programme uses many different ways to help children and young people share their experience."
"Hearing and seeing their responses in the group and their growth is so rewarding and confirms how valuable each week's session is." she says.
Rosemary recommends volunteering with Seasons for Growth to anyone who has a genuine desire to walk alongside and support young people at a very hard time in their lives.
To find out more about volunteering for the Seasons for Growth programme in New Plymouth or Hamilton, contact Seasons for Growth Coordinator Judy Wood at newplymouth@seasonsfg.org.nz or Melanie Black at hamilton@seasonsfg.org.nz
Many Anglican churches and organisations host 'Seasons for Growth' around the country including through AnglicanCare Waiapu and the Christchurch City Mission. To contact the programme coordinator for the Diocese of Auckland email: seasons@aucklandanglican.org.nz