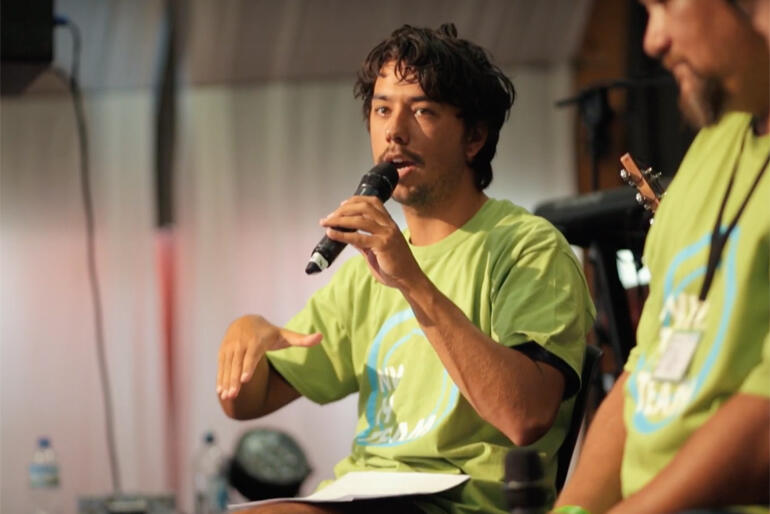 Families and young people from across the Diocese of Wellington have recharged at the Kāpiti New Wine summer festival over Wellington's anniversary weekend.
"New Wine was a great opportunity for our people to feel the strength of large numbers of believers and to sense the movement of the Holy Spirit in a crowd." said Chris Casey, who went along in his role as Diocese of Wellington's intermediate aged-children's coordinator.
Chris was one of around 800 Anglicans who turned out for the four-day Kāpiti New Wine summer camp, bolstering the festival's total to its highest ever numbers of 1350 Christians turning out in 2019.
The Hillsong-inspired New Wine festival has been the haunt of several Wellington parishes for some years, but more recently Bishop Justin Duckworth has encouraged all churches and ministry groups in the diocese to make it their summer family camp of choice.
"New Wine is particularly valuable for smaller parishes who usually run their programmes for all ages," said Chris Casey.
"The biggest agent of change for our young people there was to see so many people their own age walking the same walk with Jesus. At New Wine each age group activity might include more than 100 children or youth taking part in games, sports, crafts and worship together."
"That gives children and young people so many opportunities to talk and learn from their peers about the different ways they know God and understand their faith. It builds up the kids' confidence and builds bridges with other churches at the same time." said Chris.
The New Wine camp holds structured worship and workshops in the mornings and free time in the afternoons, when 'opt-in' choices include walks, games, sports and treasure hunts for the kids. For adults, afternoon workshops might cover storytelling for young people or art competitions, through to renewing your prayer life or getting in touch with the action of the Holy Spirit in your community.
Read the report from New Wine on Wellington's diocesan news site Movement Online
Watch the video round-up of Kāpiti New Wine 2019 on Youtube
For more info on future events visit New Wine ministries