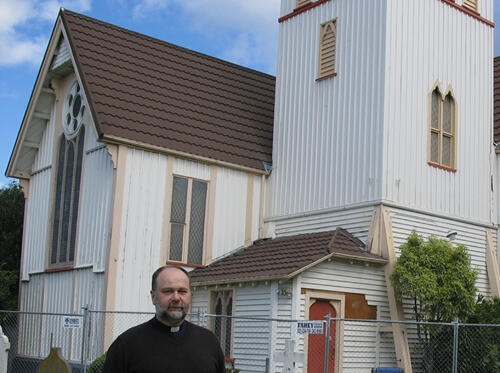 Work has begun on restoring historic St Paul's, Papanui in Christchurch.
The wooden church was designed by Benjamin Mountfort and built in 1877.
Lord Ernest Rutherford married Georgina Newton in St Paul's in 1900.
Many prominent Cantabrians also are buried in its graveyard, including Sir Robert Heaton Rhodes and Captain Charles Hazlitt Upham.
The building was damaged in the February 2011 earthquake and has been closed since because of danger from unstable lath and plaster.
The work being done is a combination of insurance repairs and restoration work to the heritage-listed building.
The large windows in the transepts are to be returned to their original style, and panelling installed in the 1970s will be removed to reveal the original tongue-and-groove angled wood detail.
Deteriorating timber also will be removed. While the work is being carried out, insulation will be added to the walls of the church.
"It's really exciting to see something happening," says the Rev Andy Carley. "It will bring the building back to its former glory."
To meet public access requirements, the porch and front of the church is being gently raised.
"It will be nice for weddings; the cars can pull round in front and the bridal party will have level access straight into the church," Mr Carley says.
The parish is also putting toilets and a kitchen in the choir room at the back of the church.
Mr Carley says the parish is planning an opening weekend for the community when the work is finished – around Easter next year.
About 120 parishioners gather on a Sunday, currently meeting in the parish lounge. "They are a very committed and faithful congregation," Mr Carley says.
The church still plays a very important role in the community with many community groups using the parish centre.
The parish also runs a Mainly Music group that is so popular it has a waiting list.
A young adults group also meets regularly with members from other churches in the area.
The church bell tower contains the first full set of peal bells to arrive in Canterbury.
Bruce Moore, the vicar's warden, says it was the second batch that actually made it to Canterbury because the first set was lost when the ship, the "Knowsley Hall", sank off South Africa in 1879.
The wooden tower contains a steel frame cemented into the ground. The frame saved the bells and tower in the quakes.
"The shaking was so violent some bolts in the frame snapped off," says Mr Carley.
A passerby saw the tower swaying in the February earthquake.
While repairs are being done, the bell tower can't be used. The St Paul's bellringers have been letting the ChristChurch Cathedral bellringers use their bells on a Wednesday night.
The church building was a key feature of the original village of Papanui. The design was gothic revival but translated to timber rather than the usual stone.