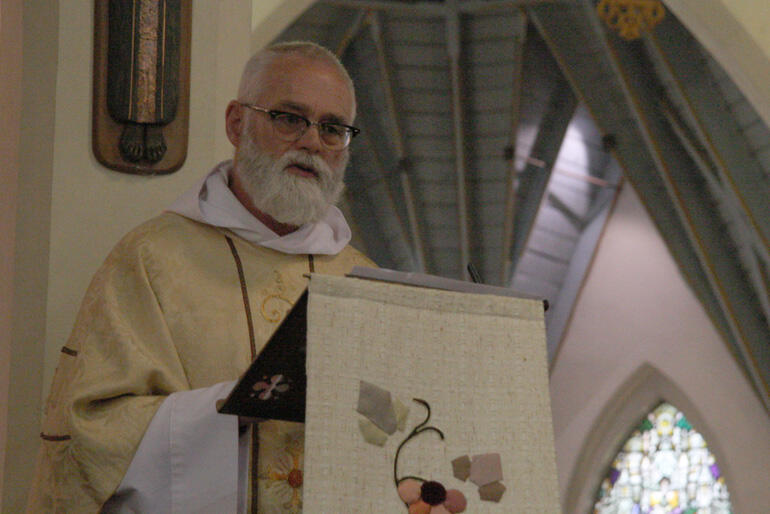 Assistant Bishop of Auckland, Bishop Jim White has written to his diocesan family to inform them he will retire early from his full-time episcopal role from today.
In a letter to the diocese in early October, Bishop Jim explained that he is stepping out of episcopal ministry as a direct result of his deteriorated health following his lymphoma diagnosis, which his doctors have described as rare, nasty and very aggressive.
"My prognosis is not great. I need to stop work properly, and the Diocese of Auckland needs to move on too," he wrote.
Bishop Jim thanked God for his years in episcopal ministry which he says have given him joy and a good deal of satisfaction, as well as challenges.
"I have to say that I did not imagine that I would stay in this role for eight years; nor did I imagine that, at this point, I would still feel I had some good things to offer and could easily imagine serving for a couple more years at least."
Bishop Jim was elected Assistant Bishop of Auckland in 2011 and he has worked alongside Bishop of Auckland Ross Bay sharing episcopal duties, as well as holding responsibility for the Diocese's Local Shared Ministry Units.
Bishop Jim has also served as a trustee on the Auckland City Mission Board for the past 11 years, and as Chair for the last four years. Today Auckland City Missioner Chris Farrelly acknowledged the strong contribution he has made to the Mission's work.
"Under Bishop Jim's extraordinary leadership, the Board made the decision to progress with the development of a 100 million dollar plus, health, housing and social service facility, "Mission HomeGround" he said.
"As with the foundation of the Mission itself 99 years ago, this has been a courageous decision that will change the lives of thousands of people and be a beacon of hope and transformation for the people in highest need in our City."
The City Missioner said today that despite Bishop Jim's leave due to illness, the Board continues to experience a strong sense of his guidance in their work.
Bishop Jim has also contributed major research projects to the General Synod and House of Bishops, including his work on revisiting the Rite of Confirmation and the Commission on Doctrine and Theological Questions related to the blessing of people in same gender relationships.
Today Archbishop Philip Richardson spoke of Bishop Jim's valuable contribution to the Church's theological life,
"In my mind Jim has always been a priest scholar. He has been an outstanding and highly experienced parish priest, but he is also at home in the academy. Those who were at St John's College during his tenure speak with admiration and warmth of his leadership."
Archbishop Philip also offered his thanks for the way Bishop Jim has brought both his practical experience and his scholarship to the House of Bishops and into his contributions to the General Synod.
"I will miss Jim's strong, thoughtful theological integrity and I will miss his ability to challenge and disturb me and the Church as a whole."
Archdeacon of Auckland Carole Hughes touched on Bishop Jim's commitment to invigorating the ministry of the church with new ideas,
"Bishop Jim inspires us in his willingness to lead change. He brings his critical analysis and intellectual rigour to the complex issues that the church faces and he is not afraid to stand up for his deep convictions." she said.
Archbishop Philip acknowledged that Bishop Jim will leave a gap in this Church's leadership as he steps back from participation,
"There are many, many specific contributions Jim has made over the years, but mostly I want to honour his integrity as a person and as a priest, and to offer him all our love as he continues his treatment."
In Bishop Jim's letter to the Diocese of Auckland he recognised the extra load that Auckland's episcopal team have carried as his cancer treatment has kept him away from active ministry at times over recent months.
Bishop Ross gave thanks for Bishop Jim's ministry in a letter to the diocese,
"I have a great sense of thanksgiving to God for the ministry which Bishop Jim has offered among us… as a parish priest serving in St Luke's Mt Albert, St Matthew's-in-the-City, All Saints Ponsonby and St Andrew's Epsom. … as a Chaplain at Diocesan School for Girls and Dean at St John's College…and for eight years as a bishop in the Diocese of Auckland."
Bishop Ross highlighted the far reach of Bishop Jim's ministry through the diocese, province and beyond, particularly acknowledging his work on the Board of St George's College Jerusalem and his instrumental work in establishing the "Bishops' Course" for the House of Bishops in Melanesia, arranging for the Bishop of Hawai'i to join Bishop Ross and Pihopa Kito Pikaahu as part of the inaugural 'staff' of that programme that now continues as an annual event.
Bishop Ross finished his letter with a call to prayer,
"My prayer continues to be that the working together of the Holy Spirit and the medical teams assigned to his care will bring him to a point where he can enjoy much improved health and the opportunity for further ministry.
"Please keep praying with me that this will be so."
In the interim Auckland will not move to elect a new Assistant Bishop, instead Bishop Ross will work with the Archdeacons in the Episcopal team to maintain continuity in the ministries that have been under Bishop Jim's oversight.