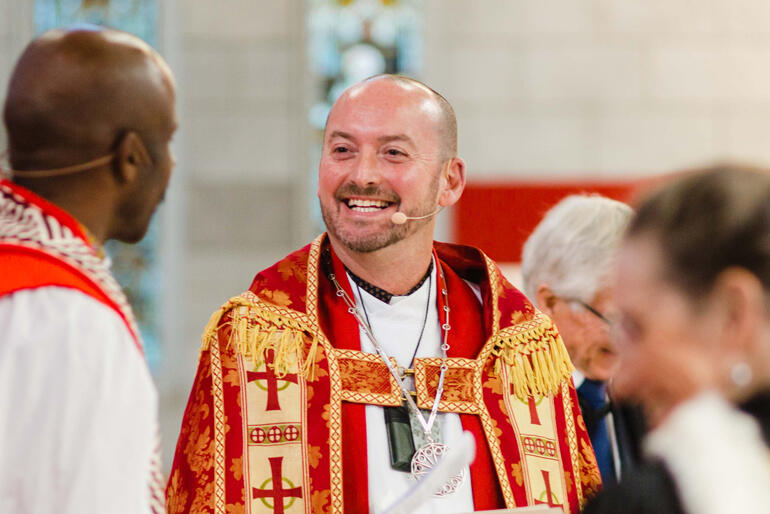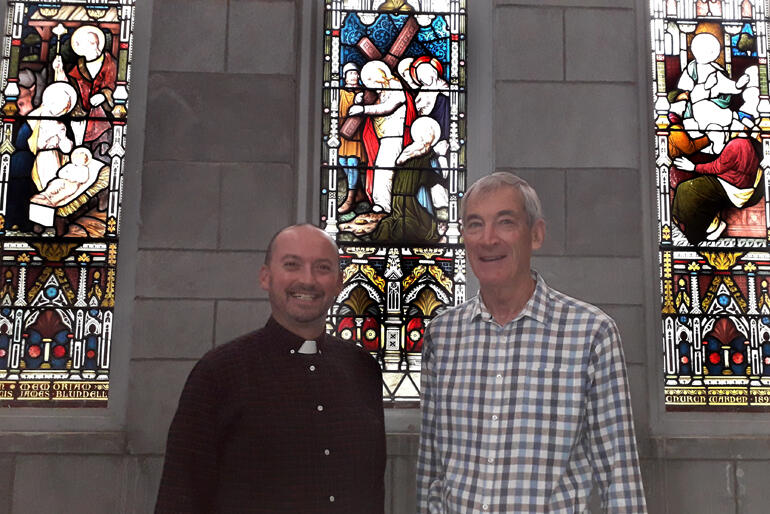 When the Very Rev Dr Graham O'Brien took up his role as Dean of Nelson's Christ Church Cathedral in July this year, he brought with him a solid history of church leadership, but also a scientist theologian's perspective.
As well as serving in Anglican churches in Christchurch, Auckland, Nelson and Picton, Graham O'Brien has long since been a national leader in the thorny zone of 'Bioethics' - the critical space where medical and scientific advances face scrutiny from moral and theological thinkers.
Joining an Anglican church as a teenager in Christchurch, Graham has been in church leadership for most of his life, starting out in music ministry, then through running ALPHA courses, studying theology at St John's in Auckland then for 12 years serving the Diocese of Nelson as the Ministry Educator and Lecturer at Bishopdale Theological College.
Through that time Graham has also been a bioethics researcher, working with other scientific and medical experts to understand new medical technologies and assess their impact on the dignity, autonomy and God-givenness of Creation and human beings.
Over the last 19 years, Graham has been a contributing member – and since 2009, the co-Chair – of Aotearoa New Zealand's InterChurch Bioethics Council (ICBC) – an ecumenical council representing Anglican, Methodist and Presbyterian denominations, whose members hold expertise in science, ethics, theology, medicine, education and mātauranga Māori.
Graham says that the ICBC sets out to help church members and the wider community have a greater understanding of the spiritual, cultural, technological issues that can inform how we respond ethically to medical and scientific innovations.
"We seek to enable and encourage citizens to take action on these issues - such as end of life, climate change, reproductive technology, and most recently issues around Covid-19 vaccination."
Bishop of Nelson, the Rt Rev Steve Maina values Graham's scientific approach to managing complex systems and processes, especially in his role on the Bishop's own team for oversight of the diocese.
"Graham is very analytical, a deep thinker and theologian."
But Bishop Steve says that for him it's Graham character as a priest, a pastor and a Christian that pulls the most weight.
"Graham's most outstanding quality is his impeccable character. He is first and foremost a disciple of the Lord Jesus and seeks to honour God and respect people in all he does."
"My hope is that he will lead the Cathedral to flourish as a place where the stranger finds belonging, the enquirer finds answers, the hopeless find hope and life in Jesus, and the comfortable are made uncomfortable by the demands of the gospel."
Since Graham O'Brien began at Christ Church Nelson in mid-2021, he has swiftly stepped into the Dean's leadership role in church, city and diocese – even when his new ministry hit the bump of a nationwide Level 4 lockdown only a few weeks in.
"We are here to celebrate the life of the Cathedral and the life of Nelson, to grow the Church, and to connect it even more with the city.
"The Cathedral needs to take its place at the spiritual heart of diocese and city – a place where all can come along, encounter God, and make a connection."
Now Graham and his colleagues in the ICBC are taking the lead on 'up to the minute' bioethics – by sharing their critical look at the efficacy and reliability of the swiftly developing vaccines designed to combat Covid-19.
Vaccine technology is a compelling subject for Graham, since that is what he studied in the first project he launched straight into after finishing his PhD in Cellular and Molecular Biology in the late 1990s.
From 1996-1999, Graham worked in Prof. A.R. Bellamy's research laboratory at the University of Auckland, investigating the expression of Rotavirus VP6 protein in plants as a method of vaccine production. Later in 2008, Graham connected his scientific and theological sides to gain a Master's in Theology looking at Christian Spirituality and Bioethics.
"When you dig below the surface, spirituality is at the heart of many people's concerns about biotechnology, as these touch on questions to do with personhood, existence and meaning – all of which are issues the Christian faith can easily speak into."
Now in 2021, with the second nationwide lockdown bringing the Covid-19 Delta threat closer to home, Graham and his bioethics colleagues on the ICBC team have responded with more information to reassure Christians hampered by the online critics fuelling anxiety over Covid-19 vaccines.
This week the ICBC have released an update to their comprehensive fact-checker's list that answers Frequently Asked Questions about Covid-19 vaccines.
You can find the original set of vax FAQs from 2020 below:
Frequently Asked Questions on Covid -19 vaccines in English
and in te reo Māori: Ngā Pātai Auau: Rongoā Āraimate Kowheori
and this week's (English only) Update on vaccines and the Delta Covid variant are here.
According to Graham, deciding on vaccination is not primarily about individual rights, but more about considering our responsibilities within a community.
"A lot of the things we are hearing …[opposing] vaccination are more about individualism than about Christianity – it's 'my rights', 'my freedoms,' but actually that's never been the Christian ethic, it's always been about community, loving your neighbour, doing the best for everyone."
The Very Rev Dr Graham O'Brien was installed as Dean and Vicar of Christ Church Cathedral Nelson on 11 July 2021. He is supported in his new role by wife Lee-Ann O'Brien his two adult children.
To watch Dean Graham's installation at Nelson Cathedral you can go to the Facebook service livestream.