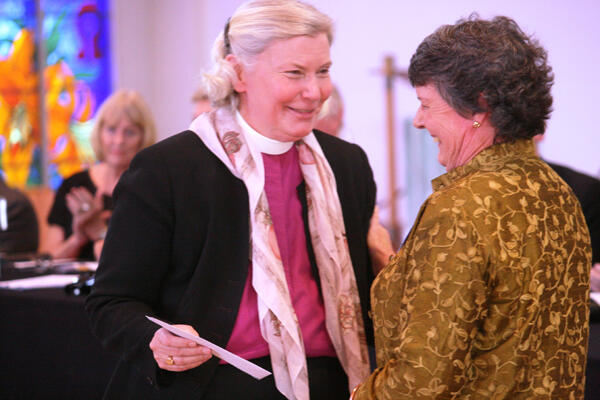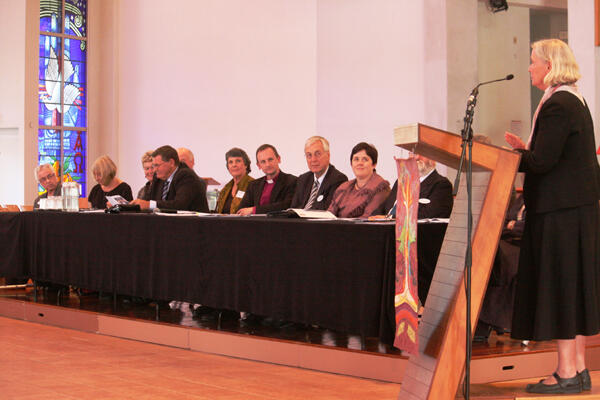 It's Wednesday afternoon in Holy Week in Auckland's Holy Trinity Cathedral.
But Bishop Victoria Matthews is insisting to her listeners there that as far as the people of Christchurch are concerned, you can ignore what the calendar says.
For them, it's already Good Friday.
In fact, they've been living something of the bleakness and tragedy of Good Friday for months now.
But Christians in Christchurch have already heard that's not the end of the story, she says.
"We are living with the sure knowledge," she told the Selwyn Foundation AGM, "that Easter and the resurrection is coming."
And when she considers the $750,000 cheque handed to her by the Selwyn Foundation – it's money earmarked for the care of older people affected by the quake – she sees the truths of Easter being made manifest.
"When we receive the love and support of a donation such as the Selwyn Foundation has made," she reflects, "we recognise that the resurrection is already at work."
Bishop Victoria told the Selwyn AGM that the people of Christchurch "are doing very well."
One of the reasons why they're holding up, she suggested, is "because people all around the world are praying for us."
"We are doing well with our physical health, and not too badly with our mental health.
"Now it is time to attend to our spiritual health, and community has been looking to churches to nurture that health.
Life has been irretrievably changed in Christchurch, she says.
Right now, she said, the people of the city must grapple with overcrowding and noise pollution that weren't there before the quakes struck.
"The raised levels of anxiety, more noise, and more people around mean we are learning to work differently, and the church is doing what it is called to do: provide space and quiet in addition to all the social service and pastoral care the parishes are engaged in."
Bishop Victoria says she's also hearing lots of talk about "earthquake recovery" and adapting to "a new normal."
"I actually don't think we should be talking about recovery. Any more than we should be talking about a 'new normal'.
"We need to be talking about a new reality – and that new reality shouldn't be a recovery of the old, but a new creation which takes us into a better way of being community.
"I heard Tony Campolo speak in Christchurch the other day.
"And he tells this lovely story about a preacher in a black church on Good Friday who would constantly circle back to this refrain:
"It's Friday – but Sunday is a-comin'!
"That is the message for Christchurch.
"We're living Good Friday. But Sunday is a-comin!"