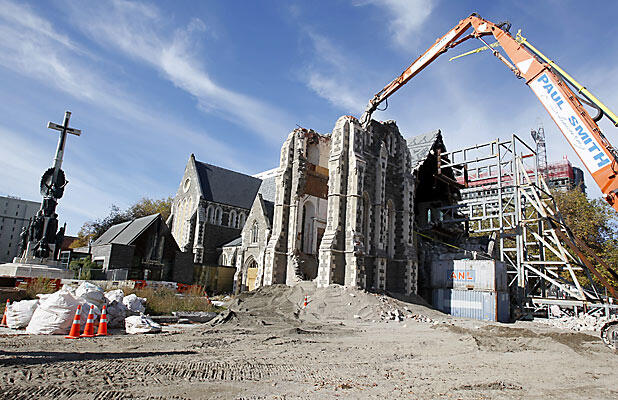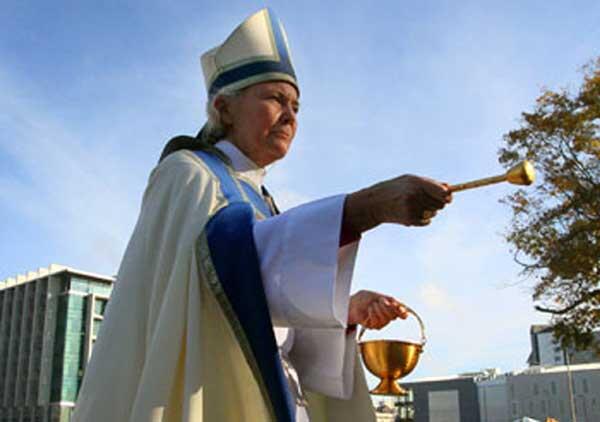 The start of work to build Christchurch's Transitional Cathedral was marked with a sod-turning ceremony on Sunday afternoon.
The $5 million structure will be built in Latimer Square as a temporary replacement for the Cathedral in the Square.
Designed by the Japanese architect Shigeru Ban, the building will be made out of large cardboard tubes, timber beams and structural steel.
Ban flew to Christchurch specially to turn the first sod of soil on the new site.
Bishop Victoria Matthews blessed the site with holy water. Then she crossed the road and blessed the site of the CTV building where 115 people lost their lives.
Ban said there was nothing temporary about the building which should be strong enough for many generations to come.
A similar cathedral that Ban designed for the earthquake-hit city of Kobe in 1995 is still being used today.
Ban is collaborating with Christchurch architect Peter Marshall, of Warren and Mahoney, on the Transitional Cathedral.
Construction will begin in five weeks.
Protest at synod
On Saturday a group determined to save the old cathedral protested with banners outside the diocesan synod at St Christopher's, Avonhead.
Bishop Victoria left the synod briefly to speak with the protesters, led by the Wizard of Christchurch.
She offered to meet them next week, but was resolute that the damaged cathedral must come down.
Speaking to the Press the next day, she said the protesters did not understand the danger in leaving the cathedral up.
"[Cathedral Square] is not vacant," she said. "Many people are working there. It's a very large, very tall building, and we need to have it safe so it doesn't come down on people.
"It was not until December that we understood this was an ongoing seismic process.
"We were told there was a 79 per cent chance of another 5 to 5.4-magnitude earthquake and we have to think about how dangerous that building will be to people in that vicinity in that event."