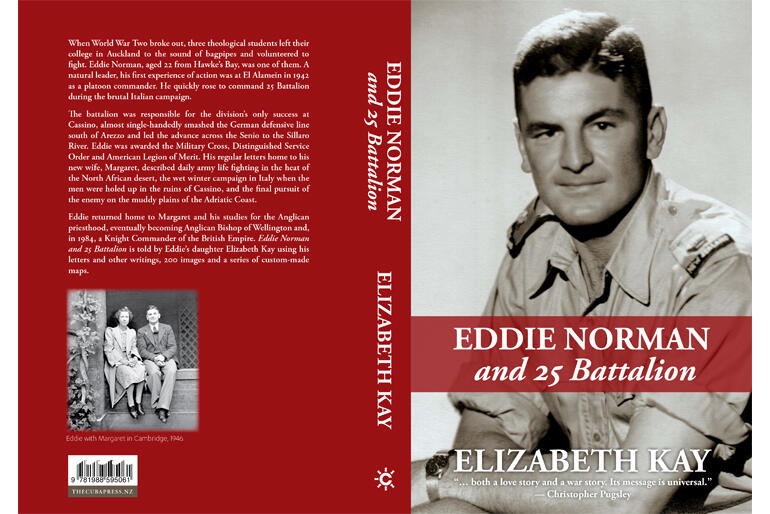 Former Secretary of Defence John McKinnon launched a new book 'Eddie Norman and 25 Battalion' by Anglican author Elizabeth Kay at Wellington Cathedral last week.
At the book launch on 30 October, that was attended by 350 people, Elizabeth Kay introduced the book she has written about her father Bishop Edward Norman's experiences of military leadership during the Second World War.
The book is primarily based on Edward's letters to his wife Margaret, which Elizabeth has woven together with background research to place her father's story into the context of wider social history in the 1940s.
"I hope it shows how Edward's Anglican faith and training at St John's helped him cope with the difficulties of war to become one of the New Zealand Division's most admired and respected young commanding officers," said author Elizabeth Kay today.
When World War Two broke out, three theological students: Eddie Norman, Allan Pyatt (later Bishop of Christchurch) and Pat Gourdie (later 18th Battalion Chaplain) left St John's Theological College in Auckland to the sound of bagpipes and volunteered to fight.
Eddie Norman, aged 22 from Hawke's Bay, was a natural leader. His first experience of action was at El Alamein in 1942 as a platoon commander, and during the Italian campaign he quickly rose to command 25 Battalion.
Under Eddie, the battalion was responsible for the division's success at Cassino, when they almost single-handedly smashed the German defensive line south of Arezzo and led the advance across the Senio to the Sillaro River. He was awarded the Military Cross, Distinguished Service Order and American Legion of Merit.
Eddie's regular letters home to his new wife, Margaret, described daily army life fighting in the heat of the desert and the wet winter campaign in Italy when the men were holed up in the ruins of Cassino and pursued the enemy through Tuscany to the Adriatic Coast.
Eddie returned home to Margaret and his studies for ordination, serving for a time as Vicar of Karori and eventually becoming Anglican Bishop of Wellington between 1973-1986. In 1984, he was made a Knight Commander of the British Empire.
A foreword to the book by military historian Christopher Pugsley calls the book "a love story and a war story" whose message is universal, and highlights the importance of chaplains in the Defence Force and as well as paying tribute to the pastoral role of the church.
The book entitled 'Eddie Norman and 25 Battalion' is published by Cuba Press and is available at $40.00 through their website via the link below, or by order through Marsden Books or Unity Books bookshops in Wellington.
https://thecubapress.nz/shop/eddie-norman
Author Elizabeth Kay is a longstanding member of the Wellington Cathedral of St Paul and formerly worked at the NZ Anglican Church Pension Board, managing the Anglican Legislative Unit and the ecumenical InterChurch Bureau.