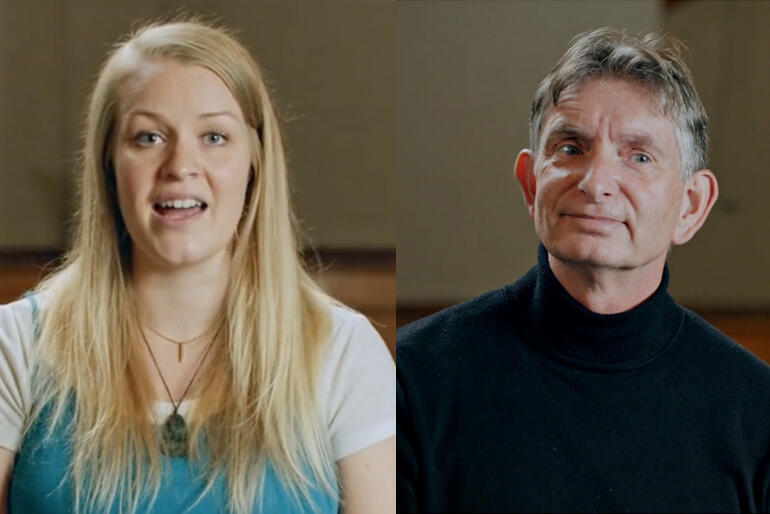 The Diocese of Nelson has released 'Discipleship Pathway' a new online ministry training resource that offers free access to quality ministry training for anyone wanting to serve in ministry across Aotearoa New Zealand.
Discipleship Pathway was released in August 2021 after a year of preparation. The idea for a fully online video-led training course arose amongst youth ministry leaders during the 2020 lockdown, when national and regional youth ministry training events were cancelled due to gathering and travel restrictions.
New Zealand youth ministry experts began to ask what action they could take to prevent the loss of such valuable training opportunities in the future.
"We asked what would it look like to take the knowledge, skills and tools from New Zealand's best church leadership trainers and package them into a digital form that could be accessed by anyone in Aotearoa, at any time, for free." said the Diocese of Nelson's youth enabler and Discipleship Pathway Director, Brad Wood.
Discipleship Pathway has gone live with four youth ministry training classes presented by former Tikanga Pākehā Anglican Youth Advisor Phil Trotter and the team of tutors from the youth ministry papers he teaches at Laidlaw College.
Phil Trotter was a driving force behind youth mentor training in the Anglican Church and worked on the team that established 'The Abbey' the annual Tikanga Pākehā youth ministry leadership training programme.
Phil's team includes: Matt Maslin, youth worker at St Augustine's, a mission community in the Diocese of Auckland; Zara Maslin, manager of Mana Tiohi the national body for youth worker registration; Merrylin Withers, Baptist youth ministry speaker and trainer; and Caleb Haurua, youth worker at Royal Oak Baptist Church, Auckland.
In the first class, Phil Trotter and Matt Maslin introduce 'Youth Ministry Essentials', covering the theological foundations of youth ministry followed by practical essentials on how to get young people involved in church, how to get them involved beyond church and how to start youth groups. He also covers core youth ministry skills of building group culture, mentoring, leading with integrity and teaching interactively.
The Discipleship Pathways site has three remaining classes now online:
– Zara Maslin offers 'Core Competencies of Youth Work', covering the professional standard for faith-based and community youth work in Aotearoa, New Zealand.
– Merrylin Withers teaches 'Youth and Pastoral Care', which includes material on encouragement, listening, support, crisis care, inclusion, referral and follow-up, and
– Caleb Haurua covers 'Youth Ministry in Light of Te Tiriti o Waitangi' delving into the relationship between the Treaty of Waitangi, covenant and our Christian whakapapa.
Each class comprises ten short video talks of between 10-16 minutes and follows a pattern of quizzes that function as prerequisites to ensure students digest the material in sequence before moving on to the next section of learning.
Brad Wood reports that the four units are only a first step,
"We have started the journey of Discipleship Pathway focusing on youth ministry skills, and over time we will release more classes to provide training for church leadership, children's ministry and tools for mission."
The Discipleship Pathway project has been developed by the team of trainers over the last year with funding from the St John's College Trust Board's new digital ministry fund.
New Discipleship Pathway classes under development, include:
– 'Soul Talk' a series of videos that takes a closer look at issues in mental health and emotional health in ministry
– 'Being Anglican in Aotearoa,' presented by Bishopdale Theological College lecturer Very Rev Dr Graham O'Brien and St John's Theological College lecturer Rev Dr Paul Reynolds
– 'Missional Community' will be presented by Rev Amilie Paynter and Rev Luke Paynter from the Diocese of Wellington ; and also in the pipeline are a series of mission-focused classes created in partnership with New Zealand Church Missionary Society.
"We are at the very beginning of this adventure and hope that you will join us. The youth ministry pathway is just the first of many and we look forward to releasing more classes over time. Our prayer is that these classes will help to equip you for the call Christ has placed on your heart, whether you live in Auckland or Invercargill, Whangārei or Whakatū."
To register for free access to the Discipleship Pathway youth ministry training programmes go to: www.discipleship.nz For more information contact Discipleship Pathway Director Brad Wood at: youth@nelsonanglican.nz