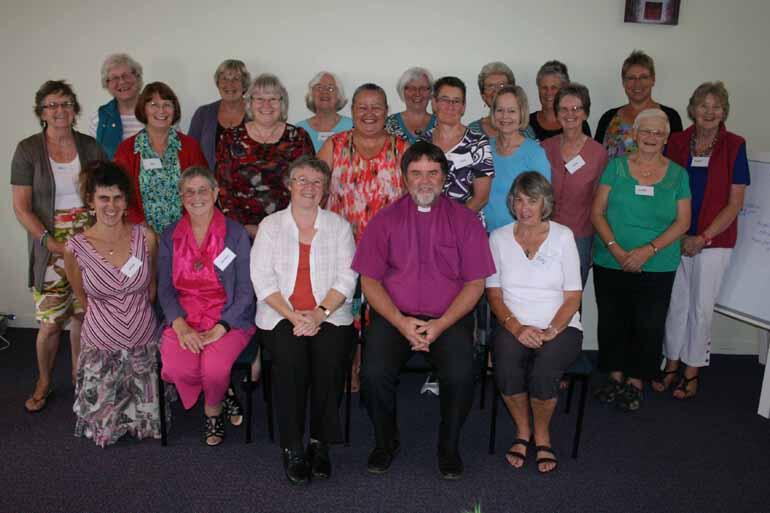 Vocational deacons from all over Aotearoa New Zealand met in January for a week-long residential school close to awe-inspiring Mt Taranaki at Stratford.
Hosted by Dio School for girls. this was the last of the three residential schools, one a year, facilitated by the Ven Anne Russell-Brighty, Archdeacon for the Household of Deacons in the Diocese of Christchurch.
Anne also wrote and tutored the History of the Diaconate course for EITDS.
Initially Anne ran these three-year courses for vocational deacons training in Christchurch.
Waikato and Taranaki deacons then invited Anne to lead Deacon School in the North Island and open it to all deacons in New Zealand, including those who had been ministering as deacons for many years.
Ministry educator Rev Peter Osborne ensured all ran smoothly.
Each of the weeks had a special theme; Year 1 was Deacons as Servants, Year 2 was Deacons as Prophets and Year 3, 2014, was Deacons as Leaders.
There was a mix of workshops, guest speakers and field trips, all grounded by extensive spiritual formation and reflective practice time within a framework of morning and night prayer and daily Eucharist.
This is a great mix giving deacons sacred space to form community together, share experiences, support each other, learn and receive restoration for what is often a less well understood ministry.
Last year Archbishop David Moxon had reminded deacons of their "mandate to be out and alive in the world, seeing where there is the greatest need, Deacons are a sign and mobilise a response." Archbishop Philip continues his support for the diaconate inspiring us in Servant Leadership.
A highlight of Year 2 was a visit to Parihaka Marae where we listened to their story, asked questions and walked. We began to absorb some of the history and struggle of healing that continues from peaceful resistance.
Deacons appreciated the opportunity to talk together, and to hear the range of experiences each brought to their particular ministry. Some had been in ordained ministry over 20 years.
There have been conferences in the past but the hope now is for the schools to continue for those who have begun training and for all deacons to to come together for two or three days as part of those schools to worship and dream together. This will fuel them to go and proclaim the Gospel in the world as part of their church communities.
Go Wellington!
Rev Juliet Drage is a vocational deacon in Waikato.