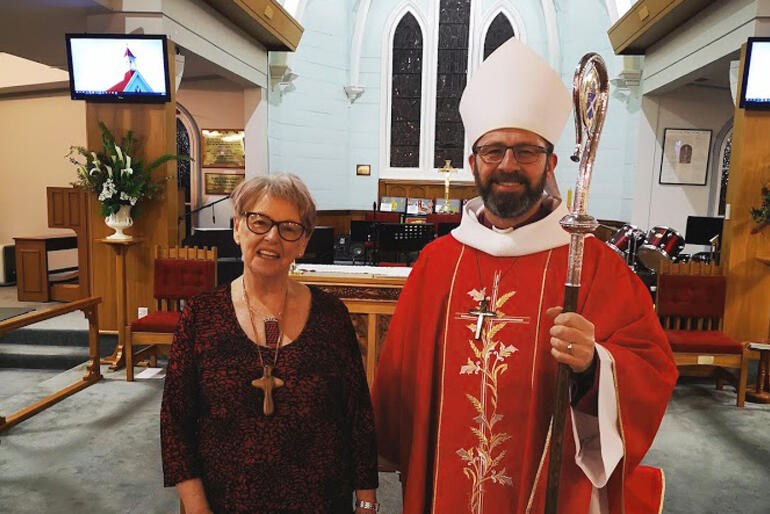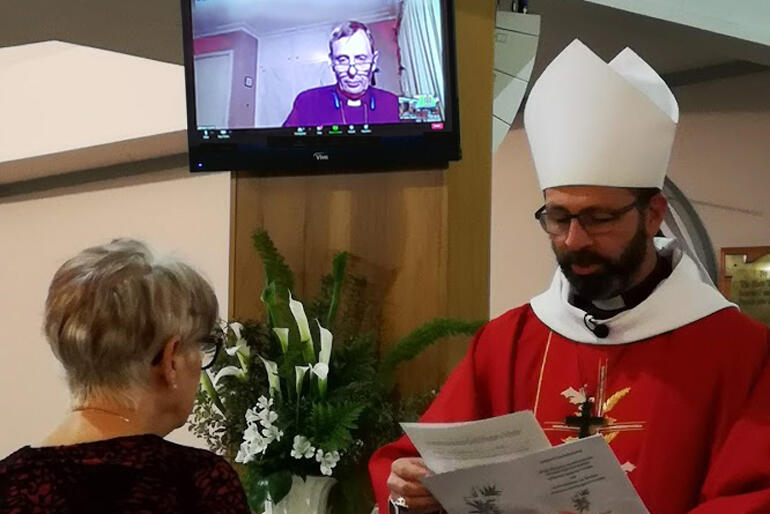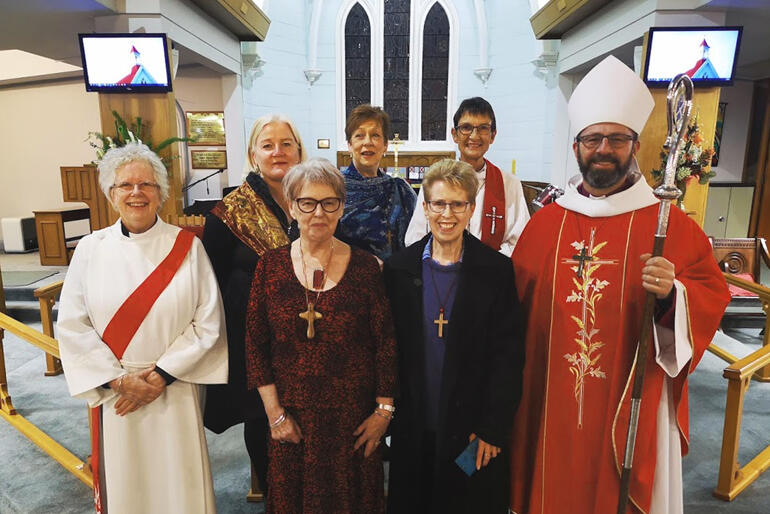 According to the new Cursillo National Lay Director Gail Spence, Cursillo's 32 years of feeding Anglican lay ministry in Aotearoa is still unequalled in the way it empowers ordinary Christians to take a greater part in God's work to renew the world.
Gail Spence took her stand for Cursillo as she became National Lay Director of the Anglican Cursillo Council. She was commissioned for the role in a service led by Bishop Andrew Hedge and National Cursillo Bishop Peter Carrell (present via Zoom) at All Saints' Anglican Church in Taradale, Napier on 26 July.
Bishop Peter Carrell backs Cursillo as a way for Anglicans to gain support and encouragement as they walk in the way of Christ.
"Cursillistas make a wonderful contribution to the mission and ministry of many of our parishes." he said today.
Gail Spence, who is a teacher by profession, began her Cursillo journey when she attended one of the international movement's three-day Christ-centred vocation weekends back in 2010, and was bowled over by the depths she discovered in the faith of other lay Anglicans.
Gail will never forget that first experience of Cursillo,
"I felt in awe as I listened. They were laypeople, ordinary people like myself, all from different professions who spoke with such sincerity of how God was working in their everyday lives."
"That openness and honesty made a huge impact on me – and within that loving Christian community I felt God's strong call to discipleship."
Not long after Gail experienced that surprisingly fresh call, she and her husband, the Rev Dr Richard Spence took up a team ministry to lead and promote the Cursillo experience across the length and breadth of the Diocese of Waiapu.
"In that three-day Cursillo experience God had opened our hearts, and we found God had more in mind for us. We wanted to share that experience with as many as we could."
Sadly that time came to an end six years later in 2016 when Gail's husband Richard died, bringing her face to face with the reality that now her life would be 'going solo'.
Gail handed the Waiapu Cursillo mantle to Hanlie Viljoen and entered a journey of working out the direction God had in store for her future.
Gail's pilgrimage sent her as far afield as Italy, where she retraced the footsteps of Saint Clare and Saint Francis. In Asissi, she was injured falling from a bus and received an experience of compassion and care that showed her the face of Jesus, and helped put her on the track that has brought her to today.
Gail's journey back into ministry with Cursillo took another step in Jerusalem, where she encountered an open-hearted welcome from a Jewish family that took her under their wing as she prayed and lived their Sabbath practice alongside them.
Gail believes that the enduring value of Cursillo is as a movement led by lay people for lay people, in collaboration with clergy, but not reliant on their energy to get off the ground.
She believes the Cursillo movement is a treasure, not only for its first three-day experience, but for the networks of support and encouragement it offers to lay people as they live out the 'fourth day' – the months and years of putting discipleship into practice amidst the messiness of real life.
"Cursillo is so valuable as a discipleship tool that serves, strengthens and enlivens the church." she said.
Cursillo is gifted to each new place by those who have gone through the course before. It is 'gifted' from one bishopric to another via the organisation and sharing of gifting bishops and 'Cursillista' – disciples who back each other in their commitment to live as God's servants in their day to day lives beyond church walls, as well as within their churches.
To find out more about Cursillo, visit the Cursillo NZ website here.
To watch a short 2018 video on Cursillo from the Church of England follow this Youtube link.
To enquire about bringing Cursillo to your Amorangi or Diocese and how it could transform lives in your faith community, contact: Anglican Cursillo National Lay Director, Gail Spence.