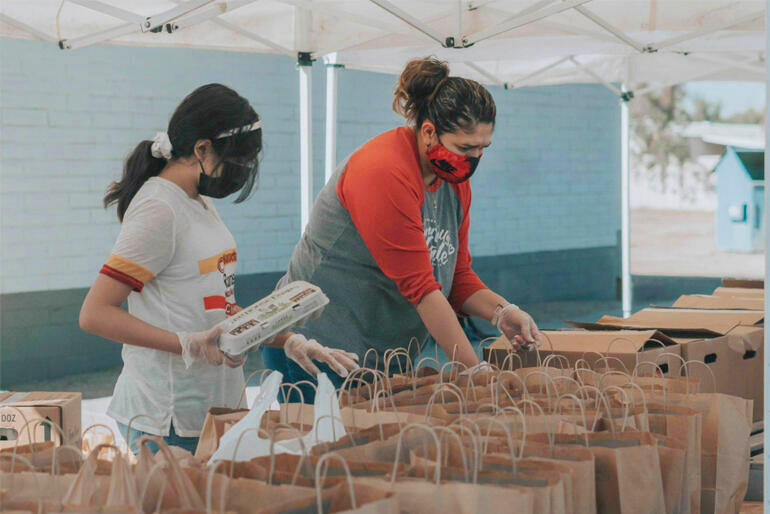 The Auckland City Mission has been working at full capacity during the latest Level 4 Auckland lockdown, as family finances dropped and the Mission's urgent food box service rose to 2000 boxes a week – a new record outside the annual Christmas rush.
Each Mission parcel feeds a family of four for four days, with nutritious, varied ingredients.
Auckland City Missioner Helen Robinson says Covid-19 is once again highlighting the food insecurity that so many families face week to week as high rents continue and money coming into families' coffers fails to match pace.
"The demand is even greater than the previous lockdowns." says Missioner Helen Robinson.
She reports that many people who had not fully recovered from the last lockdown were only just coping, and this lockdown meant more needed help to put food on the table.
Her comments come as Auckland City Mission – Te Tāpui Atawhai publishes its latest research based on responses from 600 New Zealanders experiencing food insecurity, which show the people collecting food parcels have many of the same dreams and aspirations as their fellow Kiwis.
"The people we interviewed aspire to have appropriate and fulfilling employment, they want financial security and to secure a good life for their whānau – all of the things we all desire." said Helen Robinson.
"But the reality is it's beyond the reach of those we interviewed. It's not, for example, simply a case of 'go out and get a job'– if you're unable to afford childcare, or have to incur travel expenses, yet you never have any spare cash to get to your job."
Running out of food, however, has become the norm for 1000s of Auckland families who were forced to take up a total of 48,000 emergency food parcels from the Mission alone last year. The City Mission says that is an unacceptable reality for a nation with the resources we have.
Mission research shows the reasons people experience food insecurity all lead back to an ongoing lack of income to meet their basic needs. That's because employers choose to pay meagre wages and successive Governments leave benefits to fall way below basic living costs.
Auckland City Mission says New Zealanders already know how to change that, by bringing benefits up to level with basic living costs and implementing the Living Wage across the nation.
"The Mission will continue to advocate for an equitable Aotearoa," says Robinson. "At the same time, we will always support people in their time of need - during each Covid-19 lockdown and at any other time."
Missioner Robinson acknowledged the help of the Ministry of Social Development, which has provided some funding towards food parcels for Auckland in Level 4. She and the Mission give thanks for any generous groups or individuals who can find a way to offer financial support to the Aucklanders most in need in this trying time.
To donate to the Auckland City Mission's food distribution ministry, go to the Auckland City Mission donate page