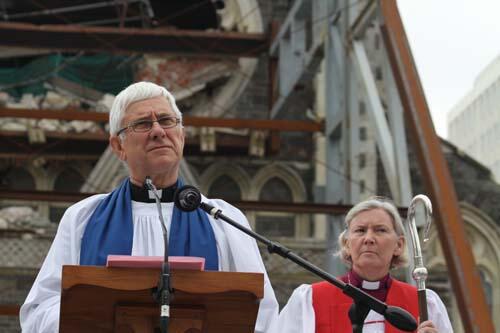 The Dean of ChristChurch Cathedral, Peter Beck, has won a seat on the city's council.
Voting in the Burwood-Pegasus by-election closed at noon. Preliminary results show 13,935 votes were cast, with Dean Beck receiving 4804 votes.
David East received 2821 votes, Stan Tawa 1674, Rod Cameron 1492, Linda Stewart 1473, Steve Burke 660, Rik Tindall 464, Bob Tomkins 444 and Raymond Ellwood 57.
The results were based on a voting turnout rate of 35 per cent.
Dean Beck gave notice of his resignation from his cathedral position at the end of last year to chase a seat on the council.
He said that after the earthquakes he wanted to play a greater role in rebuilding the city and the best way he could represent many communities, including the church, was to become a councillor.
On hearing of his win today, Dean Beck vowed to be the "voice" of the eastern suburbs and said he was looking forward to ''stepping up''.
''I really care about the city and I want to do the best that I can to serve the city," he told the Press.'
"I hope I can be worthy of them [voters] as a city councillor."
CEO's pay rise
In the run-up to the election, Dean Beck took a stand over the council CEO Tony Marryatt's 14.4% payrise, an issue which saw a mass rally in Christchurch last week.
"Anyone receiving a 14.4% increase on the sort of salary they're already getting in the city as it is at the moment, it's not a good look," he said.
"At a time when things are so rough for people in so many parts of the city, especially here in the eastern suburbs, I think the leaders of our community and our city need to say 'hang on let's show some restraint'."
The by-election was called after the withdrawal of Cr Chrissie Williams due to ill health.
A cathedral farewell for Dean Beck and his wife Gay takes place on Sunday evening, 19 February.
This Saturday he and Gay are throwing a celebratory barbecue for friends and supporters.