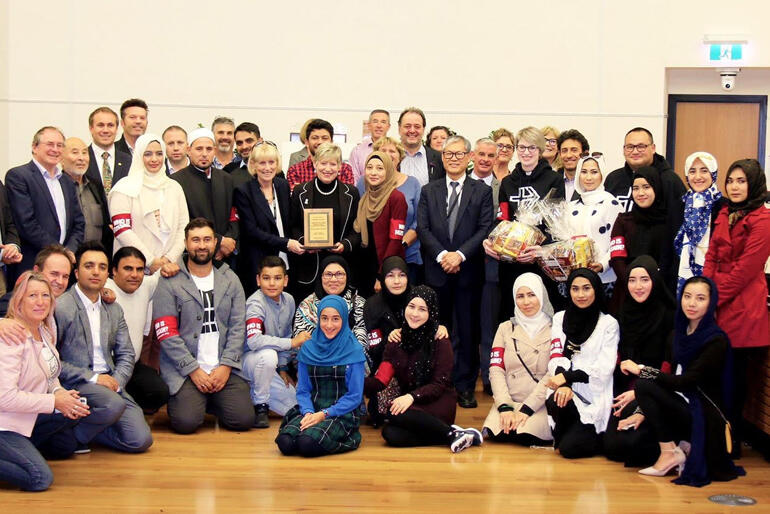 Two Anglican clergy have backed a Muslim NGO on their tour of Christchurch organisations to honour the city's support following the March mosque attacks.
The international Muslim not-for-profit organisation, 'Who is Hussain?' invited Holy Trinity Cathedral Auckland Precentor, Fr Ivica Gregurec – who is a member of the three-Tikanga Council for Ecumenism and the Rev Sarah West, curate at Auckland Cathedral, to join them on a three-day thanksgiving tour of Christchurch organisations and social service agencies.
'Who is Hussain?'(WIH), which has groups in both Auckland and Christchurch, promotes cooperation for social justice, mutual understanding and peace, based on the example of 7th-century imam Hussain Ibn Ali, the prophet Muhammad's grandson.
The two Anglican clergy joined more than a dozen Muslim WIH members between 3 – 6 May to offer thanks to a large number of Christchurch organisations including: Nga Hau E Wha National Marae, the St John Ambulance Service, Christchurch City Council, Christchurch District Health Board, the Red Cross, the Ministry of Education, Ministry of Social Development, Hagley College, St Francis of Assisi Catholic Church, NZ Gifts of Love and Strength, Sikh Gurudwara Temple and Canterbury Hebrew Congregation Synagogue.
"These were wonderful opportunities to share stories and process emotions that linger for those who are assisting the Muslim community in the aftermath of the terrorist attacks." said Fr Ivica.
Muslim members of the WIH group appreciated being joined by the two Anglicans in clerical garb, as a sign of solidarity between the faiths,
"It was a privilege having the Christian brother and sister in our campaign, as it showed a unity between different faiths which is not commonly visible," said WIH team member Suhayla Asghari.
Not everyone in Christchurch could understand why Sarah and Ivica came with the 'Who is Hussain?' team,
"Being two odd Christians in collars with a group of Muslims raised a few eyebrows." said Ivica.
"But that opened conversations about what we were doing there and we promoted the interfaith work of our Church with pride."
At moments the tour was emotional and confronting said Sarah and Ivica, particularly on visits to Al Noor Masjid and Linwood Mosque,
"I will never forget the exchanges we had with some of the families who had lost loved ones in the attack," said Sarah.
"Inside the mosques, the carpet had been replaced and the buildings beautifully renovated. But the crisp interiors were a constant reminder of how the peace had been so violently interrupted."
At Al-Noor, the team learned that many local Muslims were still too afraid to enter the buildings.
"We realized how devastating it would be to lose a sense of safety in our own sacred places." said Sarah. But while she found it difficult to confront the reality of hatred so close at hand, at the same time Sarah felt encouraged,
"I was overwhelmed by the love I experienced from so many who opened their homes and hearts to us." she said.
Catholic, Sikh and Jewish congregations were also part of the tour, as they had played active roles in supporting the Christchurch Muslim community after the attacks.
"Our visit to the Christchurch synagogue for Shabbat service was a joyful moment, as all the children of Abraham prayed together under the same roof and spent time in friendship." said Ivica.
Back in 2017 when the Council for Ecumenism encouraged Anglican churches in this province to offer Ramadan hospitality to their Muslim neighbours, Auckland Cathedral was one of the first to respond.
Anglican churches in Auckland and Dunedin have shared Ramadan hospitality with local mosques since 2017, and in 2018, Anglicans in Wellington hosted their Muslim neighbours to a Ramadan Iftar meal. According to the Council for Ecumenism (CFE) Iftar meals are a good way for Anglicans around the province to build on relationships formed through vigils and joint memorial services after March 15th.
"Following the Christchurch mosque attacks, hospitality to our Muslim sisters and brothers takes on new meaning and urgency for this Ramadan." said Council for Ecumenism member, the Rev Michael Wallace this week.
In 2019, Ramadan runs from 5 May – 4 June. In Auckland, Holy Trinity Cathedral will host diocesan clergy at their Iftar from 5.15pm on 20 May, to give them a taste of how Ramadan hospitality could run in their parishes or ministry units.
For more information about running Iftar in Wellington, please contact Wellington Diocese's Intercultural Communities Enabler, Rosie Fyfe or contact the General Synod Office for more information from the Council for Ecumenism.
For general info on interfaith activities around Aotearoa New Zealand go to Interfaith.org.nz