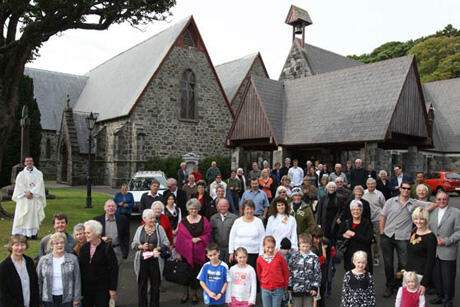 St Mary's Cathedral in New Plymouth will close temporarily for earthquake strengthening.
The Taranaki Anglican Trust Board has decided this for safety reasons. This follows an engineer's report and an extensive parish consultation.
Archbishop Philip Richardson, Bishop of Taranaki, says the news, even though expected, brings a sense of sadness.
"The trustees have taken enormous care in this decision and considered all options but the beautiful building is seriously compromised and we should not use it or allow others to use it."
The cathedral opened in 1846, making it the oldest stone church in New Zealand.
"The cathedral has significance for Taranaki and the history of Aotearoa New Zealand," Archbishop Philip said.
"It is a national treasure with elements of Taranaki history and national history. It stands at the interface of Maori and Pakeha relationships and has been a place to reconcile that history and so it speaks of our past and for our future."
The building has a national building standard of only 15 percent, and the diocesan policy is that all such buildings be closed for safety reasons.
The trustees expect the cathedral to be closed for years. The timing depends on further engineering reports, options for the future and fundraising.
Dean of the Cathedral, Jamie Allen, says the ministry of the cathedral will continue as much as possible and it will need to be in creative ways.
"I am sure Taranaki people will be able to meet the challenge with an interim worship space. We are also determined that the support the cathedral is privileged to offer to our community – for example, counselling and the community cafe, will continue unaffected.
"We've all experienced some deep sadness as well as anger and denial and we are working together and to find a sense of resurrection in this.
"This taonga was gifted to us; we didn't build it. However, it is our responsibility to do everything we can to make this building stronger for generations to come."
The trustees have decided on a gradual closure that begins with no general access to the cathedral from this Monday (5th October). Specified services will continue until the end of January next year.