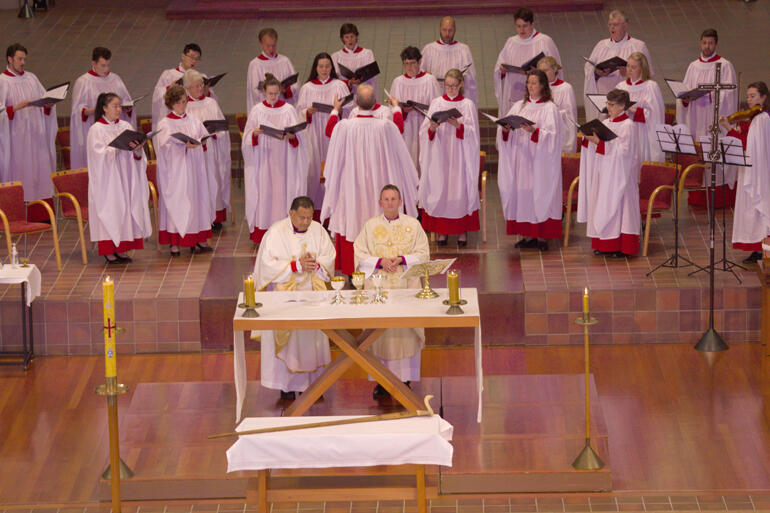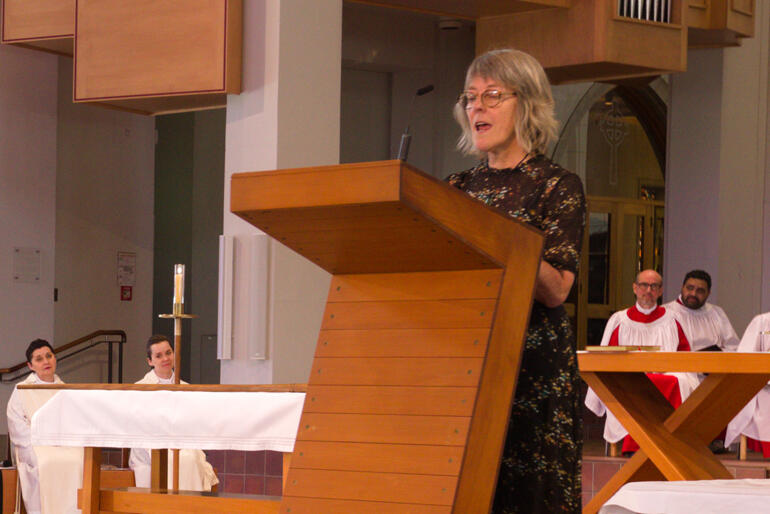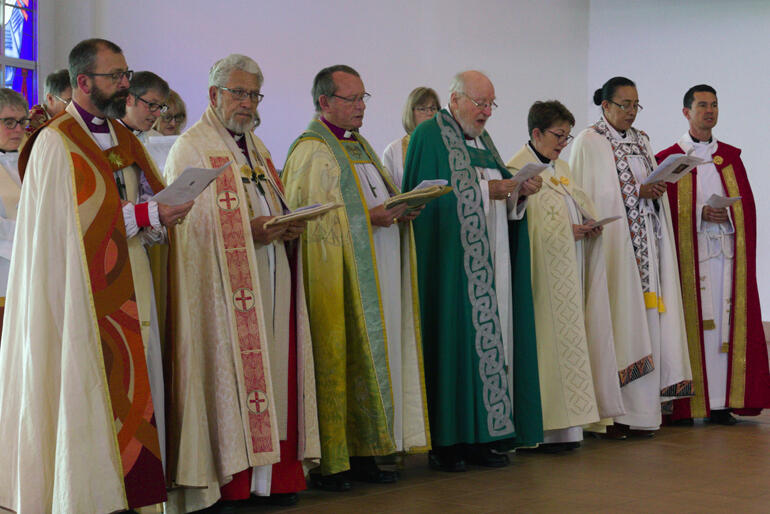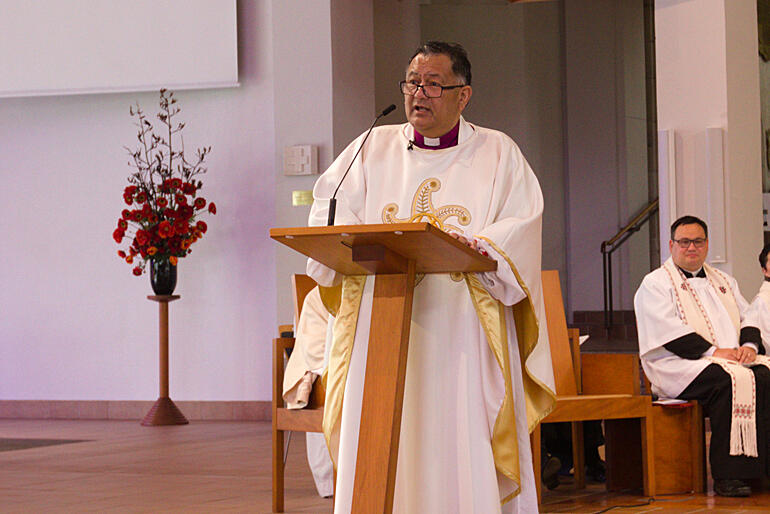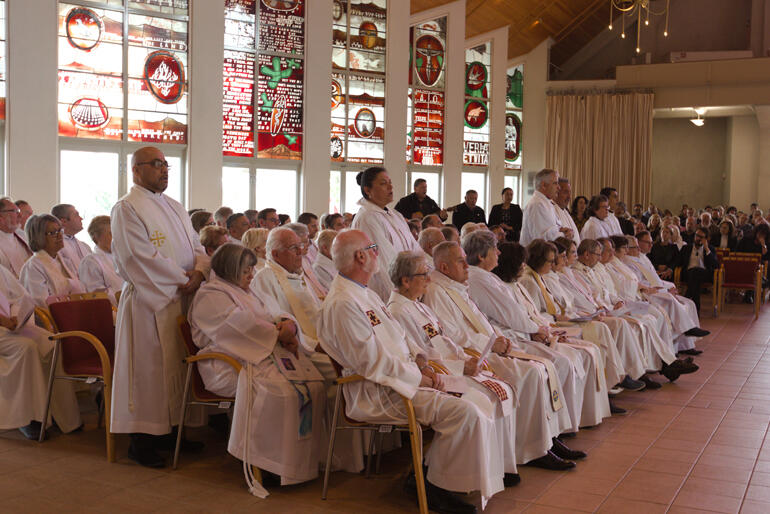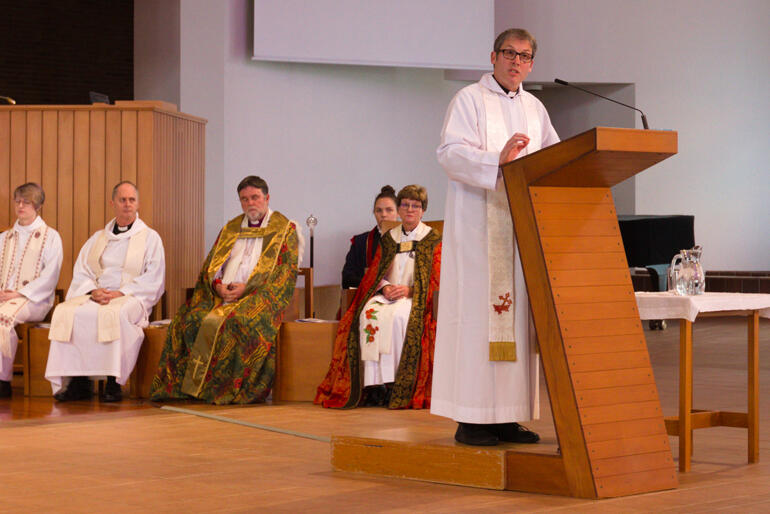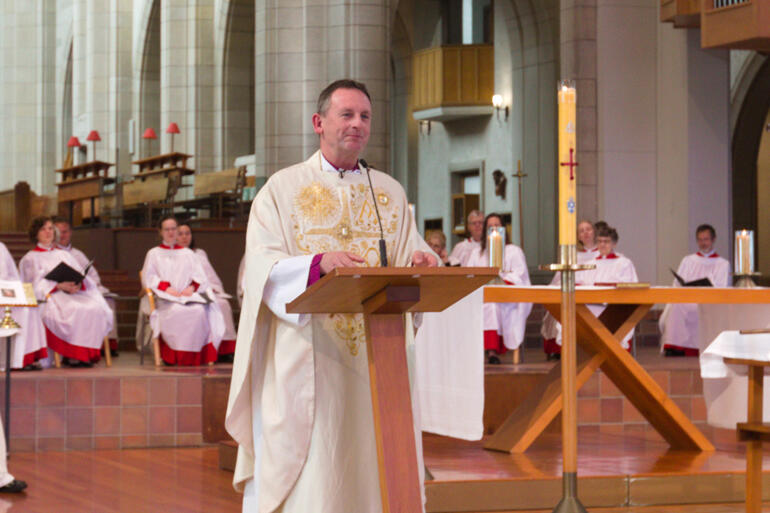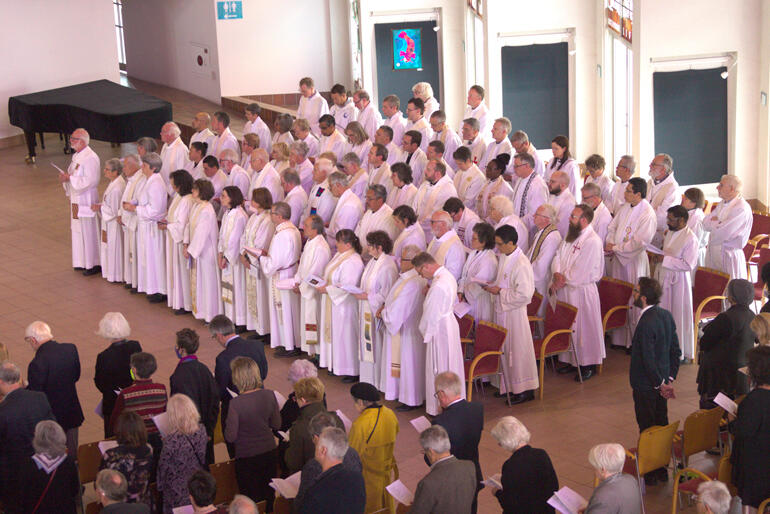 A requiem mass at Holy Trinity Cathedral brought together 500 mourners on Friday 9 October to remember and give thanks to God for the life and ministry of Bishop Jim White.
Bishop Jim White, who died of cancer on 30 September, was honoured and remembered at last Friday's requiem by people, clergy and archdeacons of the Diocese of Auckland and Pīhopatanga o Te Tai Tokerau and beyond, as well as by Archbishop Philip Richardson, Bishop of Te Manawa o Te Wheke Ngarahu Katene, Bishop of Waiapu Andrew Hedge, Bishop John Paterson and Bishop George Connor.
The two Auckland-based bishops, Bishop of Te Tai Tokerau Te Kitohi Pikaahu and Bishop of Auckland Ross Bay introduced people to the service with a reminder from Bishop Ross that Bishop Jim was a strong believer in the power of liturgies such as these to build up the church,
"We do today what Jim would have us do. We do liturgy well, and in it we seek to honour God, and to gain again renewed hope and faith in the resurrection."
Bishop Jim's wife Jane Hart delivered the first eulogy, sharing how Jim approached everything he did by driving it as far as he could, or as she put it, "doing it to the max."
Jane told the story of Jim's relentless training for Ironman and Triathalon events, his felling of Dunedin rugby goalposts to protest a racist Springbok Tour, his front page anti-nuclear boating stand, his academic pursuits and his fearless determination to battle for justice for people on the margins.
Jane described how Jim demonstrated that same determination into his final days.
"People have spoken to me a lot in the last few days about Jim's integrity and courage," she said.
"Facing cancer was terrifying and deeply disappointing, but like he took on an Ironman [event], or a difficult theological problem, Jim always faced into the wind."
Bishop Kito Pikaahu gave the second eulogy, sharing first the aroha and condolences of Māori Anglicans in Tai Tokerau for his friend and tuakana Bishop Jim.
"I will mourn Jim's death for some time and I will miss him." said Bishop Kito.
"I will miss his conversations, I will miss drinking coffee with him, I will miss his support for the concerns we held in common in the diocese and amorangi."
Bishop Kito told the assembly how both he and Bishop Jim shared a strong commitment to partnership and resource sharing across tikanga. He relayed how Bishop Jim had visited every ministry unit in Tai Tokerau, and with Bishop Ross's backing, had worked to support Ngāti Tipa at Port Waikato and Ngāti Whātua in Orakei, as well as facilitating the transfer of churches to Māori Anglican communities in Kamo and Kaikohe.
"Partnership was a sincere concern for Jim. What I saw in him was a quest for justice…."said Bishop Kito.
"You can be brave and afraid, but he was fearless in his courage… fearless in every way when speaking truth to power."
Bishop of Auckland Ross Bay's third eulogy tracked the two bishops' shared ministry in leading the Diocese of Auckland as an incarnational church embedded in the life of local communities in the north.
Bishop Ross chronicled Bishop Jim's work with the Auckland City Mission, the Healthy Church consultations, St John's College and his strong intellectual and liturgical contributions to the diocese and the wider church.
Later in the service family members and clergy friends of Bishop Jim led prayers and readings, including Rev Andrew Coyle who preached on the enduring hope of the resurrection, and Rev Clare Barrie who offered prayers of the faithful and for the dead.
The Auckland Cathedral choir uplifted the occasion in song, particularly with their three communion motets: Pie Jesu (Requiem) by Gabriel Fauré; O taste and see by Ralph Vaughn Williams and Beati quorum by Charles Villiers Stanford.
Archbishop Philip Richardson offered the blessing to conclude the service.
The Requiem Eucharist for Bishop Jim White was livestreamed in full and is available to view online through Youtube.