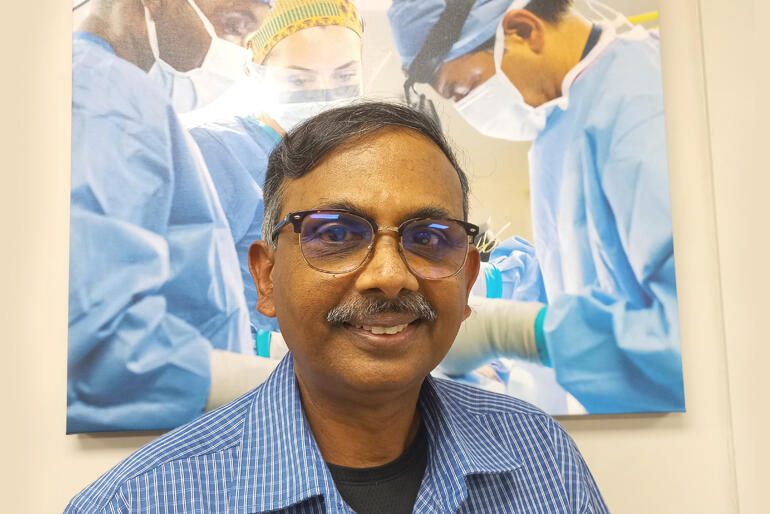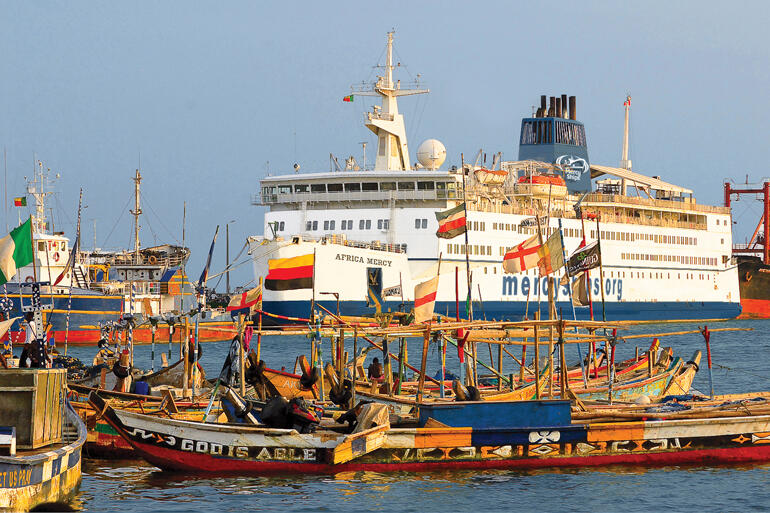 Auckland Anglican Alfred Luther, who is the hospitality and events coordinator at St Margaret's Anglican Church in Hillsborough, chose to forgo his summer holiday this year and instead spent 53 days running the galley of the 'Africa Mercy' – a 16,500 gross-tonne surgical hospital ship.
"I had heard stories about the plight of women in Africa that were suffering from birth injuries that could only be fixed by surgery which was not available in their countries or regions. I knew that the operations the Mercy Ships did were a lifeline for these women and many others." said Alfred.
"I felt challenged by James 2:14: "What good is it, my brothers, and sisters, if someone claims to have faith but has no deeds? Can such faith save them? Suppose a brother or a sister is without clothes and daily food. If one of you says to them, 'Go in peace; keep warm and well fed,' but does nothing about their physical needs, what good is it?"
"So I asked myself, 'Why not volunteer my spare time to serve God in some small way with my ability and skill – and why not with Mercy Ships?"
Alfred has long-since admired the medical mission of 'Mercy Ships,' which he first heard of from Retired Commander Larry Robbins, whom he met over the 14 years Alfred volunteered at Auckland's Mission to Seafarers' Centre.
Alfred Luther usually splits his working hours between his role as Hospitality and Events Manager at St Margaret's Hillsborough and his role as lecturer in Hospitality Management at the Manukau Institute of Technology. His experience in managing food operations is also well-honed from a further eight years working in food and beverage service operations for the Sheraton Hotels Group in Chennai, India.
Over summer 2021-2022, Alfred ran the galley kitchens of the 'Africa Mercy' for almost two months while it was docked in the Canary Islands, as it was undergoing long-term maintenance and renovations before return to field service in Senegal in January 2022.
Arthur enjoyed catering for the hospital ship's international crew that included twelve volunteers from Aotearoa New Zealand, as well as more than a hundred others from around Australia, Africa, Asia, Europe and the Americas.
"I had an opportunity to fly to the other side of the world – to go into another culture, to experience preparing a variety of food and enjoy and appreciate other cultures." he said.
"It was also a chance to work with people from about thirty different countries. It was an amazing experience and an adventure."
The staff Alfred catered for included people working in technical teams, ship's officers, catering teams, and families of crew on board, while the ship maintained all its maritime functions in wait for medical teams to reboard.
Alfred said it was not ideal to be away from his wife, family and grandchildren over the Christmas and New Year celebrations, but it was definitely worth it.
"What surprised me most about Africa Mercy was the huge number of volunteers who have sacrificed so much of their time and financial resources to be part of this aspect of God's mission here on earth."
Alfred reported that Mercy Ships' floating hospitals offer surgeries that transform the lives of people who would otherwise be stuck with debilitating or severely limiting conditions because of poverty or being situated in regions with poorly-resourced health care.
In a typical year, the Mercy Ships faith-based charity deploys hospital ships to sub-Saharan Africa which spend 10 months in a country providing surgical care and rehabilitation for people living in poverty.
As well as providing children and adults medical treatment inaccessible in their own nations, Mercy Ships crew also focus on mentoring and training to build the capacity of local health care workers and support health systems in the areas where they serve.
Aotearoa New Zealanders who are interested in sharing their skills as volunteers aboard a Mercy Ship can check out the details of what the floating hospitals need to run by following the link below.
www.mercyships.org.nz/make-your-mark/
Mercy Ships uses hospital ships to deliver free, world-class healthcare services, capacity building, and sustainable development to those with little access in the developing world. Founded in 1978 by Don and Deyon Stephens, Mercy Ships has worked in more than 55 developing countries, providing servicesvalued at more than NZ$2.5 billion and directly benefitting more than 2.8 million people.
Mercy ships are crewed by volunteers from over 50 nations, with an average of over 2000 volunteers each year. Professionals including surgeons, dentists, nurses, healthcare trainers, teachers, cooks, seafarers, engineers, and agriculturalists donate their time and skills.
With 16 national offices and an Africa Bureau, Mercy Ships seeks to transform individuals and serve nations.
Story researcher: Sharon Walls | Mercy Ships.