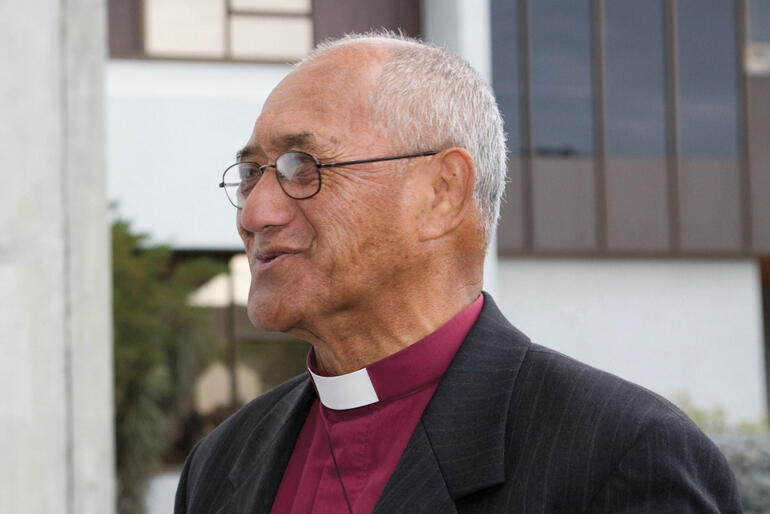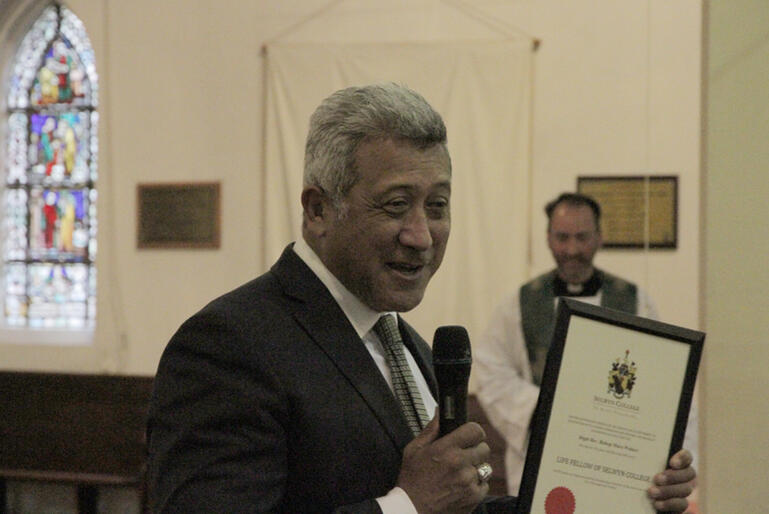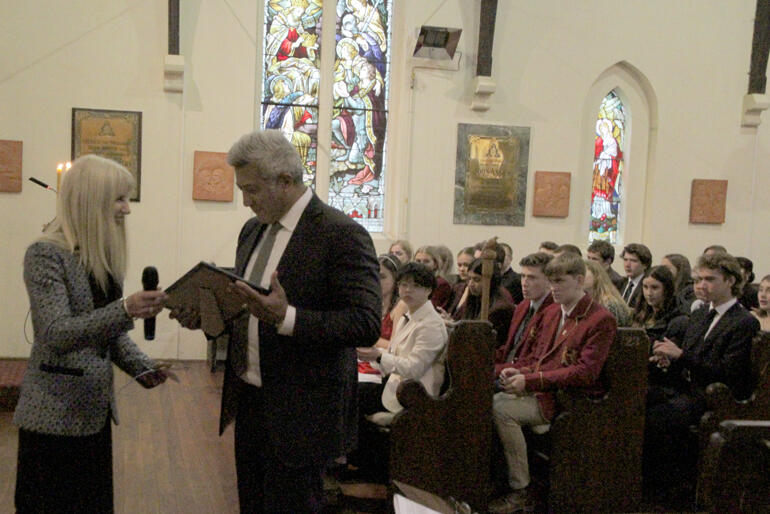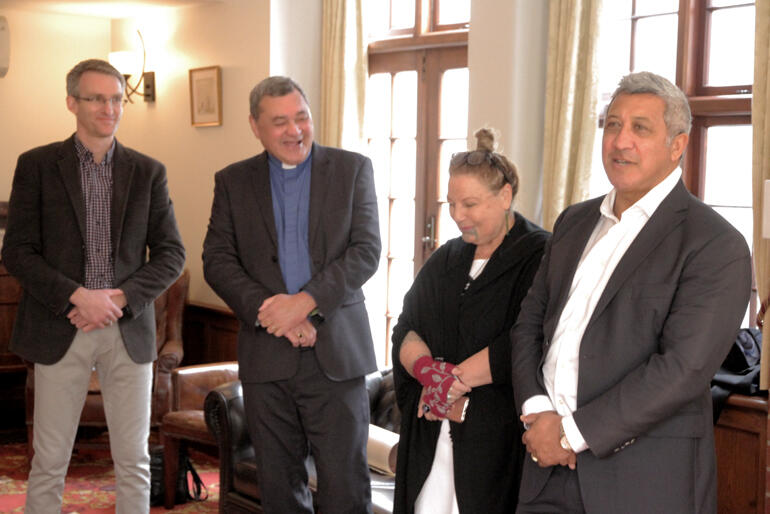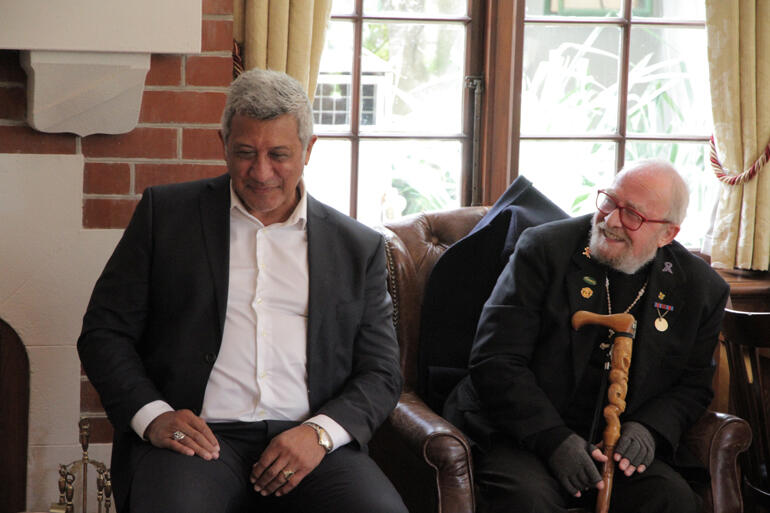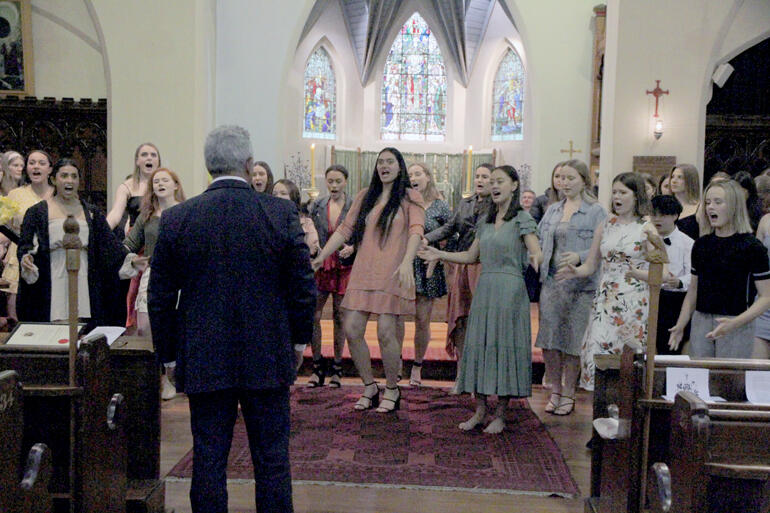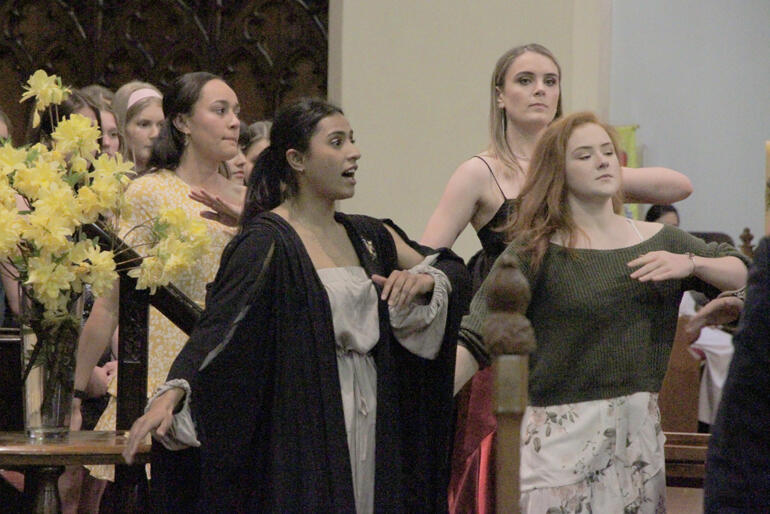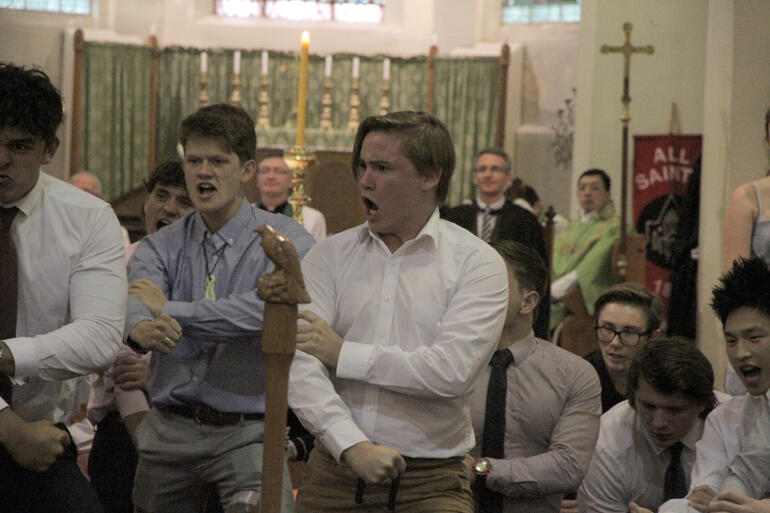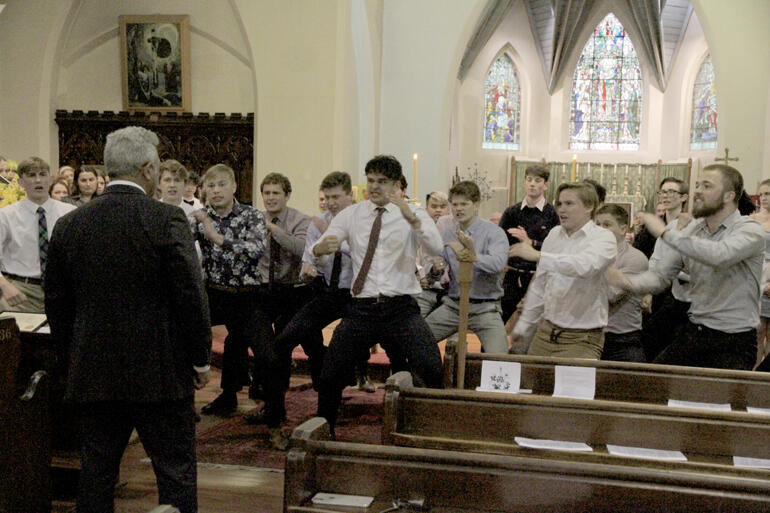 The Rt Rev Muru Walters has been made a life fellow of Selwyn College -Te Maru Pūmanawa to recognise his contribution to the College, the Anglican Church, the academic and cultural life of Dunedin and Aotearoa New Zealand: as an Anglican Bishop, an educator, master carver, author, poet, composer, artist, broadcaster and Māori All Black.
But the biggest cheer Bishop Muru's son John Walters got from Selwyn College students at their annual high tea on Wednesday night, was when they found out how Bishop Muru's musical talent had passed on to a family member better known to them,
"Did you know that this amazing guy Bishop Muru Walters that we are honouring tonight is the grandfather, and sitting here is the father – John Walters – of Matiu Walters, the lead singer of Six60?" said Selwyn College student president Nic Sinnott last night, to roars from the College.
Bishop Muru's eldest son John Walters was at Selwyn College - Te Maru Pūmanawa in Dunedin on Wednesday to receive the honorary fellowship on Bishop Muru's behalf at the College's annual valedictory service.
Bishop Muru Walters, who was the first Ahorangi of Te Rau Kahikatea Māori Theological College at St John's College, and Bishop of Upoko o Te Ika from 1992-2018, is honoured to receive the fellowship, but is unable to travel at this time.
On Wednesday morning John Walters attended a reception on his father's behalf where around 30 friends and colleagues of Bishop Muru shared stories honouring his role in Church and society and in driving forward the Māori cultural renaissance at Otago over forty years ago.
Bishop Muru Walters (Rarawa, Te Aupori) came to Ōtepoti with his wife Lorraine and their four children via Whāngarei in 1970. Muru had already lived in Dunedin to attend a Teachers' College specialist art teaching course in 1955. Over the 15 intervening years he had built up a reputation for excellence teaching Māori arts across schools in Kaitaia, the Bay of Islands, Hawke's Bay and Gisborne. Back in Dunedin, he took up the role of art lecturer at Dunedin Teacher's College. His son John remembered well arriving in the city as a young teenager,
"My initial perception of Dunedin was that there were no other Māori. We had come from a school where 80-90% of the kids were Māori or Pacific Islanders, and when we got here, there was just Christine."1
While Muru Walters lectured teacher trainees in Māori arts at Dunedin Teacher's College, he immersed himself in the city's academic, sporting and cultural life.
In time, he established the Dunedin Teachers' College Māori Department and in 1974 Muru began teaching Māori at the University of Otago.
Whilst living in Dunedin, Muru led the Araiteuru Māori club, which met in All Saints' Hall over the fence from Selwyn College, in the years before Araiteuru Urban Marae was built. He assisted Selwyn College over a number of years, first revising, then teaching the College's haka.
This year's Selwyn College student president Nic Sinnott (Tuwharetoa) thanked John Walters for his father Muru's work to support and build on the haka tradition. He said that along with other Māori Selwyn fellows such as Sir Mason Durie and Prof Piri Sciascia, Bishop Muru had mapped a pathway that created space for Māori students coming to Selwyn College today.
"You have given us a place to stand as Māori in this College. I'm pleased to tell you that this year is the second year in a row that Selwyn College has had a Māori president and with our warden Luke we are actively building up taha Māori in College life."
Selwyn College cultural rep Laura Gemmell (Kahungunu, Tuwharetoa) has built on College tradition this year with her composition of the College's first ever haka wāhine.
College kaumatua Rev Wiremu Quedley (Ngati Haua, Ngati Maniapoto) who for eight years has been honorary priest assistant at All Saints' Church (which is the College chapel) was delighted to offer his blessing for the new haka.
"It is fitting for the College wāhine to have their own haka, because the tāne haka tradition dates back to the time before women were admitted to the College. To bring this in now adds to the tradition of the College alongside the waiata that has been established for decades as a College women's tradition."
John Walters reported that Bishop Muru, Lorraine and the wider whānau were humbled to receive the fellowship and to hear how many people had come forward to renew his links with the city, Selwyn, Otago College of Education, Arai Te Uru and the whānau who were part of the family's life in Dunedin.
John Walters, who practices law in Auckland, finished by pointing out that Dunedin was good for the whānau too, and that came through as all three of his own children went on to study at Otago.
"Dunedin provided the academic and cultural environment and freedom for Dad to blossom, in circumstances where it might have been more difficult had we remained up North where he would have been under the strict gaze of his elders."
"So Dunedin had given to him, and us, as well."
"Dad and our family are grateful for and will honour this tohu that has been bestowed on him."
1. A nod to Christine Maxwell, who was a teenager in the Arai Te Uru kapa haka group in the 1970s and who attended the reception at Selwyn on Wednesday.