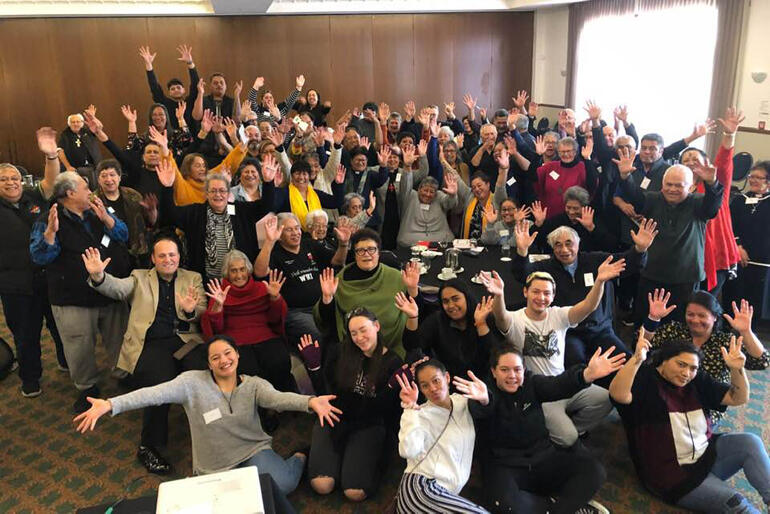 A Pihopatanga o Te Upoko o te Ika storytelling and strategising hui has drawn out new energy and gifts for mission from Māori Anglicans across the lower North Island.
The Palmerston North-based hui from 12-13 July gathered more than seventy Māori Anglicans from across Taranaki, Wellington, Wairarapa and Manawatu, to re-envision the Hui Amorangi's mission in the lead up to Bishop-elect Waitohiariki Quayle's ordination this September.
When the Archbishops announced Archdeacon Waitohiariki Quayle's election as Bishop of Te Upoko o Te Ika in May this year, she became the world's first Māori woman to be elected or appointed bishop, and the first Aotearoa New Zealand-born woman to be elected bishop to head an episcopal see.
Bishop-elect Waitohiariki called the meeting to help the Hui Amorangi gather together a common mission vision for her to carry into her new role.
"I didn't want people who would just come and listen to words from me. I wanted to hear what was coming through from others, to get their ideas and dreams for the future of our Hui Amorangi." she said.
Dr Doris Kaua, who is a public health researcher at Massey University, came to the hui from Te Awa Kairangi roopu that ministers in Wainuiomata, Trentham Army Camp and the Hutt Valley.
"I've done a lot of strategic planning with Māori groups, and this one blew me away," Doris said. "Wai's idea to call it was outstanding, the facilitation was outstanding and everyone who took part can pat themselves on the back for the work they did there."
"I am very encouraged about where the Hui Amorangi is going."
Bishop-elect Wai called in three Pihopatanga o Aotearoa facilitators to help draw out people's stories and ideas: Pania Houkamau-Ngaheu, the Ven Canon Ngira Simmonds and the Ven Dr Hirini Kaa – who led off with a focus on new wineskins and the Great Commission from the Gospel of St Matthew.
Doris appreciated beginning with 'the ownership element' where each person was asked to think about what skills and talents they could bring to the Hui Amorangi's mission.
"The facilitators threw in readings from Matthew that turned us to focus internally and ask: 'Who are we? What are our gifts? What do we bring?'" said Doris.
"That really brought out our Hui Amorangi's strengths in different areas, like our Te Reo capacity – we've got that in spades."
"Raukawa Wananga being in this area played a role in the large amount of Te Reo Māori being spoken," said Hirini.
That Te Reo input helped the hui to think and plan on Māori terms, said Hirini, who opted for Māori modes of sharing knowledge at the event.
"We chose not to use a lot of theological terms, or terms from strategic planning that can be complicated by English-language scholarship Māori haven't had a big part in," he said.
After opening with karakia, Hirini Kaa invited clergy and lay, kaumatua and rangatahi to focus on their story – another way to deliberately ground the conversation in a Māori way of doing things.
"Narrative is a Māori way of doing theology, so we asked for stories. That way kaumatua could bring to bear years of experience."
"Then we moved it forward, and asked 'What are the stories we want to be known for?" "What are the stories we want to be told about us on different marae around the country?"
Doris Kaua recalls an epiphany as the groups reported back on those future stories the Hui Amorangi hopes will be told,
"About halfway through the feedback session from the groups I suddenly realised...we have just provided our mission and our vision...right there." she said.
By the end of the hui the group had identified a list of five priorities for the Hui Amorangi to take forward, which Bishop-elect Wai now has in hand as she moves toward her ordination.
The five priorities for how Te Upoko o Te Ika aims to build up the church will be through:
• Te Reo Māori and tikanga Māori (Māori language and cultural organisation)
• Theological education: wānanga/training
• Rangatahi/youth
• Mission
• Systems: relationships, resources, communications and working together
Bishop-elect Wai now aims to work with her archdeaconry and clergy groupings to flesh out these first 'high level' priorities as the Hui Amorangi hones each one into practical action plans.
Bishop-elect Waitohiariki Quayle will be ordained Bishop of Te Upoko o Te Ika on Thursday 12 September at Rathkeale College in Masterton.