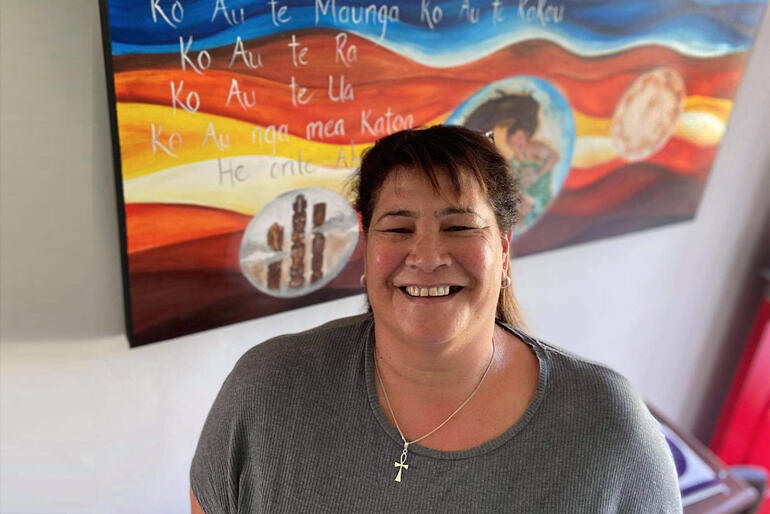 Pīhopatanga o Te Manawa o Te Wheke youth enabler Mira Martin has shared her experience of working on the frontlines in rangatahi Māori mental health in a podcast series looking at 'Suicide: the other pandemic.'
Mira talks with the Anglican Church of Canada's 'Sacred Teachings' guest host Peter Downie about the intergenerational trauma of colonisation and indigenous mental health and wellbeing in an interview titled "You are Original".
Mira, who is a straight-talking former social worker with 30 years' experience before taking up her role with the Pīhopatanga, shares her stategies for unpacking the causes of suicide at both a personal level and in wider society.
She challenges Aotearoa New Zealand to put our money where our mouths are and fully resource Māori health experts to support Māori wellbeing as the best way to prevent youth despair.
Mira's 34-minute interview first aired on 16 March 2021, and makes up the final episode in a series of seven other 'Sacred Teachings' podcasts that cover issues related to the impact of suicide in indigenous communities in North America.
The previous seven episodes include insights on: grassroots community-based music camps, the power of listening, the toll of suicide on indigenous communities, the power of ceremony and indigenous traditional teaching and psychological support to help young people choose life.
Sacred Teachings podcast guest host Peter Downie introduces Mira Martin by playing the words she directs to Māori youth:
"Protect your body,
trust and learn.
Protect your mind,
help love.
Let your tupuna guide you,
Let your courage pride you,
Let nothing hide you.
Because
You are Original."
"That's the voice of Mira Martin...reading from a poster she's using to help prevent suicide by building self esteem, especially where it's missing among young Māori men and women.
The rates of suicide among the indigenous Māori population of New Zealand are distressingly familiar to what we know about the elevated rates in North America – also within indigenous communities.
What's striking is that like many of the indigenous leaders we've spoken to this season, Mira has a passion to reassure those who might feel disconnected from history, who can't quite find their balance in the modern world. To reassure them that in fact they do have worth, that they do belong, and that they are connected to a proud people with a rich and honorable past."
You can listen to Mira Martin's insights on suicide prevention in the Sacred Teachings podcast "You are Original" here (34 min).
The seven previous episodes in the Sacred Teaching series look at how indigenous North American communities are responding to 'Suicide: the other pandemic'. Links to those episodes are below:
The Power of Music: Grassroots community-based music camps (Ginny Doctor, Mohawk Turtle Clan)
The Best Place: the power of listening (Rev Anna Frank, Alaska)
The Toll it Takes: the impact of suicide on indigenous families and communities (Judith Moses, Six Nations, Ontario)
I can hear you whispering: frontline work preventing suicide (Chief Derrick Henderson, Erin Courchene and Linda Dorie, Sagkeeng First Nation)
The Safest Place: The power of ceremony and traditional teaching (Rev. Canon Debbie Royals, Pascua Yaqui, Tuscon Arizona)
A Blue Horse: Supporting young people to choose life (Lakota Nation elder and psychologist, Dr Martin Brokenleg)
These podcasts deal with issues related to suicide.
Where to get help in Aotearoa New Zealand:
Need to Talk? Free call or text 1737 any time to speak to a trained counsellor, for any reason.
Lifeline: 0800 543 354 or text HELP to 4357
Suicide Crisis Helpline: 0508 828 865 / 0508 TAUTOKO (24/7). This is a service for people who may be thinking about suicide, or those who are concerned about family or friends.
Depression Helpline: 0800 111 757 (24/7) or text 4202
Samaritans: 0800 726 666 (24/7)
Youthline: 0800 376 633 (24/7) or free text 234 (8am-12am), or email talk@youthline.co.nz
What's Up: Online chat (3pm-10pm) or 0800 WHATSUP / 0800 9428 787 helpline (12pm-10pm weekdays, 3pm-11pm weekends)
Kidsline (ages 5-18): 0800 543 754 (24/7)
Rural Support Trust Helpline: 0800 787 254
Healthline: 0800 611 116
Rainbow Youth: (09) 376 4155
If it is an emergency and you feel like you or someone else is at risk, call 111.