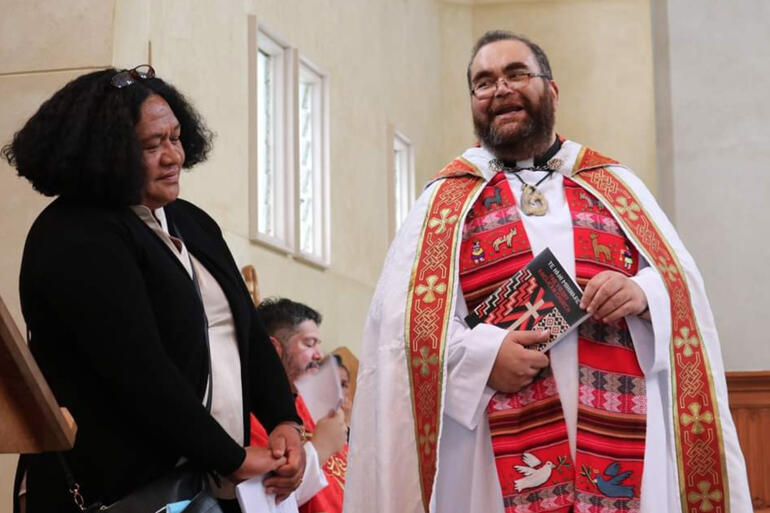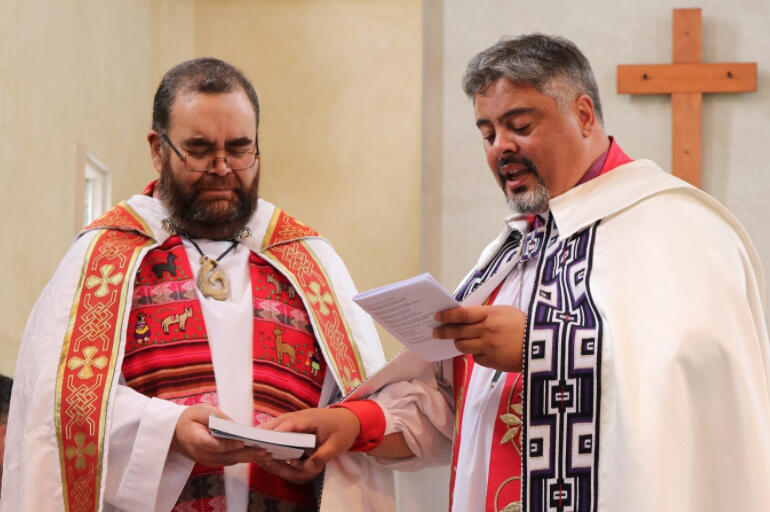 After years in the making Hirini Kaa's groundbreaking new history 'Te Hāhi Mihinare The Māori Anglican Church' has been launched and blessed by the Bishop of Aotearoa, Archbishop Don Tamihere as part of a Pīhopatanga o Te Tairāwhiti1 celebration of new vocations in Wairoa.
Archbishop Don shared his enthusiasm for Dr Kaa's new book after the launch,
"Hirini Kaa's new book, 'Te Hāhi Mihinare: The Māori Anglican Church' is essential and riveting reading for all Mihinare2, and for anyone interested in Māori history and faith traditions."
Published by Bridget Williams Books, Dr Kaa's new book surveys the life of the Māori Anglican Church from its earliest signs right through its 220-year life up to today.
The book is the fruit of years of original doctoral research by Dr Kaa, predominantly drawn from sources that present Māori voices and viewpoints, much of which is in te reo Māori3.
Dr Kaa's academic supervisor from the University of Auckland's history faculty, Dr Aroha Harris says that this book's focus on the Māori history of a Māori church community makes it a first.
Dr Harris reports that in a lot of Māori histories, particularly iwi4 histories, the church typically has a low profile, with its role left off at Māori contact with 19th century CMS missionaries as actors in the early colonisation process.
"Hirini has presented a fuller and more nuanced telling of the Māori story and Anglican Church story – actually of the Māori story and any church story – than ever before."
As a historian and academic who has worked with Hirini over many years, Dr Harris is proud of her friend's achievement,
"Hirini is a fantastic writer and a beautiful storyteller."
"It's a great piece of work and a good read – not only for the church, but for anyone who enjoys New Zealand history."
While Hirini Kaa's name is on the cover of the book, for him the credit for this work rests beyond his own scholarship.
"I wrote the book, but the story is a whānau5 work, it's our whānau story. It's the story that has been told by Ngāti Porou6 since 1834."
For many New Zealand Anglicans outside Te Hāhi Mihinare, this book will reveal unknown details of the creativity, faithfulness and resistance of the Maori Anglican Church as an indigenous missionary church committed to sharing the gospel and connecting it with the priorities, needs and aspirations of its faithful.
'Te Hāhi Mihinare' centres on the way Māori Anglicans have negotiated between the values and attributes of their faith in the context of matauranga Māori – the inherited wisdom, core values and priorities of their iwi, whānau and hapu7.
"It's an inspiring story of innovation and deep, deep matauranga," said Dr Kaa.
After the introduction, "He Ngākau Hou: A New Heart' which sets out the theme of transformation, the first four chapters in 'Te Hāhi Mihinare' record the major shifts and markers in the life of the Māori Anglican Church as an iwi Māori missionary church, through to raising up the first Māori Bishop [of Aotearoa]. Then they recount the years of resistance and resilience as Mihinare (Maori Anglicans) worked for mana motuhake8 and evolved into a pan-tribal church.
Chapter Five 'Ko Rāwiri Te Tangata: Shaping the Māori Liturgy' offers an in-depth survey of the debates that took place within Te Hāhi Mihinare on interpretations for the Māori Anglican Prayer Books, and demonstrates how the language of prayer was a site of constant and complex renegotiation.
The final chapter 'Reciprocity, Reconciliation, Renegotiation' names the whakapapa9 of Hirini's academic and storytelling approaches in this history.
The book may hold surprises for Pākehā Anglicans unaware of the trials the Māori Church has endured (in the period up to 1992) on the way toward achieving self-determination.
Dr Kaa chronicles the stories of Māori Anglicans whose commitment to building a truly indigenous Church faced repeated impediments put up by the Pākehā Church.
There are painful accounts of times when synods and bishops blocked, undermined and failed to resource Māori minita and their people to minister as the self-determined Māori Anglican Church within the Māori world.
Hirini says this book may reveal a largely untold story for many people reading these things for the first time, but for Māori readers, he suspects the book will serve to fill in some gaps in the bigger picture that's already widely known.
One oft-quoted assumption this history overturns is the idea that Māori in the 'mainline' churches were co-conspirators with Empire, both in religious and political terms.
"There's this idea that the Māori prophetic movements were the Che Guevarra figures, and that anyone else was a colonial sympathiser."
"The truth is for us is there has been a constant striving for mana motuhake (self-determination), and for rangatiratanga(sovereignty),10 where we were discussing these things as iwi inspired by our own readings of religious sources and traditions."
Hirini's overview demonstrates that narratives that pigeonhole Māori Anglicans (and Presbyterians, Catholics, Methodists) on the side of the colonisers, fail to recognise the dynamic relationship between the Māori and Pākehā Church.
In Ngāti Porou, for example, the story of Christian conversion was not a story of Māori joining a Pākehā institution.
Te Hāhi Mihinare on the East Coast of the North Island was a Maori church, where Māori convinced Māori of the value of the good news and where people on both sides of that conversation negotiated their faith within a Māori worldview.
CMS records from the mid-1840s confirm that only 12 Pakeha missionaries were at work at that time, while 300 Māori missionaries were serving in the field.
The book also scans the role of CMS missionaries like Rev Henry Venn whose aim was to build an indigenous church that he hoped would grow within a Māori cultural framework.
One reason these facts have been unclear is that histories of the Anglican Church in Aotearoa New Zealand have been based on English sources and so have relied on only a fraction of the story of how the gospel spread.
"Our written histories have told the story of the European missionaries based on their writings, as though the 10% were the 90%, instead of the reality that was the other way round."
"The English-based histories have given us missionaries estimating what Māori thought – and their guesses had become the record of what Māori thought – when all this Māori Christian conversation and thinking was always there, but not on the record in English."
Because of that lack, Hirini has intentionally brought out Mihinare (Māori Anglican) voices to speak in their own words (in Māori, followed by his own interpretation) throughout this history. In the process Hirini has been inspired afresh by them,
"What I've found shows that Mihinare have always been capable of radical transformation through our faith – both great and small."
"I hope we will find it inspiring and find it valuable as part of our identity, as part of our belonging in our faith.
"These stories show the beauty, the strength, and the courage it has taken to be Mihinare, to be Anglican."
'Te Hāhi Mihinare: The Māori Anglican Church' is 248 pages long, including index, references and colour illustrations.
It is available from Bridget Williams Books for NZ $49.99.
Glossary notes
1. Pīhopatanga o Te Tairāwhiti Māori Anglican Diocese of the East Coast of the North Island
2. Mihinare Māori Anglicans
3. te reo Māori the Māori language
4. iwi tribe, nation, people
5. whānau family, extended family
6. Ngāti Porou a major iwi on the East Coast of the North Island and an iwi the author Dr Kaa belongs to.
7. hapu kinship group, clan
8. mana motuhake separate identity, autonomy, self-determination – mana through self-determination and control over one's own destiny
9. whakapapa geneology, line of descent
10. rangatiratanga autonomous authority of the rangatira(chiefs), sovereignty