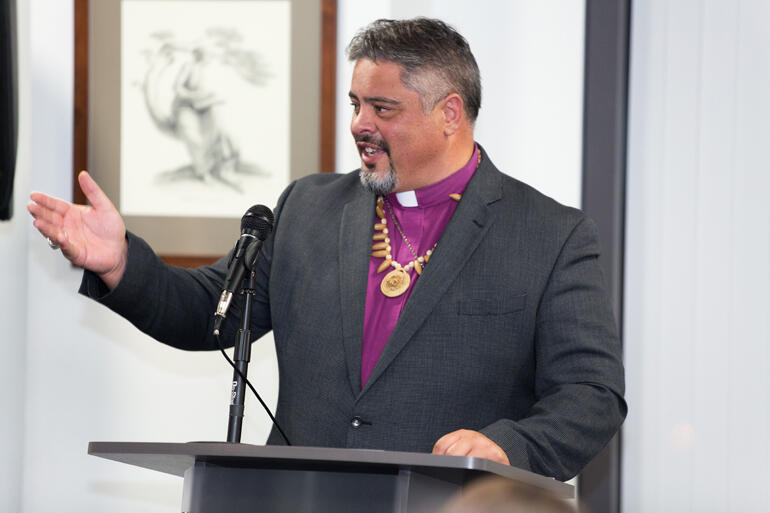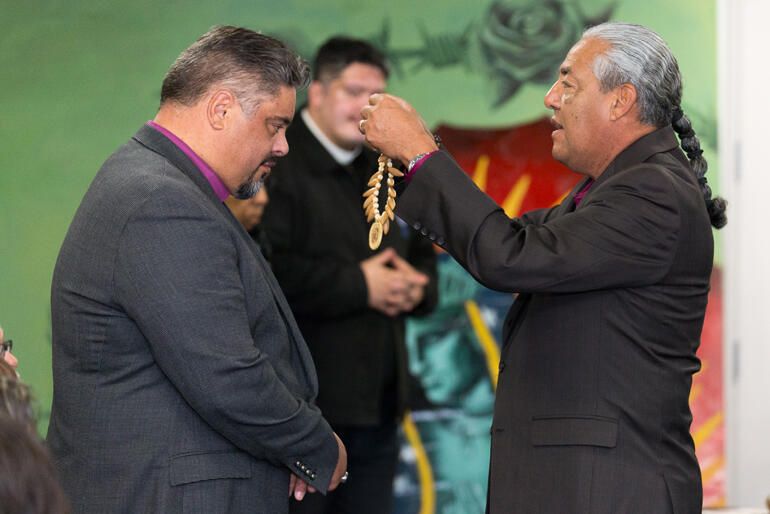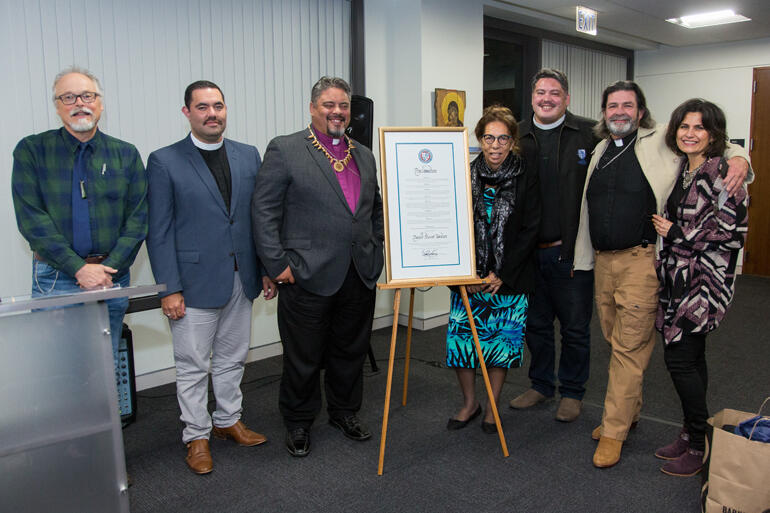 Archbishop Don Tamihere has been awarded the Loyola Marymount University's "Presidential Citation" to acknowledge his leadership of an educational partnership established during the 1990s with US Professor Daniel Smith-Christopher, which has seen more than 250 students come to Aotearoa to study theology through a Māori worldview.
The relationship between Tairāwhiti and Prof Smith-Christopher began when he was at St John's College in Auckland as a Visiting Professor of Old Testament.
A lifelong advocate of indigenous rights, Prof Smith-Christopher recalled feeling welcomed unconditionally by tikanga Maori, especially by Canon Dr Hone Kaa, who insisted he meet an outstanding young biblical scholar, Don Tamihere.
A deep and enduring friendship formed between the two scholars, and as a result the programme they developed together with Te Pihopatanga o Te Tāirāwhiti has seen more than 250 students and faculty from Loyola Marymount University benefit from an immersion experience within tikanga Māori.
"To receive a Presidential Citation from LMU, one of the highest honours they can bestow, is humbling to say the least." said Archbishop Don today.
"It validates in many ways the vision that Daniel and I shared all those years ago, but more importantly recognises all the work and manaakitanga that our whānau, iwi, pāriha, our kura Te Aute and Hukarere, and our marae communities have given over the course of 20 years to support this programme."
"In that time we've developed depth and capacity in the provision of full-immersion indigenous and theological programmes, expertise in teaching Māori theology and particularly in the areas of whakapapa, Māori biblical studies, Māori prophetic movements, liturgy and cultural infrastructure, and developed a style of teaching that has proven successful for foreign students from all creeds, ethnicities and religions." said Archbishop Don.
At the same time, the relationship has allowed lay leaders and clergy from Tai Rāwhiti to enjoy and benefit from their educational exchange experiences at Loyola.
As the programme has become more well-known internationally, demand has increased to the point that Te Pīhopatanga o Te Tairāwhiti are now preparing to host up to 12 groups a year from 2022, including graduate education students who visit Māori schools and interact with Māori educators across the primary and secondary education sector.
In his new role as Pīhopa o Aotearoa, Archbishop Don remains committed to broadening and deepening the partnership,
"It's an exciting time for us, and this recognition from LMU is further validation to Tairāwhiti's long-term commitment to this ministry." said Archbishop Don.
A small portion of the words taken from the citation sums up the regard the University has for Archbishop Don and his staff,
"Whereas you and your staff have demonstrated a significant dedication to education, including generous hospitality for more than 250 LMU students and teachers as guests to Maori traditional lands and sacred sites, informing us about Maori history and culture, and introducing us to important Maori activists, accomplished teachers, treasured elders, and dedicated clergy in the Anglican, Roman Catholic, and Ringatu traditions;
You have graciously shared the life of the Maori people with LMU graduate students . . . offering a rare opportunity for extended immersion with an indigenous culture combined with an indigenous faith tradition;
Your personal example, your collective endeavours and your partnership have expanded the global imagination of LMU students and faculty and animated our mission: the encouragement of learning, the education of the whole person and cultivation of a passion for a faith that does justice."
The LMU awards evening was opened in traditional prayers offered by Deacon Andy Orozco of the local tangata whenua community and the Catholic Diocese of San Bernardino.
The presentation and reading of the citation was jointly shared between Professor Smith Christopher and Father Michael Cunningham, who is a friend and colleague of Archbishop Don's having worked with him for over 10 years on the Red Shirt Project, a mission outreach programme which brings young people from across the Episcopal Church and Te Pīhopatanga. Participants work on service projects that benefit indigenous communities in South Dakota – where the needs are often considerable – through a partnership with the local Oglala Lakota people.
Pīhopatanga representatives Dr Jenny Te Paa Daniel, Rev Chris Huriwai and Rev Michael Tamihere attended the Awards Ceremony alongside Archbishop Don.
"Archbishop Don is to be warmly congratulated for this superb and much deserved acknowledgement of his episcopal leadership beyond Aotearoa New Zealand…" said Dr Te Paa Daniel.
"…especially for the vitally important mission outreach these longstanding mutually collaborative relationships represent for growth and flourishing of Te Pihopatanga o Aotearoa."
– Adapted from an original article by Dr Jenny Te Paa Daniel