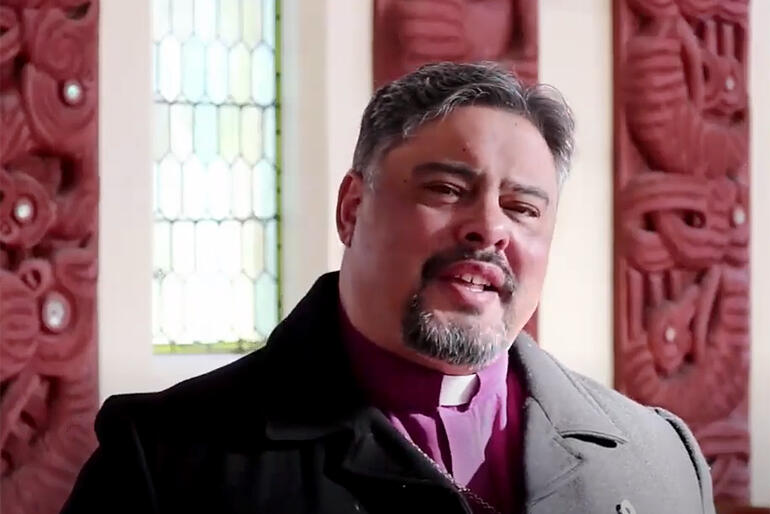 In his charge to the online synod in April 2020, Archbishop Don thanks all those who continue to minister under the shadow of the global pandemic and reminds his flock that every act to care for others, especially those who are vulnerable, anxious or grieving is a great work of the church.
The Archbishop's full synod charge in its original Māori and English portions follows below.
Whitiwhitia te mauri, whitiwhitia te ora
He tōiriiri ki te rangi ka ea, he tōiriiri ki te papa ka ea
Taua tōiriiritanga o Te Wairua Tapu i pāho noa ki runga I te kare o ngā wai, he wānanga
He wānanga tipua
He wānanga tawhito
He wānanga atua e
Nā ka puta mai te kupu, te kōrero
"Kia tiaho te mārama, nā ka mārama"
Nō reira e whiti, e whiti, e whiti taua māramatanga ki runga i a tātou i tēnei wā
Kia waerea te ngākau he mā, kia waerea te huarahi, he huarahi whakaeke
Tihei Mauriora
E te whānau a te Karaiti, tēnā koutou, tēnā koutou, tēnā koutou katoa.
I'm standing in Toko Toru Tapu (Holy Trinity) Church, this beautiful whare karakia situated in the village of Manutuke in Gisborne.
It's an incredible blend of cultures this church – a wonderful merging of the vocabulary of our faith with the vocabulary of our culture.
I love to be in this whare when it's quiet like this.
And if you listen hard enough, it's almost like you can hear the songs and hymns of generations past.
You can hear sermons that were preached here, you can hear the whisper of prayers that were offered up by the people who worshipped here.
It's almost as if, through the eyes of faith we can be united with them: congregations past, congregations present, congregations future.
Like them, we are called to be salt of the earth and light to the world.
I've no doubt that the people of this place were salt of the earth.
Some of them a little more salty than others, no doubt.
But all of them good, honest and hardworking people.
As scripture tells us, faith without works is dead. So much of the power of the gospel relies on what we are able to do.
I want to acknowledge the many of you that have been helping our congregations and our communities in the last few weeks and months – during the lockdown and underneath the shadow of this pandemic which is spreading suffering and chaos throughout the world.
Many of you have risen to the occasion. You served, you found ways to look after the poor and the vulnerable. You found ways to be Christ amongst the people and we're proud of all that you've done.
Many more of you have found ways to become light to the world.
To bring hope, where there was anxiety and despair. To bring courage where there was fear.
And to bring love and aroha in places where there seemed to be only hurt and harm.
This is a great work of the church. This is a great work of the gospel. This is the thing that we are called to do. To be salt of the earth and to be light to the world.
I love this church building very much, it means a lot to me. It is one of the great hidden treasures of our beautiful Anglican Church. And it's a metaphor in a way for the church all throughout Aotearoa, New Zealand and Polynesia.
Beautiful, historic, powerful, but all too often unseen.
Jesus said nobody lights a candle and then hides it under a bushel.
Some of the best parts of our church remain hidden.
Jesus went on to say that you should let your light shine and give light to the whole house.
We stand now in a time when we need to be letting our light shine. Not hiding it away. Not leaving it in places where people cannot see and cannot be inspired, cannot be moved by it.
Now's the time, more than any other time I think, in recent history, that we need to let our light shine.
The light of our goodness, the light of our servanthood, the light of our compassion and our giving, the light of our willingness to stand up for justice and for truth.
The light that we can bring to stand with those who are despised and marginalised.
To stand with those who are the most vulnerable and to bring them hope and to give them a sense of the wonderful light and life that Jesus Christ has given to us.
Nō reira, e rere i ngā karere a Te Karaiti
Kawea te Rongopai ki te tini me te mano
Ruia i runga i te whakaaro nui
Ruia i runga i te whakaaro pono
Waiho ko te aroha o te Karaiti he kākahukiwi mō koutou
I runga I te ingoa o te Atua Matua, te Atua Tama, me te Atua Wairua Tapu
Te Kurahautu o tō mātou Kuratiwaka,
Amine.