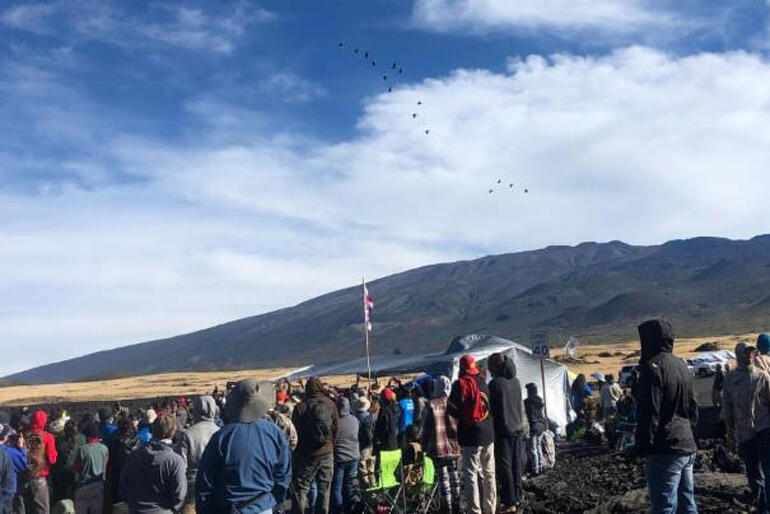 The Anglican Indigenous Network (AIN) have issued a solidarity statement in support of the kanaka maoli people, the indigenous Hawaiians who are defending their sacred mountain Maunakea from being imposed on by too many scientific installations.
The AIN statement comes as last week two Hawaiian Episcopalian priests and the Bishop of Hawaii backed local people's call to halt a new Thirty Meter Telescope that researchers want to add to the dozen telescopes already atop the sacred mountain's 14,000-foot summit.
For the kanaka maoli who have been blocking access roads to the observatories over recent days, the 30m mega telescope oversteps the limit for intrusions on the site, which scientists value as one of the world's greatest locations for studying the cosmos because of the site's natural advantages, such as clear skies and little light pollution.
For the protestors and the Episcopalians standing with them, time us up on previous deals to make sure mountain visitors recognise the dignity of the mountain and show due respect. For kanaka maoli, that imposition on their mountain is personal,
"Mauna a Wākea … is perceived to be the genesis point of the people of these Islands – she is a part of us." said Rev Jasmine Hanakaulani o Kamamalu Bostock and Rev Paul Nahoa Lucas in their statement.
In response to the mountain defenders' actions, Hawaii's Governor has announced a state of emergency and sent military police to the mountain to protect the parties installing the new technology.
"We mourn alongside the kia'i Mauna for the destruction the state seeks to impose on such a sacred site," reads the AIN statement which was released with the support of AIN chair, Bishop Te Kitohi Pikaahu, Bishop of Tai Tokerau in Aotearoa New Zealand.
The AIN, which brings together indigenous members of the Anglican Communion from Canada, Alaska, the United States, Hawaii, Aotearoa New Zealand, Australia, and the Torres Straight Islands has ratified the full text of the Hawaiian Episcopalian priests' announcement.
The AIN statement also offers prayers and messages of solidarity alongside a list of sites of importance to indigenous people around the Communion that are currently under dispute. These disputed sites include: Uluru in Australia, Ihumātao in Aotearoa New Zealand, Marpole Midden and the Yukon and Alaskan Caribou grounds on Turtle Island (USA) and Kanata (Canada).
Read the full Anglican Indigenous Network's solidarity statement here
Read the New York Times story on the kanaka maoli Telescope protest here