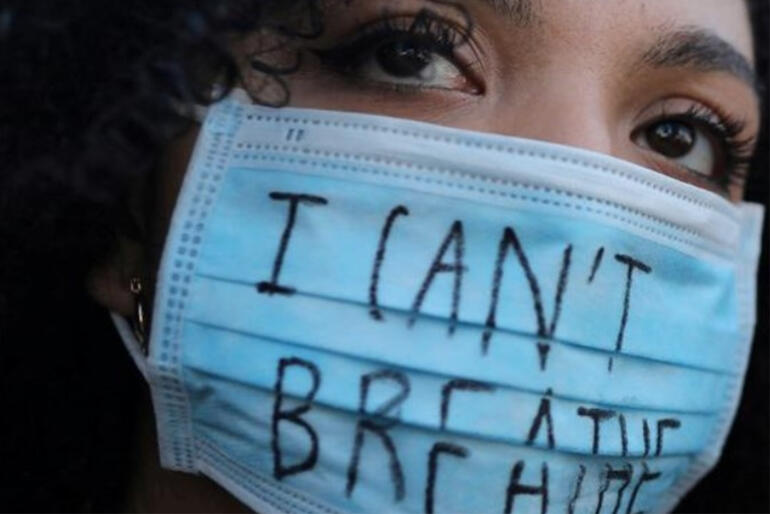 Anglican Bishops and Archbishops from Aotearoa to Zambia have signed a 'When Black Lives Don't Matter' statement that calls out the ways in which environmental destruction and racism go hand in hand to impose a double injustice on Black and Indigenous communities around the globe.
The statement was prepared as an initiative of the Anglican Communion Environmental Network (ACEN) and was released on 19 June 2020 to coincide with the 'Juneteenth' – the annual commemoration day that marks the end of slavery in the USA.
The statement, which was signed by Archbishop Don Tamihere, Archbishop Philip Richardson and four other bishops from this province, follows in full below.
ENVIRONMENTAL RACISM – WHEN #BLACKLIVES DON'T MATTER
Black lives are disproportionately affected by police brutality; COVID-19 sweeps through crowded vulnerable communities unable to socially distance; toxic dump sites are placed next to poor communities of Black people; indigenous people are forced off their land.
The world is slow to respond to climate change, hanging on to an increasingly precarious and unjust economic system. It is predominantly Black lives that are being impacted by drought, flooding, storms and sea level rise. The delayed global response to climate injustice gives the impression that #blacklivesdontmatter.
Without urgent action Black lives will continue to be the most impacted, being dispossessed from their lands and becoming climate refugees.
We stand at a Kairos moment - in order to fight environmental injustice, we must also fight racial injustice. In the words of Archbishop Tutu,
"If you are neutral in times of injustice you have chosen the side of the oppressor."
The Anglican Communion Environmental Network (ACEN) calls attention to environmental racism. We issue this urgent statement today, June 19 2020, a day known as Juneteenth in the United States, marking and remembering the official end of slavery in that country in 1865.
We call attention in particular to the impact of environmental racism on indigenous peoples decimated by the effects of colonization. Tribes of people were enslaved, and annihilated by harsh conditions and by diseases for which they had no immunity in the first decades of colonization. Later indigenous groups such as the Taíno in what is now Haiti and the Dominican Republic were replaced by enslaved peoples from Africa.
From the Gwich'in in the Arctic Circle to the many tribes in the Amazon River Basin, indigenous people continue to be subjected to intense, sustained racism.
Unjust economic structures and extractive industries subject indigenous peoples and traditional Black communities to forced, violent removal from lands with which they have been integrally connected for centuries. Prominent indigenous leaders - defenders of the land - from tribes such as the Guarani in Brazil, have been murdered and tribes terrorized.
For example in Panama, the Guna and Embera were granted land rights under the Comarcas (Reservation). However, land grabbers - non indigenous farmers - seize this land for their own farms, leading to escalating levels of violence from house burnings to murders.
ACEN also witnesses the growing and alarming rise in the number of people becoming refugees due to climate change. It is estimated that there are 40 million climate refugees in the world today, and by 2050 that number could reach one billion. Communities are being forced from their traditional lands due to drought and sea level rise. Climate change can lead to increased conflict as farming communities are forced off their land into cities.
In Central America thousands of indigenous people have been made climate refugees. Upon reaching the United States, they are often subjected to double discrimination, firstly for being refugees and then as people whose first language is a tribal language rather than Spanish.
Pacific Islanders in places such as Tonga and Fiji face the destruction of their homes and cultures due to sea level rise.
Even in the midst of the wealthiest countries Black people bear the brunt of environmental racism. Dumpsites for toxic chemicals are situated near poorer Black communities. These communities become food deserts - lacking both access to nutritious food and safe water.
Take action for climate justice to show #blacklivesmatter
June 19, 2020
God of love and peace,
God of justice and fire,
when the order put in place disorders your grace with bullets and bullies,
hear those who shout, "I can't breathe."
In the midst of corporate control and the conspiracy of lies,
we plead, "I can't breathe."
As a virus raids a slum and insidiously tracks a migrant camp,
have mercy on those caught who cough and struggle, "I can't breathe."
As the cars return and the airlines receive huge government subsidies,
listen to the earth gasping, "I can't breathe."
The waters rise, God of sea and sky, but dominions do not rest from their wrecking power.
Heed the world as it cries, "I can't breathe."
When we continue to inhale and exhale
as if the suffocation did not matter,
as if our breathing were somehow separate from the struggles of others for air,
align our lives with our prayer.
Forgive us all that does not honour your love,
all that does not live gratefully from the gift of your grace,
all that restricts the communion that your Spirit extends far and wide.
Alongside all those who can't breathe,
we seek the fresh wind over the chaos of our lives,
setting us free,
setting all your people free
to breathe,
through Jesus Christ. Amen.
Signed
Archbishop Justin Welby, Archbishop of Canterbury
Archbishop Julio Murray, Primate, Anglican Church of Central America
Archbishop Mark Macdonald, National Indigenous Archbishop of Canada
Archbishop Naudal Gomes, Primate, Episcopal Anglican Church of Brazil
Archbishop Don Tamihere, Primate, Anglican Church in Aotearoa New Zealand and Polynesia.
Archbishop Philip Richardson, Primate Anglican Church of Aotearoa New Zealand and Polynesia.
Archbishop Thabo Makgoba, Primate, Anglican Church of Southern Africa
Archbishop Francisco Moreno, Primate of the Anglican Church in Mexico
Archbishop Linda Nicholls, Primate Anglican Church of Canada
Archbishop Winston Halapua, Retired Primate of Church of Aotearoa, New Zealand and Polynesia
Bishop Michael Curry, Presiding Bishop, The Episcopal Church
Archbishop Ian Ernest, Director of Anglican Centre in Rome
Bishop Ellinah Wamukoya, Diocese of Swaziland
Bishop Marc Andrus, Diocese of California, USA
Bishop Nick Holtam, Diocese of Salisbury, UK
Bishop Rose Hudson-Wilkin, Suffragan, Diocese of Canterbury, UK
Bishop Geoff Davies, Patron SAFCEI
Bishop Francisco Duque- Gomez; Bishop of Colombia
Bishop Bertin Mwale Subi - Diocese of Katanga, Democratic Republic of the Congo
Bishop Bill Mchombo. Diocese of East Zambia
Bishop Lloyd Allen, Diocese of Honduras
Bishop Kee Sloan, Diocese of Alabama, USA
Bishop Mike Harrison, Bishop of Dunwich, UK
Bishop Dave Bailey, Diocese of Navajoland, USA
Bishop Robert Fitzpatrick, Episcopal Diocese of Hawaii and the Episcopal Church in Micronesia
Bishop Marinez Bassoto, Diocese of Amazon, Brazil
Bishop Philip Mounstephen, Diocese of Truro, UK
Bishop Andy Dietsche, Diocese of New York, USA
Bishop David Rice, Diocese of San Joaquin, USA
Bishop Doug Sparks, Diocese of Northern Indiana, USA
Bishop Lawrence Provenzano, Diocese of Long Island, USA
Bishop Mark D.W. Eddington, Convocation of Episcopal Churches in Europe
Bishop Jane Alexander, Bishop of Edmonton, Canada
Bishop Patrick Bell, Diocese of Eastern Oregon, USA
Bishop Katherine Jefferts Schori, XXVI Presiding Bishop of The Episcopal Church USA
Bishop Gretchen Rehberg, Diocese of Spokane USA
Bishop Philip Huggins President , National Council of Churches of Australia
Bishop Mariann Edgar Budde, Diocese of Washington USA
Bishop Anne Hodges-Copple, Bishop Suffragan, Diocese of North Carolina USA
Bishop Eugene Sutton, Diocese of Maryland, USA
Bishop Karowei Dorgu, Diocese of Woolwich, UK
Bishop Steven Benford, Diocese of Dunedin, New Zealand
Bishop Karen Gorham, Diocese of Sherborne, UK
Bishop Keith Joseph, North Queensland, Australia
Bishop Geoff Quinlan, Retired Regional Bishop of Cape Town, South Africa
Bishop Oswald Swartz, (retired) Diocese of Kimberley and Kuruman, South Africa
Dr Rowan Williams, Honorary Assistant Bishop, Diocese of Ely (Former Archbishop of Canterbury) UK
Bishop Eric Pike, Retired Bishop of Port Elizabeth South Africa
Bishop Peter John Lee Retired Bishop of Christ the King Diocese , South Africa
Bishop Steven Croft, Diocese of Oxford, UK
Bishop Guli Francis-Dheqani, Diocese of Loughborough, UK
Bishop Sam Rodman, Diocese of North Carolina
Bishop Nick Drayson, Diocese of North Argentina
Bishop Olivia Graham, Diocese of Reading, UK
Bishop Richard Cheetham, Diocese of Southwark, UK
Bishop Isaiah Beardy, Bishop of the Northern Manitoba Region of Indigenous Spiritual Ministry of Mishamikoweesh.
Bishop Richard Wallace, Bishop of Te Waipounamu, Aotearoa NZ
Bishop Peter Carrell, Bishop of the Anglican Diocese of Christchurch, NZ
Bishop David Alvarado, Bishop of Iglesia Anglicana de El Salvador
Bishop H Sharma Nithiyanandham, Diocese of Vellore, India
Bishop Andrew Rumsey, Bishop of Ramsbury, Salisbury, UK
Bishop Dr Samuel E C Devasahayam, Diocese of Thoothukudi - Nazareth, South India