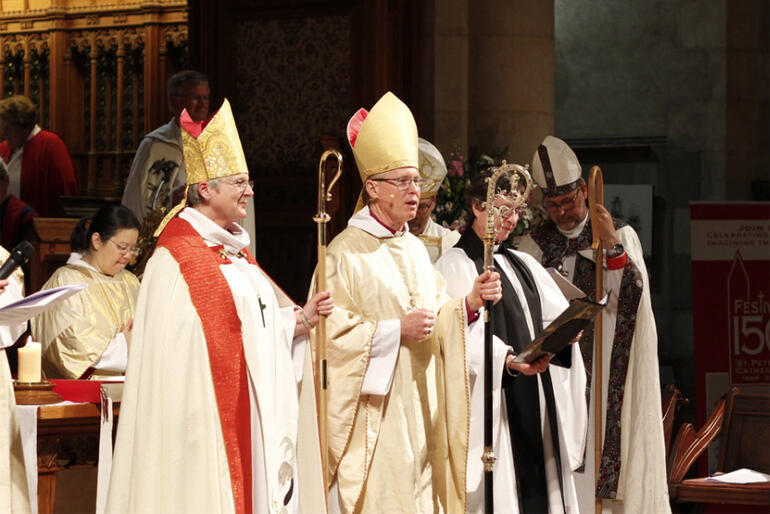 New Zealand Anglican priest, the Rt Rev Denise Ferguson has been ordained Assistant Bishop of Adelaide, becoming the first woman to serve as a bishop in South Australia.
Bishop Denise was ordained Assistant Bishop of Adelaide at St Peter's Cathedral Adelaide on 21 July, supported by a cohort of friends and wellwishers from the Anglican Church in Aotearoa, New Zealand and Polynesia.
"It was wonderful to have the support of Patricia and John Carter, Teri-Rori Kirkwood and Tony Gerritson, and I was humbled to receive greetings and pounamu from the Archbishops of Aotearoa New Zealand." she said.
"But the real highlight was having Bishop-elect Wai there to support me on behalf of the Church in Aotearoa New Zealand."
"I am really looking forward to being there when Bishop-elect Wai makes history in Masterton."
Bishop Denise came to Australia five years ago from the Diocese of Waikato and Taranaki, where she had worked as diocesan registrar, a parallel position to that held by her new Metropolitan and Diocesan, the Most Rev Geoffrey Smith, who was both diocesan registrar and Assistant Bishop of Brisbane.
Bishop Denise has served as a priest and archdeacon in the Diocese of Brisbane since 2014 where she was Rector of East Redland Anglican Parish, then Archdeacon of Moreton.
Denise received her call to the episcopate while in her car one morning,
"I didn't apply for this position, it came as a complete surprise to me. Archbishop Geoff phoned me on my way to a meeting, and asked me to begin discerning if God was calling me to this role." she said.
Bishop Denise Ferguson was then appointed Assistant Bishop of Adelaide by the Archbishop and Diocesan Council.
The Assistant Bishop of Adelaide needs to be ready to hit the ground running on a broad range of ministry responsibilities, closely mirroring those of the Archbishop of Adelaide whose metropolitan see covers three dioceses across South Australia: Adelaide, Willochra and The Murray.
Bishop Denise's new role will see her supporting the archbishop by taking up parish visiting and liturgical roles, as well as being responsible for oversight for three areas of ministry across South Australia: multicultural diversity in ministry, healthcare chaplaincies – covering both hospital and social service based care contexts – and ministry formation. She will also have a role in helping parishes to reimagine and reinvigorate their ministry and mission.
Ministry discernment and formation has been a core interest for Bishop Denise since her days in the Diocese of Wellington, where as Vicar of St Matthew's Palmerston North and then Archdeacon of Manawatu, she undertook diocesan roles to help oversee ministry discernment with ordinands.
In 2007 she completed a Masters in Ministry from Otago University, specialising in Ministry Discernment for Ordained Ministry, and then served as the Bishop of Wellington's Chaplain for Ministry Discernment in from 2007-2009.
Bishop Denise will work alongside the Archbishop of Adelaide, and in conjunction with two other Assistant Bishops in the Province of South Australia, National Aboriginal Bishop Chris McLeod, and Missioner Bishop Tim Harris.