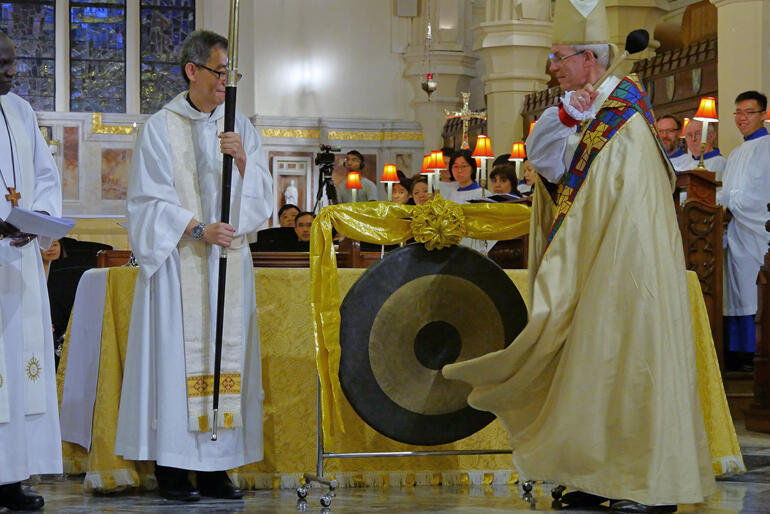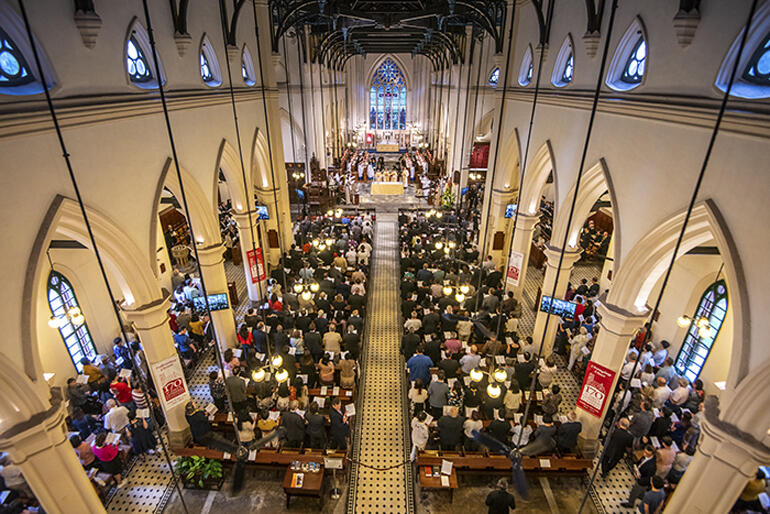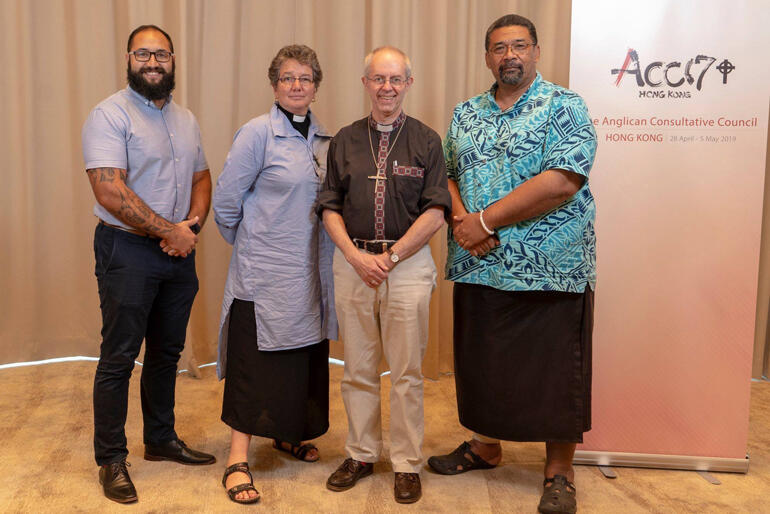 Delegates from the Anglican Church in Aotearoa, New Zealand and Polynesia have joined the worldwide Anglican Consultative Council(ACC) that opened in Hong Kong this week, where they will take part in this most representative of the four Instruments of Communion that helps bind together and lead the world's Anglican churches in mission and ministry.
From Sunday 28 April – 6 May, Isaac Beech (Tairawhiti), Archdeacon Wendy Scott (Wellington) and Fei Tevi(Polynesia) will represent this province as delegates to the meeting that will consider mission priorities and strategies around the theme of 'Equipping God's people: going deeper in Intentional Discipleship'.
At Sunday's opening Eucharist at St John's Cathedral Hong Kong, ACC Chair Archbishop Paul Kwong, who is primate of the Province of Hong Kong and Macau, welcomed Anglicans from 40 provinces and 160 countries reaching from Melanesia to Malawi, Cuba to Ceylon.
Archbishop Paul drew on the translation of Hong Kong as a 'Fragrant Harbour', a name it gained due to its years at the heart of the spice trade.
"I believe that a disciple gives off the 'Fragrance of Christ' in daily life." He told delegates to ACC. "My prayer is that ACC-17 can help our Anglican Communion to become a giver of the 'Fragrance of Christ' to the world."
In his opening sermon Archbishop of Canterbury Justin Welby centred his reflections on the resurrection, emphasising Peter and the disciples' courage, which he connected to the present-day trials faced by some of the ACC delegates and their churches.
"Many here, like Peter, have had your faith tested under difficult circumstances, some of you under circumstances nearly impossible", he said.
"Thank you for standing firm in your faith. Not only are you standing firm in your faith, you are also sharing your faith like Peter who took advantage of the situation of being challenged to share."
Archbishop Justin expressed grief about the persecution of Christians everywhere, especially at this time for those attacked and killed in Colombo and other Sri Lankan towns on Easter Day.
As the Archbishop of Canterbury introduced the theme of ACC-17, he called on the whole church to recognise the discipleship and perseverance of persecuted Christians, to pray for them, support them and be prepared to hear their stories.
He spoke of the enduring importance of sharing the Good News for all Christians and shared how 'intentional discipleship' looks different and has different names around the Communion. In a press briefing as ACC began, he claimed the Communion's diversity as a both a strength and a challenge for the ACC,
"We bring together people who come from churches that are on Wall Street and are full of investment bankers, through to people who have churches in Northern Uganda that are full of refugees."
"Some in our Communion are people suffering from war, poverty and persecution and others are people who live in great comfort. All are seeking to be disciples of Christ.
"My hope is that in our diversity we can learn to love each other more deeply, and love the world we are called to serve more effectively: by transforming societies, protecting the weak, caring for those caught up in terrible circumstances, and looking after one another."
Archbishop Justin finished with a challenge to ACC delegates to encourage Anglicans everywhere to witness to Christ in all aspects of their life: "witness calls us to discipleship, at home, at work, in every place and moment so that the body of Christ grows," he said.
During the Anglican Consultative Council, delegates from Aotearoa, New Zealand and Polynesia will be able to catch up with international developments in many areas of mission that have engaged this province in recent years, including: Anglican Indigenous Network priorities, Environmental concerns and climate change, Anglican Communion Safe Church Guidelines, Youth and Family Network issues, Peace and Justice advocacy and action, and the International Women's Network. Joining the Council later this week from this province at the General Secretaries' meeting and International Anglican Women's Network meeting will be Rev Michael Hughes and Archdeacon Carole Hughes.
Other areas of Anglican mission work on display at ACC will include: Women on the Front Line, Thy Kingdom Come and visits to local intentional discipleship programmes in Hong Kong. Further sessions will include insights from Communion-wide work in Ecumenism; Unity, Faith and Order and liturgical work as well as an introduction to plans for the 2020 Lambeth Conference.